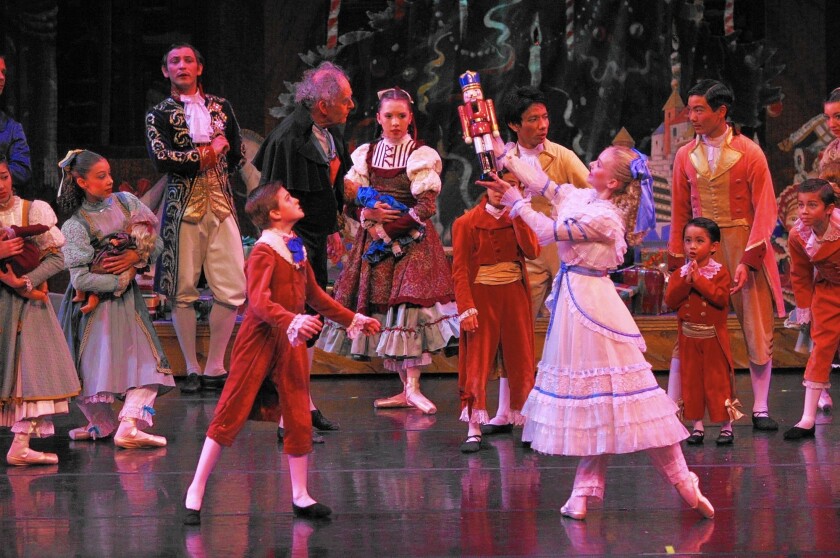 Two productions of "The Nutcracker" — abridged for children — will take the stage Saturday at the Newport Beach Central Library, 1000 Avocado Ave.
The performances, from the Fountain Valley-based Festival Ballet Theatre, will start at 2 and 3:30 p.m.
Admission is free and seating is available on a first-come, first-served basis.
Ticket distribution for both shows will start at 1 p.m.
Holiday runners will take over UCI
Participants will toe-toe-toe the line Saturday during the sixth annual Run for a Claus at UC Irvine.
Registration starts at 6:30 a.m. Along with 5K and 1-mile courses for runners and walkers, the event will include festive activities such as a holiday expo, seasonal costumes and an appearance by Santa Claus.
For more information, or to register, visit runforaclaus.com.
Santa comes by sea in Newport
Santa Claus will make his grand entrance to Lido Marina Village in Newport Beach by boat on Saturday.
The event at 3434 Via Lido starts at 10 a.m. and also will include a petting zoo, face painting and holiday music. For more information, visit bit.ly/2rSKcqu.
Holiday tree to light up Crystal Cove
Crystal Cove State Park's tree-lighting ceremony and holiday bazaar will take place Saturday from 10 a.m. to 5:30 p.m.
The 23rd annual event will take place near Pacific Coast Highway and Los Trancos and include an appearance from Santa Claus, performances from carolers and free hot chocolate. Santa is scheduled to arrive at the beach at 4 p.m., with the tree-lighting ceremony following at 5:15.
Parking is $5 an hour, though shuttles will be available at the lots north of the historic district at Pelican Point.
Market will pop by Newport home store
Furnishing Hope's Home Store in Newport Beach will host a pop-up holiday market Saturday from noon to 6 p.m.
The event will include raffles, prizes and children's activities.
The store is in the Westcliff Plaza, 1100 Irvine Ave. For more information, visit FurnishingHope.org.
F.V. to light its holiday tree
Fountain Valley's tree-lighting ceremony is scheduled Saturday from 4:30 to 8 p.m. at the city Recreation Center, 16400 Brookhurst St.
The lighting will take place between 5 and 5:45 p.m., and fireworks will follow immediately afterward.
The event also will include an appearance from Santa Claus, food and live entertainment.
For more information, call (714) 839-8611.
Polar Express event to feature train rides and toy donations
The 12th annual Polar Express event presented by L3 Real Estate is set for 10 a.m. to 1 p.m. Saturday at Costa Mesa's Estancia Park, 1900 Adams Ave.
Free activities will include small-train rides, pictures with Santa Claus, letter writing to Santa, face painting, cookie decorating, ornament making and firetruck viewing.
L3 Real Estate has joined with the Costa Mesa Fire Department's annual "Operation Give Back" toy drive to raise awareness of the need for toys this holiday season. Visitors to the Polar Express are asked to bring an unwrapped gift or a gift card valued at $10.
The Fire Department is collecting donated toys through Dec. 20 at all its fire stations.
For questions about the Polar Express, call (714) 444-4663, ext. 101, or visit thel3.com/polar-express.php.
Learn how to decorate gingerbread houses at Pelican Hill
The Resort at Pelican Hill in Newport Coast will school children ages 5 and older on how to decorate a gingerbread house Saturday and Dec. 15 at 10 a.m.
The classes cost $95, plus tax and a service charge. Parental supervision is required for children 10 years old and younger. For more information, visit pelicanhill.com/family-fun.
The resort is at 22701 Pelican Hill Road South.
'Nutcracker' performances will be staged throughout December
The Fountain Valley-based Festival Ballet Theatre will stage performances of "The Nutcracker" starting Saturday through Dec. 24 at the Irvine Barclay Theatre, 4242 Campus Drive.
For more information, or to buy tickets, visit festivalballet.org.
Dogs will strut their stuff during show at O.C. fairgrounds
Pooches will put on a show at the OC Fair & Event Center this weekend.
The Holiday Classic Dog Show, presented by the Shoreline Dog Fanciers Assn. of Orange County, will run Saturday and Sunday from 8 a.m. to 5 p.m. Admission is free. Parking is $9.
For more information, visit ocfair.com/events.
O.C. Fair Super Pass and two 2020 concerts go on sale
The Orange County Fair Super Pass for all 23 days of the 2020 season in Costa Mesa went on sale Wednesday. The general admission pass is being offered for $25 until Feb. 27. After that, the price will go up to $30 through May 28 and to $35 from May 29 to Aug. 14.
The OC Fair & Event Center also announced that tickets for two performances in the 2020 Toyota Summer Concert Series at the Pacific Amphitheatre will go on sale at 10 a.m. Saturday via Ticketmaster.
The Happy Together Tour returns at 8 p.m. July 19 with the Turtles, Chuck Negron (formerly of Three Dog Night), the Association, Mark Lindsay (formerly of Paul Revere & the Raiders), the Vogues and the Cowsills.
Viva El Mariachi will return at 6 p.m. Aug. 9 with Mariachi Sol de Mexico de Jose Hernandez, Shaila Durcal, Mariachi Reyna de Los Angeles and more.
For more information, visit ocfair.com.
CdM will walk the walk during annual Christmas event
The 41st annual Corona del Mar Christmas Walk will take place Sunday from 11 a.m. to 4 p.m.
Admission is free for the community-wide event, which will include live entertainment, food, games and prizes.
The Christmas Walk is organized by the Corona del Mar Chamber of Commerce. For more information, visit bit.ly/2ORHuuc.
OCC concert will feature student strummers
Orange Coast College music instructor Adam Pettit will direct a performance of the school's guitar ensemble at 3 p.m. Sunday in the on-campus Robert B. Moore Theatre.
The event will include soloists, small ensembles and a guitar orchestra. Bokyung Byun, a South Korean guitarist, also will perform.
Tickets are available for $10 at the door or by calling (714) 432-5880 or visiting occtickets.com.
OCC is at 2701 Fairview Road.
Flashback to the '80s at the Port Theater
The Port Theater will celebrate its 70th anniversary Sunday during the Christmas Walk After Party.
The event will include a live performance by Flashback Heart Attack, an '80s cover band.
Tickets are $5 in advance or $10 at the door. Guests must be at least 21 years old to attend.
For more information, or to buy tickets, visit portnewport.com or call (949) 723-6333. The theater is at 2905 E. Coast Hwy. in Corona del Mar.
Surf City pier to host annual snowflake lighting
The annual Light a Light of Love celebration will return to Huntington Beach Sunday from 3:30 to 7 p.m.
The event at Pier Plaza, at the corner of Main Street and Pacific Coast Highway, will include live entertainment, a children's holiday parade, a visit from Santa Claus and a snowflake lighting at 6 p.m.
Proceeds benefit Waymakers, a nonprofit that runs an emergency youth shelter and intervention programs.
For more information and an event schedule, visit waymakersoc.org.
Holiday murder mystery coming to Laguna
The Laguna Playhouse will present performances of "Sister's Christmas Catechism," a holiday murder mystery, at 7:30 p.m. on Monday and Tuesday.
TIckets are $46 and available at lagunaplayhouse.com.
The playhouse is located at 606 Laguna Canyon Road.
Newport to honor outgoing Mayor Dixon and new mayor
Newport Beach will honor outgoing Mayor Diane Dixon, as well as the city's new mayor and mayor pro tem, during an event Tuesday.
The 2019 Mayor's Reception and Chamber Volunteer Award Ceremony will start at 6:30 p.m. at Back Bay Bistro, located in the Newport Dunes Waterfront Resort & Marina at 1131 Back Bay Drive.
Tickets are $45 a person. Reservations are required and can be made by calling (949) 729-4411 or visiting newportbeach.com.
Roadshow will make its way to Centennial Farm
The Placemaking Roadshow — which celebrates Orange County's diversity — will take place Tuesday at Centennial Farm in Costa Mesa.
Admission is free for the event, which runs from 6 to 8 p.m. For more information, visit heritagefuture.org/placemaking-roadshow.
Centennial Farm is located within the OC Fair & Event Center, 88 Fair Drive.
Youth arts academy to present holiday concert
The Huntington Beach Academy for the Performing Arts will present its annual holiday concert on Dec. 12 and 13.
Shows start at 7 p.m. in the Huntington Beach High School Theatre, 1905 Main St.
Tickets are available at hbapa.org/see and cost $22 for adults and $16 for students and seniors. For more information, call (714) 822-1151.
Patrons also are asked to bring new, unwrapped toys to donate to Toys for Tots.
Snoopy and pals returning to Costa Mesa City Hall
Snoopy and the rest of the "Peanuts" gang will take up their seasonal residence at Costa Mesa City Hall next week.
The Snoopy House holiday display will be at City Hall, 77 Fair Drive, from Dec. 13 to 22.
The themed display has been a city tradition since 1966. It includes free train rides, cider, photos with Santa Claus and live performances.
For more information, visit costamesaca.gov/snoopyhouse.
Annual event will focus on O.C. issues
Pacific City in Huntington Beach will be the venue for this year's State of the County.
The Dec. 13 event will run from 8 to 11 a.m. and include remarks by local legislators and business organizations about challenges facing Orange County — such as homelessness, affordable housing, workforce development and education.
State of the County will take place in Pacific City's Level 2 Ocean Front Suite, 21010 Pacific Coast Hwy.
Fairview Commons gets new name, owner
Fairview Commons, a senior-living community in Costa Mesa, has been renamed Coastal Heights Senior Living. The property at 2283 Fairview Road is now operated by Carlsbad-based Integral Senior Living.
Amenities at the community include a beauty salon, fitness center and crafts center. For more information, visit coastalheightsseniorliving.com.
El Torito parent company gobbles up Sol Cocina, Solita Tacos
Xperience Restaurant Group, the Cypress-based parent company of El Torito, has acquired Sol Cocina in Newport Beach and Solita Tacos & Margaritas in Huntington Beach.
"Our goal from day one has been to optimize our existing brands while simultaneously identifying attractive opportunities for growth," said XRG Chief Executive Randy Sharpe, in a statement. "With the rapid transformation of the casual dining sector in recent years, it is more important than ever for brands to provide a unique experience for customers, which has long been a hallmark of both Sol and Solita. These brands are a natural fit for our portfolio as we grow the XRG platform."
New bicycle regulations roll out in Buck Gully
The city of Newport Beach and the Irvine Ranch Conservancy have converted the Buck Gully and Bobcat trails in Buck Gully Reserve into one-way directional trails for bicycles.
Cyclists can now only travel northeast toward the San Joaquin exit on the Buck Gully Trail and travel uphill on the Bobcat Trail to Harbor Watch Park.
The city says the change was meant to improve safety on the popular, multi-use trails' narrow sections and blind corners.
UCI hires new Alzheimer's researcher
The UC Irvine Institute for Memory Impairments and Neurological Disorders recently recruited Alzheimer's disease researcher Dr. David Sultzer to oversee its clinical research operations, according to a news release.
Sultzer is a clinical professor of psychiatry and human behavior. The university said he "plans to incorporate his understanding of the human struggles with these behavioral changes into the fabric of clinical trials," which he also did while at UCLA.
Vans donates $1 million to L.A. nonprofit
Vans recently donated more than $1 million to Imagination.org, a Los Angeles-based nonprofit that works to foster creativity in children around the world.
The donation from the Costa Mesa-based company will form new chapters of the group, strengthen current chapters and help more than 10,000 children, according to a news release.
Fountain Valley police looking for senior patrol volunteers
The Fountain Valley Police Department is recruiting new members for its Retired Senior Volunteer Program, according to a news release.
Members patrol streets in marked cars, remove illegal signs and perform other tasks. For more information, call Joanne Minney at (714) 593-4526.
---