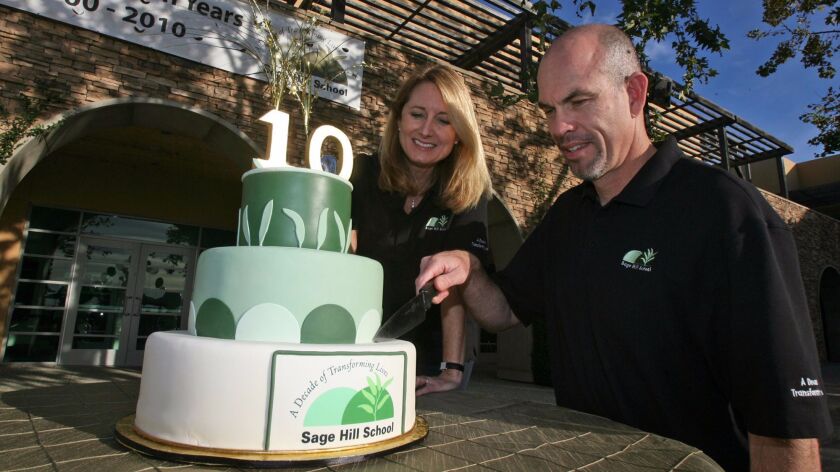 Sage Hill School President Gordon McNeill is stepping down at the end of the school year.
McNeill has been at the private Newport Beach high school for 19 of its 20 years and was named president in 2014. He previously was headmaster, dean of school life and a basketball coach. He plans to leave in June.
"I gave Sage everything I had and I am proud of all that we were able to accomplish," he wrote in a Facebook post Sunday. "I'll miss the amazing people the most — students, alumni, parents and educators. What an incredible group of people I was able to connect with. I'm excited about the future and whatever might come next. Thank you to all of you for joining me on this amazing ride."
A school spokeswoman provided a letter sent to the school community last week by board of trustees Chairman Mike Bolen.
"After giving so much of himself to the school, Gordon decided that he would like more time to give of himself to his own family, and we certainly support his decision," Bolen wrote.
McNeill said Wednesday that Sage Hill's "unique culture, where we trust our students to take ownership of their education through leadership opportunities and self-advocacy," stands out to him.
Sage Hill, which enrolls about 550 students and charges about $42,000 a year in tuition, will return to its previous administrative leadership structure, with the headmaster at the top. Current headmaster Patricia Merz will remain in that role. The school also will bring on a separate director of advancement to focus on fundraising.
"Gordon, in partnership with Patricia Merz, has presided over incredible growth and success here at Sage Hill and he will be absolutely missed by our entire community," Bolen wrote in his letter.
The school spokeswoman said McNeill's resignation has nothing to do with Sage Hill's involvement last year in the nationwide college admissions cheating scandal.
Two members of the Sage Hill board whose children had attended the school resigned after being charged with conspiring to rig their children's admission into elite colleges with the help of admitted scheme ringleader William "Rick" Singer, a Newport Beach education consultant.
Douglas Hodge and Michelle Janavs both pleaded guilty in October to conspiracy to commit fraud and money laundering and will be sentenced in February.
---