Where is Kobe Bryant gravesite? Corona del Mar cemetery maintains tradition of silence
The widely reported final resting place of Lakers icon Kobe Bryant and his daughter Gianna has been calm in the days after the news this week that the two had been quietly buried in a Corona del Mar cemetery.
A spokesman for Pacific View Memorial Park's parent company declined to confirm or otherwise comment on whether the Bryants are interred at the cemetery, although death certificates indicate that Bryant, 41, and Gianna, 13, were buried in a private service there Feb. 7.
Celebrity gossip websites and major news outlets have named Pacific View in articles reporting the service, which came nearly two weeks after the Bryants, along with seven other people, were killed in a Jan. 26 helicopter crash in Calabasas that plunged the Los Angeles area into mourning.
Pacific View Memorial Park, located at the end of the quiet two-lane Pacific View Drive, is a private 35-acre property offering sweeping views of the ocean.
Once considered a potential site for what became UC Irvine, the cemetery's closest neighbors are the city reservoir, two elementary schools and a few churches.
Thousands of area residents are interred in Pacific View's serene expanse of gently rolling greens and mausoleums and columbarium. Several notables from entertainment, sports and industry are among them — including screen giant John Wayne, who died in 1979. Wayne, like Bryant, was living in Newport Beach at the time of his death and was well-known by his neighbors.
Employees at Pacific View said they don't release gravesite locations to the public. But the attention brought to the park in the wake of the Bryants' shocking deaths raises questions of whether the cemetery might face a run of visitors seeking a glimpse of their final resting place.
Lt. Tom Fischbacher of the Newport Beach Police Department said Thursday that police have a good working relationship with Pacific View.
"Should there be a need to assist them in any way, we are prepared to do that. But there hasn't been," he said.
Pacific View's spokesman declined to comment about a security plan.
Wayne has a bronze tablet marker in the lawn, sprinkled with pennies as tokens left by visitors.
Wayne also was buried in a private ceremony, and the exact location of his grave also was not immediately known to the public. Pacific View declined to disclose the location at the time and declined again Thursday. His grave was unmarked until 1998.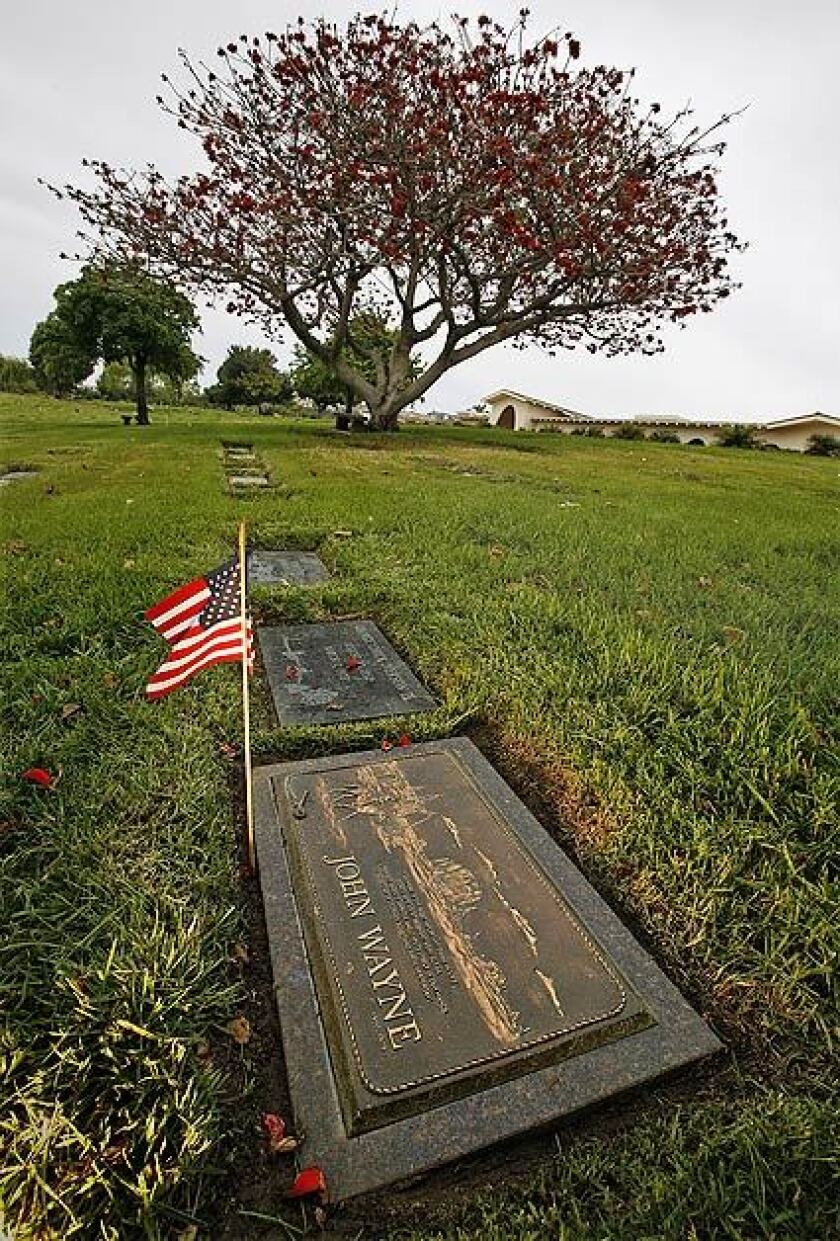 Wayne's son Ethan told the Los Angeles Times in 2004 that the grave was unmarked out of respect for people buried nearby so their plots wouldn't get trampled. Ethan Wayne added, though, that the family supports visitors.
According to the website Find a Grave, which has details on how to find Wayne's plot, others interred at Pacific View include:
Musicians Kevin DuBrow (lead singer, Quiet Riot), Bobby Hatfield (singer, Righteous Brothers) and Jeff Hanneman (guitarist, Slayer)
Athletes John Gordy (Detroit Lions), Cedrick Hardman (San Francisco 49ers and Oakland Raiders), Ray Malavasi (head coach, Los Angeles Rams), Rich Saul (Los Angeles Rams), George Yardley (Detroit Pistons)
Restaurateurs John Galardi (founder, Wienerschnitzel) and Bob Wian (founder, Bob's Big Boy)
Rep. James Roosevelt II, Democrat serving California's 26th District and son of President Franklin D. Roosevelt
Televangelists Paul and Jan Crouch of Trinity Broadcasting Network
Fashion designer Bijan
Several actors and filmmakers from Hollywood's Golden Age
Find a Grave says it has photographs of 95% of Pacific View's graves. The Bryants' graves are not among them, although the two are listed on the site's Pacific View page.
Bryant's death certificate also shows his interment was originally planned for Westwood Village Memorial Park — also known for celebrity graves, including those of Marilyn Monroe, Natalie Wood, Dean Martin, Jack Lemmon, Walter Matthau and Burt Lancaster — but was changed.
A public memorial service is planned for Bryant and his daughter at 10 a.m. Feb. 24 at Staples Center, the Lakers' home in downtown Los Angeles.
---
All the latest on Orange County from Orange County.
Get our free TimesOC newsletter.
You may occasionally receive promotional content from the Daily Pilot.