The 27th annual Spirit Run, a benefit for local schools and fitness efforts, is coming Sunday to Fashion Island in Newport Beach.
The day will include family walking and running, competitive adult racing, a fitness festival and a dog expo.
Among the events are a 10K starting at 6:30 a.m., an open mile race at 8:10 a.m., an elite mile at 8:20, a dog and owner mile at 8:25, a 5K at 8:35, a costume contest at 9:15 and youth mile races beginning at 9:40.
Registration is $25 to $138 in advance and $25 to $144 on race day. For more information and to register, visit nmspiritrun.org.
Costa Mesa church serving up fish fries for Lent
St. John the Baptist Catholic Church in Costa Mesa is hosting a series of fish fry events during Lent.
They start Friday and also will take place March 6, 13, 20 and 27 and April 3. Servings will go from 5 to 8 p.m.
In addition to the fish, shrimp skewers, clam chowder and other food will be served.
St. John is at 1021 Baker St.

Pickleball and bonfire at Bolsa Chica State Beach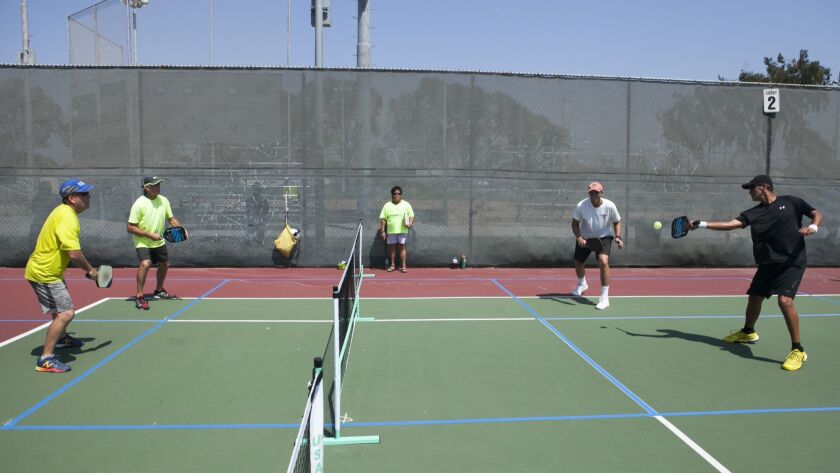 A pickleball event and bonfire at Bolsa Chica State Beach in Huntington Beach is scheduled for 1 to 9 p.m. Saturday. Admission is free.
Paddles, nets and balls for the tennis-style game, plus firewood, hot dogs and beverages will be provided near the main lifeguard tower and basketball courts. Donations of canned food will be accepted to benefit Collette's Children's Home in Huntington Beach.
For more information, call (714) 315-0922.

Advocate for victims of child sexual abuse to receive award
Brisa de Angulo, an advocate for victims of child sexual abuse in her home country of Bolivia, will receive the Compass of the Conscience award on Friday from Carlos Rey Stewart, voice of the 55-year-old international Spanish radio and TV program "Un Mensaje a la Conciencia" (A Message to the Conscience) headquartered in Costa Mesa.
De Angulo, a teenage victim herself, co-founded the A Breeze of Hope Center in Cochabamba, Bolivia, in 2004.
Joining Stewart in the award ceremony will be Sandra Morgan, director of the Global Center for Women and Justice on the campus of Vanguard University in Costa Mesa. Morgan recently was appointed as a member of the White House Public Private Partnership Advisory Council to End Human Trafficking.

Benefit to help Todd Anglin Home for Children
The senior center at Huntington Beach Central Park, 18041 Goldenwest St., will be the site of a fundraiser Saturday for the Todd Anglin Home for Children.
Doors open at 4:30 p.m. Admission starts at $49.
The Todd Anglin Home for Children is a Garden Grove-based nonprofit that feeds needy elementary school children in the Orange County area.
For tickets, call (714) 539-6863, email mignn0619@gmail.com or visit toddanglinhomeforchildren.org.

Homeowners to participate in annual South Laguna garage sale
The annual South Laguna community garage sale, sponsored by real estate agent Chris Tebbutt, is set for 7 to 11 a.m. Saturday.
Participating homes are at 32006 S. Coast Hwy., 31907 Ninth Ave., 31602 Fairview St., 31562 Santa Rosa Drive, 31632 Wildwood Road, 31684 Wildwood Road, 31706 Scenic Drive, 31576 Scenic Drive, 31544 Eagle Rock Way, 31553 West St., 31441 Holly Drive, 31261 Monterey St., 31352 Monterey St., 31365 Monterey St. and 31516 Monterey St.

Sage Hill event geared toward girl empowerment
Sage Hill School's third annual GEMfest, a celebration of empowerment for middle school girls, is from 9 a.m. to 2 p.m. Saturday at the Newport Coast campus, 20402 Newport Coast Drive.
The day will feature speakers, interactive workshops and a marketplace.
Tickets are $17 for students and $27 for parents.
For a complete list of events, visit gemfestoc.com.

SOCO hosts weekend event
South Coast Collection and the OC Mix in Costa Mesa are hosting LEaP Day (Learn, Eat, Play) from 10:30 a.m. to 3 p.m. Saturday.
The event includes food, live music, shopping and workshops. Admission is free, but the workshops cost $5.
For more information, visit eventbrite.com and search for "LEaP Day at OC Mix."

Soccer day to teach special-needs children new skills
A soccer day for special-needs children of all skill levels will be held from 9:45 a.m. to 12:30 p.m. Saturday at Grant Howald Park, 3000 Fifth Ave. Corona del Mar.
The event is organized by the city of Newport Beach.
Registration is available by visiting newportbeachca.gov/register and searching for "Special needs soccer clinic."

Saturday gala to help Laguna youth theater
The Laguna Playhouse's Youth Theatre will hold its annual gala at 6 p.m. Saturday at Neighborhood Congregational Church, 340 St. Ann's Drive, Laguna Beach.
The event is described as an evening of music, dance and comedy inspired by Shakespeare. Youth conservatory students will perform.
Tickets are $100 and are available at lagunaplayhouse.com.

Vienna music group comes to Costa Mesa
The Vienna Piano Trio will play at 8 p.m. Saturday in the Samueli Theater at the Segerstrom Center for the Arts in Costa Mesa.
Tickets start at $29 and are available at scfta.org, the box office at 600 Town Center Drive or (714) 556-2787.

3K walk benefit for horses will help Huntington Beach group
The Huntington Central Park Equestrian Center will host a 3K walk benefit for rescue horses from 8 to 10 a.m. Sunday.
Tickets start at $20. Food, drinks and prizes will be available. Proceeds will benefit the Free Rein Foundation, a Huntington Beach-based organization that rescues horses and works with them in equine-assisted therapy programs for children, adults and veterans.
The equestrian center is at 18381 Goldenwest St.
To register for the benefit, visit bit.ly/Walk4Horses2020.

Fountain Valley Claim Jumper closes at 37 years
The Claim Jumper restaurant in Fountain Valley has closed.
The building at 10850 Brookhurst St. will be demolished to make way for a new development, according to the Orange County Register.
The restaurant was open for 37 years.

Laguna Canyon attorney to speak at group fundraising dinner
Julie Hamilton, an attorney for Friends of the Canyon in Laguna Beach, will speak at the Laguna Canyon Conservancy's fundraising dinner Monday at Seven 7 Seven, 777 Laguna Canyon Road.
Hamilton will discuss legal issues regarding development in the canyon. Tickets start at $25.
Reservations are required by visiting lagunacanyonconservancy.org. For more information, call (949) 939-7257.

Orchesis dance group presents 'New Orch Times'
The Orchesis Dance Company is presenting "New Orch Times: Newsprint in Motion" from March 5 to 7.
Performances will begin each day at 7 p.m. at the Corona del Mar High School theater, 2101 Eastbluff Drive.
Tickets start at $15. For more information, visit cdmorchesis.com.

Mayor to be guest speaker for Wake Up Newport
Newport Beach Mayor Will O'Neill will be the featured speaker at a Wake Up Newport gathering March 5.
The event is scheduled for 7:15 to 8:30 a.m. at the Newport Beach Central Library, 1000 Avocado Ave. Admission is free.

Costa Mesa chamber presents 'Battle for the Bottles'
The Costa Mesa Chamber of Commerce is presenting a Texas Hold 'Em card tournament called "Battle for the Bottles" on March 5.
Buy-in is $100 and a bottle of premium liquor or wine valued at $50 or more. Prizes will be the bottles brought to the event, which will be at Net Development Co., 3130 Airway Ave., Costa Mesa.
Registration is available at costamesachamber.com/events.
For more information, email Nadia Flores at nflores@costamesachamber.com.

American Ballet Theatre stages new production
The American Ballet Theatre will premiere "Of Love and Rage," directed by Kevin McKenzie with choreography by Alexei Ratmansky, from March 5 to 8 at Segerstrom Hall in Costa Mesa.
Performance times vary. Tickets start at $26 and are available at scfta.org, (714) 556-2787 or the box office, 600 Town Center Drive.

'Uninhabitable Earth' author to speak in Newport
David Wallace-Wells, author of "The Uninhabitable Earth: Life After Warming," will speak at the Newport Beach Central Library, 1000 Avocado Ave., from 7 to 9 p.m. March 6.
Tickets are $65, or $60 for Newport Beach Public Library Foundation members.
For more information, visit nbplfoundation.org or call (949) 717-3892.

Fountain Valley sports center to host pickleball tournament
National Pickleball is bringing a pickleball tournament to Los Cab Sports Village in Fountain Valley from March 6 to 8.
It will be the second-largest pickleball tournament to date in California.
The Sports Village is at 17272 Newhope St.
For more information, visit nationalpickleball.com/california-open.

Laguna Beach accepting submissions for small artwork
Laguna Beach's 18th annual "Art That's Small at City Hall" exhibit and competition will accept submissions between 9 and 11 a.m. March 14.
Artists 18 and older who live in Orange County can participate by taking their work and the $15 entry fee to City Hall, 505 Forest Ave.
Accepted artworks will be on display from March 16 to April 17. The competition carries a $500 top prize and awards of $200 for second place and $150 for third.
The art must feature two-dimensional and relief works that measure 12 by 12 inches or less, including the frame.

Waymakers event raises $125,000 for youth shelter
Waymakers' 10th annual "Love Grows by Giving" fundraiser Feb. 13 raised more than $125,000 for the organization's Huntington Beach Youth Shelter, according to a news release.
More than 500 people attended the event at the Hyatt Regency Huntington Beach Resort and Spa.
"The outpouring of support we receive from our generous community is the reason Waymakers is able to change lives by empowering individuals and families to make their way through conflict and crisis to a place of strength and stability," Elsa Greenfield, program director of the youth shelter, said in a statement.
---