Newport-Mesa school district trustees will discuss coronavirus at meeting Wednesday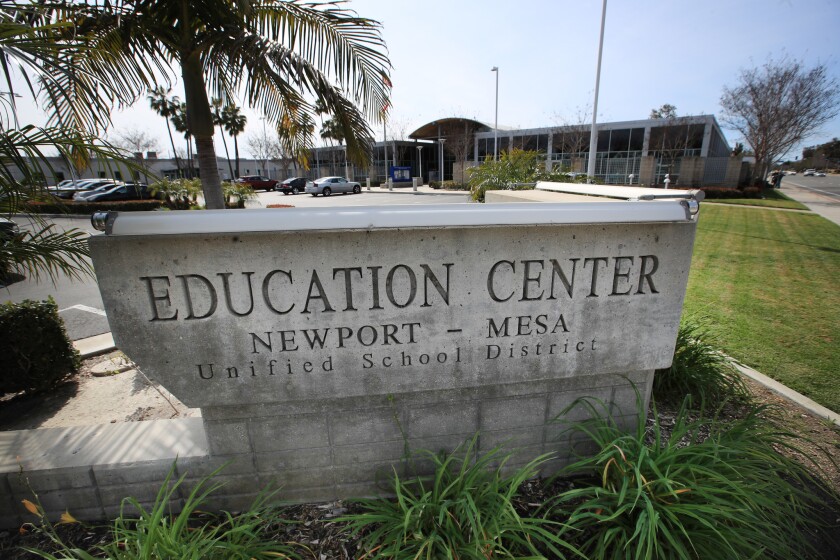 The Newport-Mesa Unified School District plans to update the public at Wednesday's board of trustees meeting on its planning and protocols related to the coronavirus.
According to the agenda, the "health services update" is an information item only. No board action is expected.
Schools and colleges around the state have started to close as more people become exposed to the virus that causes COVID-19. As of Monday, all Newport-Mesa schools remained open.
The Orange County fairgrounds in Costa Mesa says it is stepping up precautions given the widening outbreak of coronavirus.
Newport-Mesa periodically sends letters to parents with summaries of the virus' spread locally, tips on how to avoid catching or spreading the disease and other related information.
Its most recent post was Wednesday, when officials said two people in Orange County — a man in his 60s and a woman in her 30s — had tested positive for the virus locally, though officials were sending samples to the U.S. Centers for Disease Control and Prevention to confirm the results. Since then, a third presumptive patient, a man, has been diagnosed.
Newport-Mesa has no reported links to the virus.
The California Dept. of Public Health has released guidance for schools and colleges to help determine whether to shut campus doors.
The district said in its post that it would follow a 14-day self-quarantine period for new students who have traveled from China "or any other affected area" and that all new families would meet with an administrator to verify the accuracy of their information.
In Newport Beach, parents at Newport Coast Elementary School have been vocal about the school district's precautions after hearing that several students were transferring to the Ridge Park Road school. Some parents suggested on social media that the potential students were from China, where the majority of COVID-19 cases and deaths have occurred.
The parents said they would keep their children home amid demands that the district examine new students and that they be medically cleared of the coronavirus before enrolling.
The Daily Pilot could not verify whether the district was admitting any midyear students to the school — or their nations of origin.
Newport-Mesa would not release any information related to specific students, citing privacy laws. The district added that it does not have the authority to monitor travel of students or staff.
Wednesday's board meeting starts at 6 p.m. at the district headquarters, 2985 Bear St., Costa Mesa.
---
All the latest on Orange County from Orange County.
Get our free TimesOC newsletter.
You may occasionally receive promotional content from the Daily Pilot.