Pandemic puts off Newport Beach's plans for new lecture hall, junior lifeguard headquarters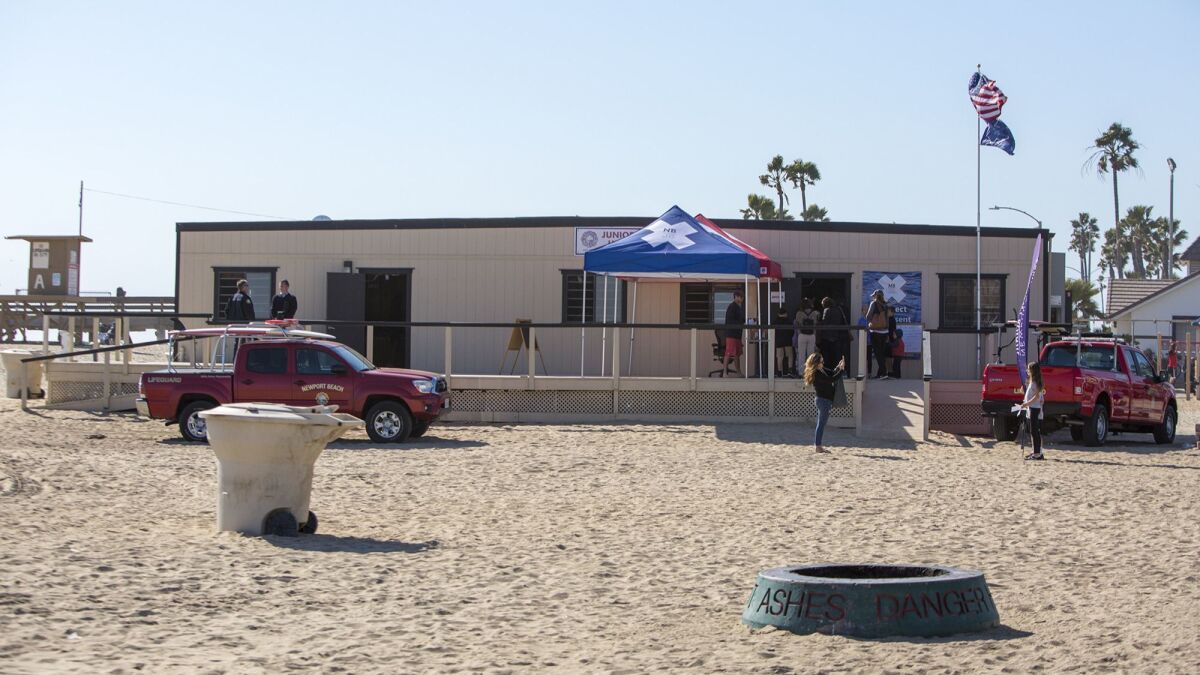 Newport Beach will press pause on its planned lecture and performance hall and new Junior Lifeguards headquarters in anticipation of the coronavirus pandemic's continued impact on city finances.
The council initially budgeted for construction on both for next fiscal year, which starts in July, but agreed Tuesday to push that off a year — or no sooner than July 2021. The delays will free up about $5 million in the near-term.
Design on the buildings, which are both being paid for with a mix of public and private funds, can continue. So can private fundraising, although Mayor Will O'Neill acknowledged that this can be a challenge for boosters who need the city to commit to a date for its share of the money.
Both projects are long-desired.
The council awarded a design contract in November for the standalone lecture hall at the edge of the Central Library's parking lot. Preliminary plans show a 7,000-square-foot, 325-seat hall with fixed auditorium-style seating for 275 people and room for 50 portable overflow seats. The expanded capacity with other upgrades such as advanced audio-visual equipment would be a major improvement over the current venue for cultural programming, the 2,600-square-foot Friends Room inside the library.
Email david.carrillo@latimes.com to sign up for the newsletter featuring the latest news involving Newport Beach, Huntington Beach, Costa Mesa, Laguna Beach, Fountain Valley and other parts of Orange County.
Meanwhile, Junior Lifeguards backers have wanted their new headquarters since at least 2011, and already saw it put off in 2017 because of demanding pension costs. Junior Guards is a marquee summer youth program, teaching ocean safety to roughly 1,400 children every year. But its longtime home is a single-wide trailer in the sand a few yards from the Balboa Pier. The trailer is undersized and lacks running water, requiring children to go to the nearby public restroom huts in groups of three for their safety.
Preliminary plans show a 4,900-square-foot headquarters, which would be more than twice the size of the current space. Donors have already chipped in about $230,000.
The city projects a $13.5 million budget shortfall for the remainder of this fiscal year because of the pandemic and a budget hole of at least $31 million next fiscal year. To meet the larger funding cuts looming next fiscal year, the city plans on cutting expenses in tiers. The third tier is set to include cutting $16.9 million from capital projects — of which the lecture hall and Junior Guards building are just part — to avoid tapping into reserves.
In other notable budgetary shuffling:
Balboa Peninsula Trolley: The seasonal trolley will not run this summer. The council and city staff said physical distancing is unlikely inside the 24-passenger mini-buses, which shuttle beach visitors around the typically packed tourist district between Memorial Day and Labor Day.
Lido fire station: The city will finance $9.1 million of the cost of the upcoming Lido-area fire station over 10 years rather than pay cash as it had previously planned. The fire station, at 2807 Newport Blvd., is to replace an aging, undersized station about a third of a mile away at 475 32nd St. Construction could begin in January and be completed by May 2022.
Newport Pier: Several other planned projects will also move ahead generally as planned, such as a $2 million rehabilitation of the Newport Pier. That project is primarily to replace worn pilings farthest out to sea, and the city also planned to tear down the mothballed former restaurant building while workers were on that section of the pier. The dilapidated building is also city-owned but hasn't been active since its last tenant, a sushi restaurant, closed in 2012.
As COVID-19 continues to tear through nursing and assisted-living homes, UC Irvine Health, the Orange County Health Care Agency and CalOptima are teaming up to develop an infection control training program that will protect those most vulnerable members of the community.
Public Works Director Dave Webb suggested staying the course on the pier, since between engineering design and permitting from the California Coastal Commission, the more expensive construction phase isn't likely to begin for another eight months to a year anyway. Meanwhile, the wooden pilings, some more than 70 years old, will continue to deteriorate and could become more of a risk during a severe winter storm, Webb said.
Public Works plans to bring a $350,000 design contract before the council for approval later this month. The pier project is budgeted for next fiscal year.
The City Council plans to approve a tentative overall budget for fiscal year 2021 in June.
All the latest on Orange County from Orange County.
Get our free TimesOC newsletter.
You may occasionally receive promotional content from the Daily Pilot.