Scholarships awarded in honor of late Corona del Mar High graduate Matt Olson
Matt Olson is remembered in the Corona del Mar High School community as a kind and caring person.
Olson, a 2019 CdM graduate who was captain of the boys' volleyball and basketball teams, died on Aug. 24, 2019, just days before starting his freshman year at USC. He was hit by cars while walking on the 110 Freeway, according to the California Highway Patrol.
Out of tragedy, the Olson family found a way to pay forward Matt's giving nature. The M.O. 23 Forever Scholarship Fund, which has his jersey number in the name, was started soon after his death. From that fund, nearly $10,000 was recently awarded to seven CdM and Newport Harbor graduates.
Austin Chandler of CdM won a $2,300 scholarship, while Ella Jacobs and Michelle Kalili each received $1,000 scholarships. Aldrish Jimenez of Newport Harbor took home a $2,300 scholarship, while Sailors graduates Skylar Sepulveda, Daphne Chong and Stephen Vasquez were each awarded $1,000 each.
The money came from individual donations as well as donations from the National League of Young Men and Backhouse Fragrances, said Shannon Eusey, who helped the Olson family set up the scholarship fund. As part of the application process, seniors had to write an essay about a time they performed an act of kindness where they felt they made a difference to the people involved.
The Euseys lived across the street from the Olsons in the Port Streets community of Newport Beach for nearly Matt's whole life, Shannon Eusey said, and each family had four children. Matt is survived by his older brother, Drew (CdM class of 2013), and sister, Taylor (class of 2015), as well as his parents, Rex and Darby. His younger brother, Troy, will be a senior at CdM this fall and plays basketball and volleyball, like Matt did.
"Matt was such a great kid," Shannon Eusey said. "He was an incredible human being, and we just wanted to be able to honor those who lived by what Matt lived by. He showed kindness to anybody and everybody. He was always so gregarious and kind and loving. He just exuded great character in everything he did."
Matt Olson was also involved in the Best Buddies Club at CdM and served as vice president for two years.
Drew Olson said Thursday that the family was touched by the community's support and enjoyed reading the scholarship applications.
"We definitely see ourselves doing [the scholarships] for the foreseeable future," he said. "It was nice to hear other people's perspectives in their essays. We actually enjoyed it. We kind of got all of these essays and we were like, 'Oh gosh, we've got to read through all of these,' but it actually became nice. For myself, it was nice to see the culture at CdM and what they've been doing in recent years."
Danielle Whisenand of the Backhouse Fragrances candle company didn't know Matt Olson well. She said she had met him a couple of times, though her daughter Amra Barton, who played tennis at Newport Harbor before graduating this year, was close to him.
Whisenand said she felt compelled to help after he died. On Sept. 17, 2019, which would have been Matt Olson's 19th birthday, she donated 100% of her company's online sales to the M.O. 23 Forever Scholarship Fund and raised thousands of dollars.
"I just feel like he was such a special person in his community," Whisenand said. "For two weeks, I could not sleep, so I felt like I had to do something. His birthday was so shortly after he passed, which I'm sure was such a hard day for his mom, so I just wanted to do something. That was a way I could honor him, and the response from the community was just incredible."
Chandler, Matt Olson's former teammate on the CdM volleyball team, will relish winning the scholarship. Like Olson was, Chandler is a middle blocker, headed to Pepperdine next year.
Chandler said this year's CdM volleyball team wanted to win the CIF Southern Section Division 1 title in Olson's memory, though the season was cut short due to the coronavirus pandemic. Olson's number was on the volleyball uniforms in remembrance.
"I was so excited," Chandler said of the moment when he found out he got the scholarship. "My mom [Kristen] called me, and she was bawling crying. It just means a lot to me … I want to carry on his legacy of kindness and everything he lived for."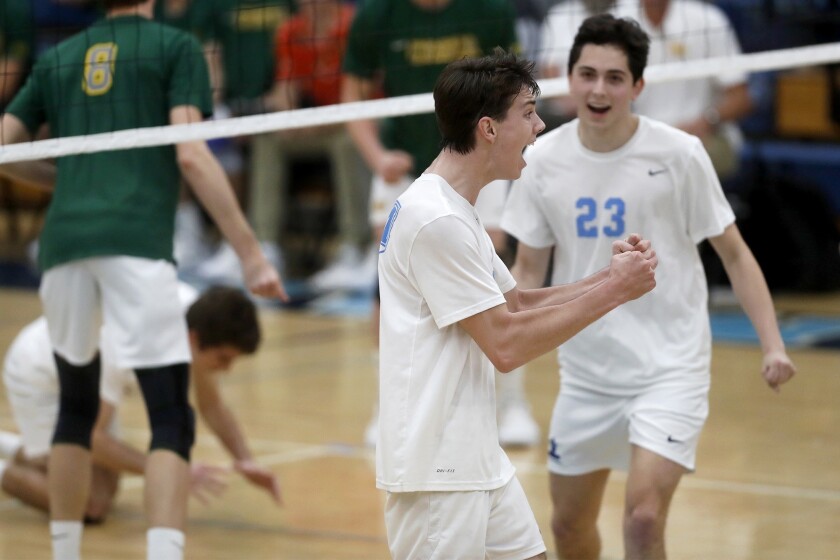 ---
All the latest on Orange County from Orange County.
Get our free TimesOC newsletter, coming in August.
You may occasionally receive promotional content from the Daily Pilot.