Tito Ortiz looks to join race for Huntington Beach City Council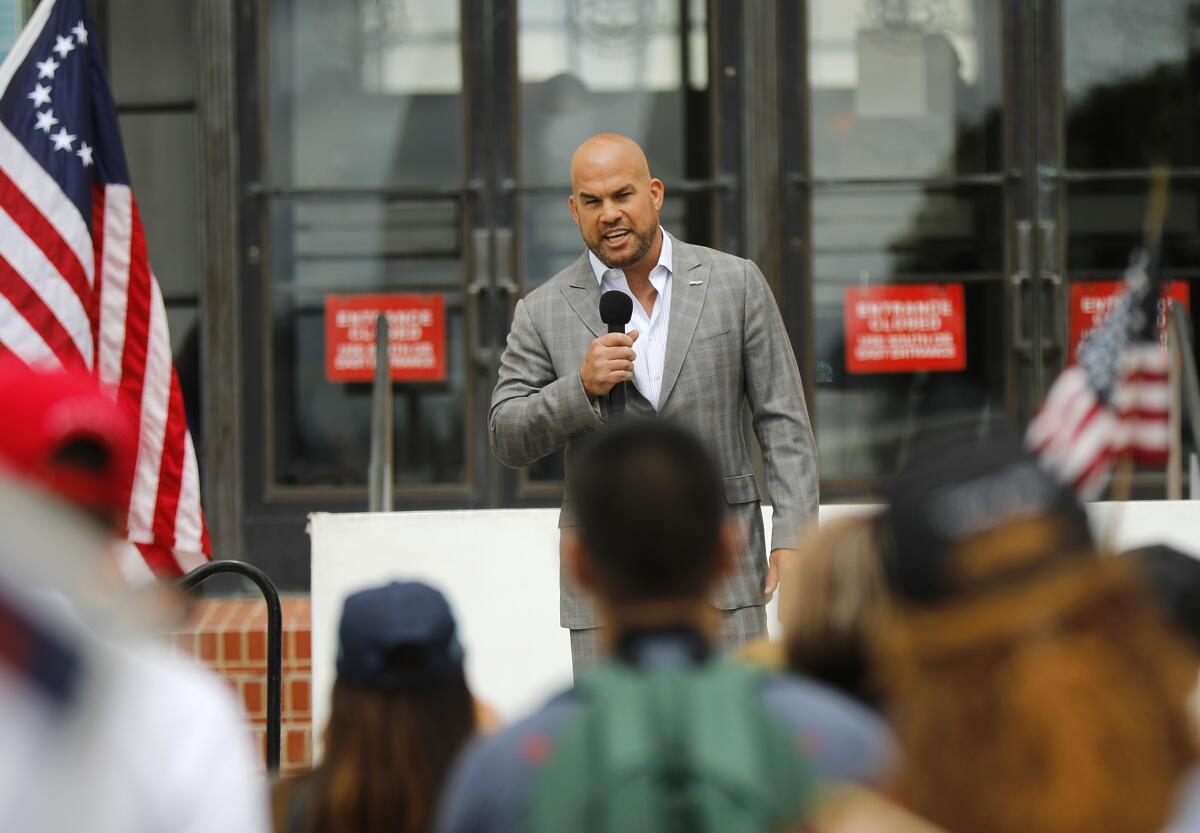 Mixed martial arts fighter and UFC Hall of Famer Tito Ortiz plans to put his hat in the ring in the race for Huntington Beach City Council in November.
Ortiz, 45, graduated from Huntington Beach High School in 1993. He wrestled for the Oilers and for Golden West College.
"Being a possible candidate for city council, I can help out in a vast way of helping out the community, and not just the community, but our Police Department, and our businesses, our small businesses," Ortiz said. "I think it's very important because I have a lot of friends who do have small businesses here in Orange County. Their hands are tied because of COVID-19."
Among his business ventures, Ortiz has run a mixed martial arts gym in Huntington Beach. He also has a clothing company called Punishment Athletics.
During a summer that has seen a number of protests come to downtown Huntington Beach following the death of George Floyd, Ortiz said he felt compelled to protect his community from those who would label its residents as "a bunch of white supremacists."
Ortiz called such branding of the city "far-fetched." He said that the police did a good job of keeping the peace in downtown Huntington Beach, and he added that he recently had a meeting with the Huntington Beach Police Officers Assn.
"Running for city council, I see things either black or white," Ortiz said. "It's wrong or right. I'm on the right side. I want to do the right things for our community because the community has given so much for myself. It's about the future of my children. It's about the future of their children. It's about the future of our community, and I just want to do the right thing."
Those wishing to put their name on the ballot for Huntington Beach City Council have to collect 20 signatures from registered Huntington Beach voters. Ortiz said he has collected the requisite number of signatures and is still looking for more.
"I'm an honest man," Ortiz said. "I'm an honest, hard-working American that just wants something great for our great city of Huntington Beach. Being born and raised here, with my kids here and the community that supports me, I just want to do the right thing, so that's why I'm running for city council in Huntington Beach."
A well-known supporter of President Donald Trump, this campaign will be Ortiz's first foray into politics.
"I welcome new candidates who are willing to step up and serve our city," Huntington Beach Mayor Lyn Semeta said. "Tito Ortiz is a hometown man who raised his children here and shares the patriotic pride that characterizes our community. The fact he experienced real adversity as a child and through hard work and goal setting overcame the odds to achieve phenomenal success gives him favorable attributes for a council member.
"With over 15 people in the race now, this should be an interesting election, to say the least."
All the latest on Orange County from Orange County.
Get our free TimesOC newsletter.
You may occasionally receive promotional content from the Daily Pilot.