The P on this Newport Beach lifeguard tower stands for pride
This is a story about how young Eric Connella and his friends had an itch for some wholesome hijinks in 1983 and wrote a few lines into Newport Beach history.
It's the story of Tower P.
A new lifeguard tower went up that summer on the golden sands near their enviable neighborhood surf spot, the Wedge. Every lifeguard lookout in Newport Beach has a simple name corresponding to the closest street name, which on Balboa Peninsula is typically either a numeral or letter. A large plaque nailed to the sides of the elevated huts identifies it.
But this new tower had no name.
Until 16-year-old Connella and his crew, with masking tape, spray paint, civic pride and a dash of silliness, decided to christen it Tower P.
It was somewhat of a non sequitur, but with some logic, Connella explained. The last tower before the Wedge was at L Street. This new tower was close to M Street, near where Connella lived, but Tower M is on Main Street just west of the Balboa Pier. So they picked a letter between M and W. P Street doesn't exist, but Tower P does.
Tower P came from tragedy. Two young girls playing in the sand were swept to sea by the powerful waves the Wedge area is known for.
Details of the nearly four decades-passed incident have become fuzzy. But as retired Newport Beach lifeguard battalion chief Jim Turner knows, the sand at the Wedge can get carved away by big summer swells.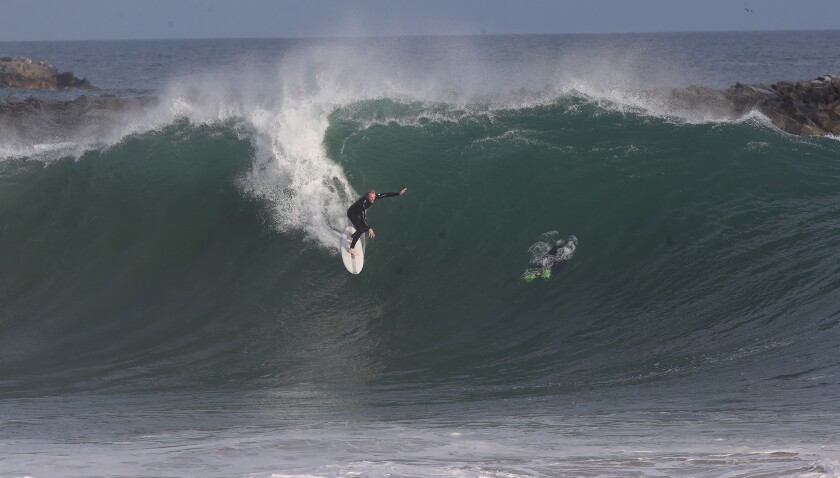 Without another lookout between the L and W towers at the time, this created a blind spot — body surfers out in the waves could be easily seen but the area closest to shore was harder to put eyes on.
So when a large chunk of the sand berm the children were sitting on that dark day broke off, the girls were washed out to sea before lifeguards could reach them — with the Wedge being 160 yards away in soft sand and the L Street tower twice that distance, if it was even open.
The city installed a roofless platform to bridge the gap.
Pondering how to make the tower fit in, Connella and his friends taped off a P outline one night and filled it in with white spray paint, approximating the other towers as best they could.
"Our intention was to make it look nice and presentable. It wasn't just graffiti," said Connella, now 53 and a financial advisor in Laguna Niguel. "We were serious about trying to make it right."
He vividly remembers a lifeguard sanding off their P and painting over the patch the next day.
So they put it back on. The city painted over it again. This repeated four or five times until one day in the fall, the city hammered permanent P plaques onto the outer walls. P for persistence.
Turner said the lettering system makes sense from a logistical perspective, though he agrees Connella has a good story.
"I don't know about the local kids deciding to name the tower but there is a logic to naming the tower that would more likely come from lifeguard administration," said Turner, who served as a Newport lifeguard from 1973 to 2014.
"Administrators would have needed to name the tower as an identifier for schedules, on the old-style phone plug board and to direct patrol vehicles on the radio."
M was out because of Main Street, N wouldn't do because it was used for a bayside tower, and O looked and sounded too much like "zero." The next letter, P, didn't have any conflicts.
Current chief lifeguard Mike Halphide has been working Newport's shore since 1984. Tower P's sad start and more cheerful naming predate him. But it's a good post.
"I always liked working Tower P because you were part of the Wedge team but somewhat removed from all the crowds," he recalled. "Also, it is a great perspective to watch people ride the Wedge as you can see them deep in the barrel when they are obscured from view to most people sitting near Tower W."
As for Connella, whose parents still live off M Street, it's still a local hang.
"When I see that 'P Street' tower," he said, "it just gives me a sense of pride."
---
All the latest on Orange County from Orange County.
Get our free TimesOC newsletter.
You may occasionally receive promotional content from the Daily Pilot.