Newport-Mesa officials, undaunted by criticism, forge ahead with plans to resume in-person learning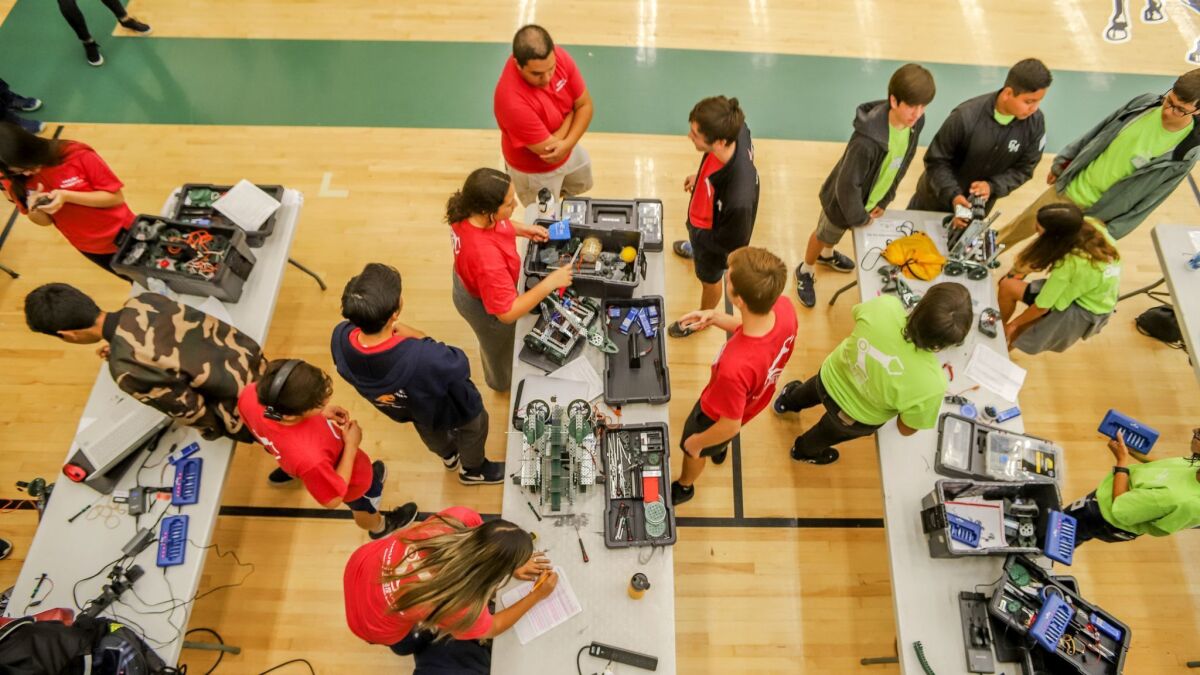 With employees and parents split over whether it's safe for kids to start returning to campuses Sept. 29, Newport-Mesa Unified School District officials forged ahead Tuesday, approving a distance learning agreement with teachers and contracts with air quality and ventilation consultants.
Board members also reviewed a draft Learning Continuity Plan — a stand-in this year only for the traditional Local Control Accountability Plan — which describes how Newport-Mesa will continue to meet and fund its educational goals in the 2020-21 school year as the coronavirus pandemic continues.
Supt. Russell Lee-Sung said principals are working on school-site safety plans in preparation for reopening, as shipments of personal protective equipment and supplies make their way to schools.
The update follows on the heels of an op-ed penned by teachers and school families this week claiming Newport-Mesa's plan to reopen under a hybrid learning model is too hasty and could cause students and staff undue stress and potentially expose them to the virus.
With just two weeks to go before children are set to return to Newport-Mesa Unified campuses, employees are urging the district to address outstanding concerns or keep schools shuttered.
"I am disappointed with what I'm hearing and the perceptions out there that we're not going to be ready," Lee-Sung said Tuesday. "One thing I want to emphasize is that we will be ready — when it's time for our staff to return to the sites and to welcome our students back."
Officials disclosed the terms of a tentative agreement reached with the Newport-Mesa Federation of Teachers regarding distance learning this school year. The two parties agreed to extend traditional collective bargaining discussions, which would have taken place this year, by one year.
Under the agreement, teachers will receive an additional 1% of their salaries as a one-time payment for 2020-21. Full-time teachers will also receive a $500 stipend (part-time faculty stipend will be pro-rated) to support the increased use of personal technology equipment and materials. District officials estimated the move will cost $1.9 million.
"I am so pleased with this agreement," said Leona Olson, the assistant superintendent of human resources. "It was a lot of hard work and deep discussions, hard discussions with the teams. It was hard work, but the result was very, very positive."
The Orange County Health Care Agency reported six new deaths and 135 new cases related to the coronavirus in the county on Wednesday.
Board members also approved two consultant agreements with Houston-based LEAF Engineers ($2,350) and Los Alamitos air quality compliance firm Health Science Associates ($5,910) to help update the district's indoor air quality plan and upgrade HVAC systems at school sites.
Tim Holcomb, the district assistant superintendent and chief operating officer, said the firms helped develop upgrades unique to each school site.
"The two of them together worked … to review all of our process, to put in place enhancements to our ventilation systems and enhancements to our filtration systems so we could be prepared to welcome teachers and students back with absolute confidence," Holcomb said.
Newport-Mesa's special projects director Vanessa Galey presented the draft Learning Continuity Plan for 2020-21, sharing how the district plans to ensure continuity in learning throughout the pandemic in key areas, including access to tech devices and support for special needs students, ensuring pupil participation, engagement and attendance and enhancing safety and well-being.
In a quick rundown, Galey said the district spent $920,000 hiring an additional 44 custodians while committing $13.6 million to staffing NMUSD's 100% virtual Cloud Campus. More than $2 million has been budgeted for student Chromebooks and teacher laptops this school year.
School districts in more affluent areas of Orange County are planning to welcome students back for in-person learning this month, sooner than in districts serving low-income Latino households like Santa Ana.
Another $188,759 has been dedicated for health and safety supplies, while $1.6 million has gone to fund social workers and behavioral specialists who work directly with students.
Trustee Charlene Metoyer said the LCP and reopening plan demonstrate the countless hours of work and collaboration that have been put into resuming in-person learning.
"Between our school reopening plan and this, everyone should know exactly how ready we are to educate our children in the time of COVID-19," she said.
Newport-Mesa will reopen school campuses to students in transitional kindergarten through second grade, as well as special education students, on Sept. 29. Students in third- through six-grade will return Oct. 1 and middle and high schoolers on Oct. 12.
---
All the latest on Orange County from Orange County.
Get our free TimesOC newsletter.
You may occasionally receive promotional content from the Daily Pilot.