Newport Beach to consider revision to city's 'Oceanfront Boardwalk Safety Program'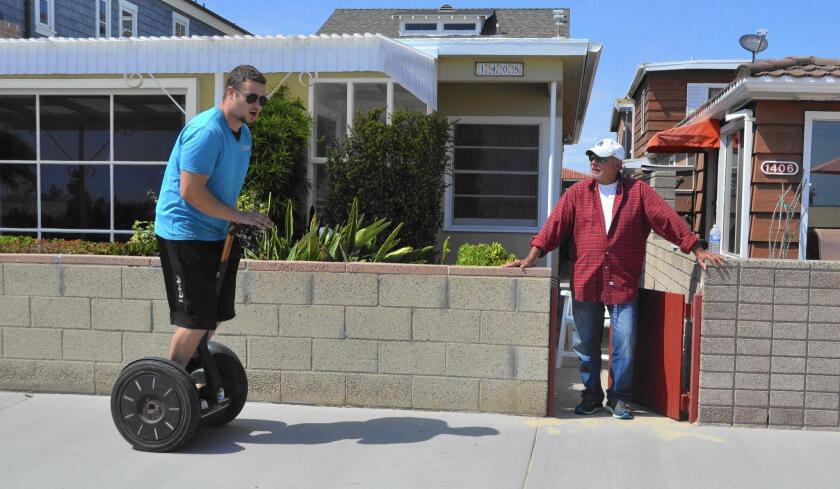 Residents are raising concerns about safety on the boardwalk, pointing to speeding cyclists, skateboarders, electric bikes and scooters — an issue that the Newport Beach City Council will take up at Tuesday's council meeting.
The boardwalk spans about 3 miles from E Street to 36th Street, providing a pathway for pedestrians and cyclists between Balboa Pier and Newport Pier. Safety on the boardwalk was brought up during the City Council's Feb. 11 study session with public comment focusing chiefly on the proliferation of electric bicycles. City staff said most of the concerns were related to speed.
Others, in support of electric bikes, said that such devices increase mobility and allows them to travel the peninsula without cars.
The fastest class of e-bikes is already prohibited from the narrow path, along with surreys, motorized scooters and skateboards, but like surreys, electric bikes are available for renting at Newport's many tourist-serving seaside bike shops.
Disneyland, Knott's Berry Farm and other California theme parks have been shut for six months. An unusual set of circumstances in Orange County has led three mayors to demand a change.
Up for consideration Tuesday is an ordinance to amend current city code — the "Oceanfront Boardwalk Safety Program" — that will update language and definitions to include new and foreseeable modes of transportation and increase maximum fines for violations of boardwalk regulations from $50 to $200.
A staff report prepared for Tuesday's meeting also reviews signage and regulatory measures already implemented, including replacement of faded, damaged and missing signs and radar speed feedback signs. The speed limit on the boardwalk is 8 mph.
Still pending are revision of text-based signs to symbol-styled signs and the potential addition of speed-calming devices such as rumble strips, which are currently undergoing a pilot program at three locations along the Castaways Park trail until the end of the year.
If approved, the ordinance will be passed to a second reading and adoption at the City Council's Oct. 13 meeting.
City staff is also seeking direction on whether or not to bring back a code revision item that would prohibit some or all motorized transportation devices and/or if discussion on such a possibility should be tabled to see if increased signage, fines for violations and potential speed calming measures have any effect.
Tuesday's council meeting will begin at 5 p.m. and can be viewed on NBTV or streamed online at newportbeachca.gov/government/departments/public-information-office/nbtv/nbtv-live. Phone numbers will be listed on-screen during the meeting for residents to call in and comment on specific agenda items. Only 20 people can be on hold at one time.
Members of the public are also encouraged to submit comments to the city clerk at cityclerk@newportbeachca.gov by 5 p.m. on Sept. 21.
On the same day The Times announced Gustvao Arellano was becoming a columnist last month, he came to Corona del Mar to pay his respects to the late Rubén Salazar and for a blessing. Fifty years after the columnist's death, Salazar is passing the torch to Arellano.
---
All the latest on Orange County from Orange County.
Get our free TimesOC newsletter.
You may occasionally receive promotional content from the Daily Pilot.