'Night of Lights' offers drive-through variations of Winter Fest OC favorites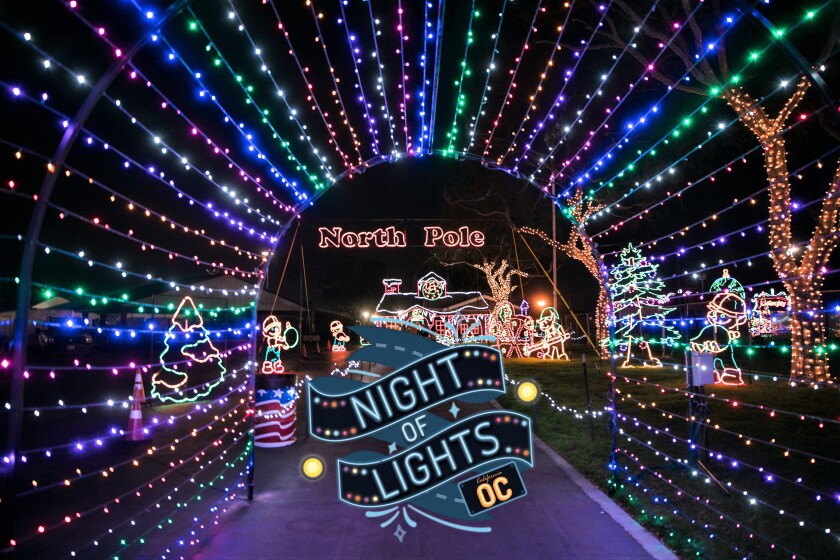 Fans of Winter Fest OC at the Orange County fairgrounds likely suspected months ago the in-person holiday extravaganza would not pass pandemic muster — and they were correct — but for those still seeking tidings of comfort and joy, all is not lost.
From the creative team behind Winter Fest OC comes Night of Lights OC, a mile-long immersive drive-through experience that brings many fest favorites to life for visitors, as they remain in the comfort and safety of their vehicles during a 30-minute route.
Starting Dec. 10 and running nightly through Jan. 10, excluding Christmas Eve, visitors can enjoy brilliant displays of holiday scenery, special effects and animated light tunnels synchronized to music accessed through a car radio or smartphone. Timed visits are available from 5 to 9:30 p.m.
The event will also feature some traditional Winter Fest favorites, including a 50-foot holiday tree, the world's largest ornament, ice princesses and Santa Claus himself.
Many of us will spend the holiday season the same way we've spent most of 2020: at home. Here are some ideas to make it special while staying safe.
Katrina Carlson, the executive producer, said the show's organizers surveyed Winter Fest OC fans to see what elements guests enjoyed the most.
"We realized people really loved the tree aspect of it," Carlson said Wednesday. "So, we're bringing that all together. We're still incorporating that Winter Fest brand but moving into a drive-through format."
The event was previously scheduled to begin earlier in the month, but organizers had to postpone the show and refund tickets when it looked like a Nov. 19 statewide curfew might cut off timed entrances at 8 p.m., providing too narrow a window for a full-scale production.
But when Costa Mesa Mayor Katrina Foley heard the entire event was temporarily canceled, she worked with the OC Fair & Event Center and the Orange County Public Health Care Agency to clarify guidelines and make some minor modifications. Now, vehicles may enter Night of Lights OC until 9:30 p.m.
Foley said in a release issued Tuesday she was thrilled the show would not only provide residents a safe, family-friendly option for the holidays, but also ensure work for actors, entertainers and other event staff at a time when many are under- or unemployed.
"During these tough times for everyone, Night of Lights OC is not only spreading holiday joy, but also providing employment opportunities for hundreds of individuals," she said.
Sherman Library & Gardens brought in a 20-foot tree for the holidays on Monday ahead of its Nights of 1,000 Lights this December.
Early bird tickets can be purchased now through Sunday and start at $39.99 for a vehicle of up to five for the Monday through Thursday shows, with slightly higher rates for weekend performances. Tickets for larger vehicles of six to nine people start at $59.99 on select nights. Pricing will increase after early bird tickets are sold out.
Attendees may pre-order their own in-car holiday treats, including Mom's Bake Shoppe cookie buckets, brownies, tamales and family meal packs, up until 10 a.m. the day of their show.
Carlson said the basic structure of Night of Lights OC has been built, and now programmers are working on synchronizing lights and music, while entertainers rehearse and staff work on logistics and traffic flow.
"We're like Santa's elves working at all hours of the night," Carlson said. "People are going to love it."
For more, visit nightoflightsoc.com.
---
All the latest on Orange County from Orange County.
Get our free TimesOC newsletter.
You may occasionally receive promotional content from the Daily Pilot.