Court overturns hate crime, civil rights convictions for man who attacked Black grocery store worker in O.C.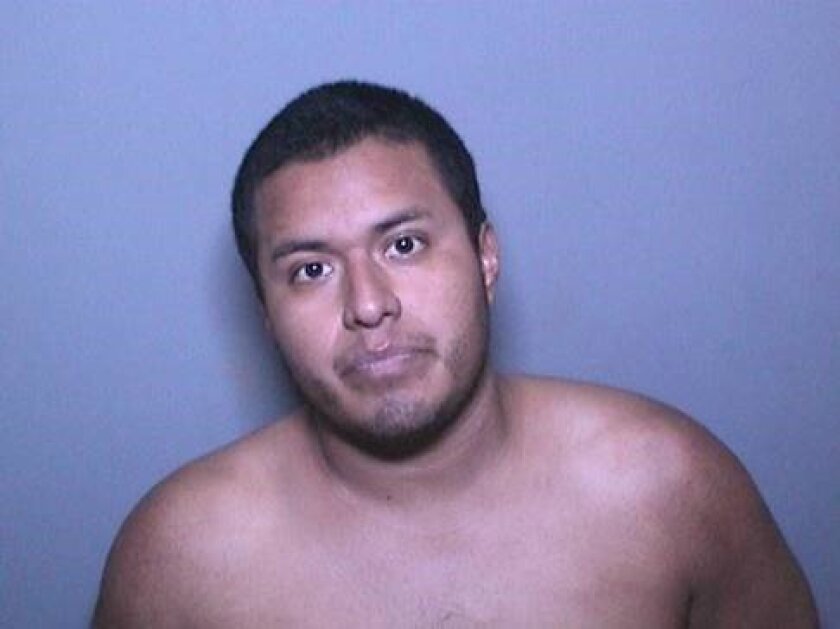 A state appeals court has overturned a civil rights violation conviction and felony hate crime enhancement for a San Clemente man serving six years in prison for randomly attacking a Black grocery store worker in Laguna Beach in 2019.
Fernando Ramirez was 23 years old on June 15, 2019, when he entered a Whole Foods Market on Broadway Street and sucker punched a 26-year-old employee who'd been on a lunch break, breaking the man's nose and severely damaging the victim's two front teeth, according to reports at the time of the incident.
Two witnesses saw the unprovoked attack and called 911 as Ramirez fled the scene. They followed Ramirez until police arrived and apprehended him, according to the facts of the case outlined in a written opinion delivered Wednesday by the 4th District Court of Appeal.
Then-Laguna Beach police officer Randy Bitonti arrested the suspect and placed him in the backseat of his vehicle, where a video camera recorded a conversation between Ramirez and the officer.
Mishandled evidence leads Orange County Dist. Atty. Todd Spitzer to drop or reduce charges in dozens of cases involving assault, drug possession and weapon smuggling.
During that conversation, Ramirez said the reason he attacked the victim — identified in court records by the initials M.R. — was, in part, because "M.R. was Black and he hated all Black people," the opinion states.
Ramirez inquired as to where he would be housed in jail and asked to be segregated, so he would not have to interact with Black detainees, according to court records. He further intimated he might otherwise "do something stupid."
Ramirez used several expletives and racial slurs throughout the conversation, according to Bitonti's testimony in court, and said Black people, including M.R., had repeatedly used racial epithets against him as a Latino.
In October 2019, a jury convicted Ramirez on one felony count of battery causing serious bodily injury with a hate crime enhancement and one misdemeanor count of violating another's civil rights by force. He was sentenced in January 2020 to serve six years in a state prison and ordered to pay restitution, court records indicate.
"Hate does not belong anywhere, but hate crimes are on the rise in Orange County and it cannot and will not be tolerated," Orange County h Atty. Todd Spitzer said in a statement following Ramirez's sentencing.
Defense attorneys later appealed the hate crime enhancement and civil rights conviction on the grounds the conversation between Ramirez and Bitonti took place after Ramirez had invoked his Miranda rights and requested an attorney.
In the court's opinion, Ramirez was neither re-Mirandized nor asked to waive his rights to have an attorney present.
"The People must show both that he defendant reinitiated discussions and that he knowingly and intelligently waived the right he had invoked," the opinion states. "If instead police reinitiate discussion without a break in custody, any further statements by the defendant are presumed involuntary and rendered inadmissible."
Judges further ruled if Ramirez's limited inquiry about jail housing sufficed as a waiver of his previously invoked rights, "the opportunities for officers to avoid the constraints of Miranda rules would be too great."
Because the backseat conversation was the only evidence the attack against M.R. was racially motivated and an essential reason for the jury's finding on the hate crime enhancement and civil rights conviction, the court ruled those convictions be reversed and the associated sentences vacated.
Ramirez has so far served one year of his six-year sentence, which court records show included four years for the felony battery conviction and a consecutive two-year term for the hate crime enhancement. The misdemeanor charge earned Ramirez a concurrent six-month prison term.
Kimberly Edds, a spokeswoman for the district attorney's office, confirmed Friday prosecutors were reviewing the court's decision and determining whether to retry Ramirez on the two overturned convictions.
---
All the latest on Orange County from Orange County.
Get our free TimesOC newsletter.
You may occasionally receive promotional content from the Daily Pilot.