Around Town: Virtual memorial tribute to former Orange Coast College baseball coach John Altobelli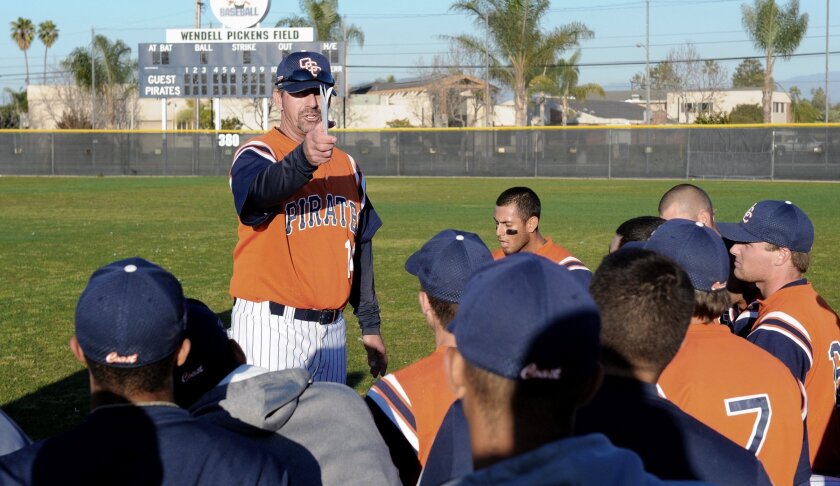 Orange Coast College will host on Tuesday morning a virtual memorial tribute to former baseball coach John Altobelli, his wife, Keri, and daughter, Alyssa, on the one-year anniversary of the helicopter crash that took their lives, that of NBA legend Kobe Bryant and five others.
Organizers have created a video to pay homage to Altobelli and his contributions to the athletics program and the OCC community at large. The program will include special guests sharing their experiences and memories as well as photos and videos that demonstrate how Altobelli left a lasting legacy on the Costa Mesa campus and beyond.
The video will be broadcast on YouTube at 10 a.m. For more, visit dev.orangecoastcollege.edu/e/altobelli.
Huntington Beach hosting bimonthly COVID-19 vaccine virtual town halls

The city of Huntington Beach, in partnership with the Orange County Health Care Agency, is holding virtual town halls on COVID-19 vaccines on the first and third Wednesday evening of the month through April 21.
The meetings are designed for the public to get the facts on the COVID-19 vaccine.
The first meeting, conducted Wednesday and available on YouTube, featured Huntington Beach Mayor Kim Carr and Dr. Regino Chinsio-Kwong. The next meeting is scheduled for Feb. 3.
For more information, visit hbready.com.

Cox Communications offers STEM scholarships for O.C. high school seniors

Cox Communications invites Orange County high school seniors to apply for STEM-related college scholarships from $2,000 to $5,000 now through Feb. 3.
Scholarships are awarded to individuals who have lived in a Southern California Cox service area for at least one year and who plan to attend a higher educational institution in the U.S. The funds may be used for tuition, books, fees, room and board and other educational expenses.
Qualified students must plan to major in a science, technology, engineering or math-related subject and have a cumulative unweighted GPA of 3.0 or higher (on a 4.0 scale). Candidates should have a history of active involvement in extracurricular activities, community service or work experience and be able to demonstrate financial need.
The program is open only to U.S. citizens or permanent residents. The deadline to apply is Feb. 3. For more information, visit coxcharitiesca.org/cox-scholars.

OC Libraries commemorates 100 years of service with yearlong celebration

To mark its centennial year of countywide service in 2021, OC Public Libraries has launched a year-long celebration themed "Celebrate the Past, Inspire the Future: 100 Years of Possibilities" that will include a commemorative library card and logo along with a range of programs and activities throughout the year.
Special story time readings, take-home crafts and reading programs will also highlight the library's history and advocacy.
The Orange County Free Library got its start on Aug. 1 ,1921, opening with a staff of three people in a rented room at 508 N. Main St. in Santa Ana. Today, the system encompasses 32 community branches with a collection of more than 2.4 million items checked out some 6.8 million times by nearly 500,000 library card holders.
"For 100 years, OC Libraries has enriched the diverse communities of Orange County in meaningful ways," Board of Supervisors Chair Andrew Do said in a statement. "I am extremely proud of the integral role out public libraries have played in the growth of Orange County."
Residents are invited to join the celebration on social media by following and tagging #OCPL100. For more information, visit ocpl.org/centennial.

K-12 students are invited to participate in MWDOC's Water Awareness poster contest

Municipal Water District of Orange County is calling on students countywide in grades K-12 to submit hand-drawn posters for its 2021 Water Awareness Contest. This year's contest theme is "Saving Together," and entries are due March 1.
The annual contest aims to get children and young adults thinking more about water and how access to clean, fresh drinking water improves our daily lives, while expressing themselves artistically. Pre-K entrants will receive a personal letter from Ricky Raindrop but do not qualify for a grand prize.
Each year nearly 1,000 entries are submitted but only 40 winners are selected and recognized, along with their teachers and family members at an awards ceremony held at the Discovery Cube in Santa Ana.
Select winners' artwork will be submitted to the Metropolitan Water District of Southern California's regional poster contest for consideration, and a chance to win a spot in their annual "Water Is Life" calendar.
For contest rules and details, visit mwdoc.com/news-and-events/events/water-awareness-poster-contest.

Fountain Valley Bodyworks Rebrand

Fountain Valley Bodyworks, a pair of formerly family-owned collision repair shops, has been rebranded under the Crash Champions banner.
The local body shop, which has locations at 17481 Newhope St. and 18125 Euclid St., opened its doors in 1974. It was acquired by Crash Champions in October.
"After 45-plus years of doing things the right way, we became the most trusted player in the market and found a partner in Crash Champions who could help us build on that legacy for years to come," Dave March, who founded Fountain Valley Bodyworks and maintains a stake in ownership, said in a statement. "The Crash Champions name and brand are nationally recognized not only for being leaders in collision repair, but also strong corporate and community citizens."
In February, those who visit the Fountain Valley Bodyworks website at fvbodyworks.com will be directed to the Crash Champions website at crashchampions.com.

Laguna Beach Chamber of Commerce honors Annette Malinowski

Annette Malinowski received the Laguna Beach Chamber of Commerce's Board Champion award.
A member of the Chamber since 2013, Malinowski has served on several subcommittees, including the committees for Government Affairs, the Laguna Beach Chamber Golf Tournament, the Retail Task Force, the Taste of Laguna, and Urban Design.
The Chamber has also installed its board of directors for 2021. Sandy Morales will serve as president and CEO of the Chamber, and J.J. Ballesteros is the board chairman. The executive committee also comprises Julie Laughton, David Rubel, Paula Hornbuckle-Arnold and Doug Vogel.
The other board members are Jenna Cassidy, Carmelit Green, Hasty Honarkar, Mark Meisberger, Reinhard Neubert, Tyler Russell McCusker and Craig Strong.

Laguna Beach Live virtual concert

Laguna Beach Live has joined forces with the Laguna Art Museum again to provide a virtual concert. The featured artist performance is by Triada Guitar Trio, a group made up of brothers Nikola, Petar and Vasil Chekardzhikov.
The January Live! at the Museum event can be viewed at lagunabeachlive.org.
---
All the latest on Orange County from Orange County.
Get our free TimesOC newsletter.
You may occasionally receive promotional content from the Daily Pilot.