Costa Mesa Republican, activist announces bid for state's 73rd Assembly district in 2024
A Costa Mesa Republican and Iranian American, instrumental in getting numerous Orange County cities to voice support for the rights of Iranians being oppressed by the government, has entered the race for California's 73rd Assembly district.
Hengameh "Henny" Abraham, co-owner of a local holistic health and nutrition business and a support staff member for a Costa Mesa charter school site that supports parents who homeschool, announced her run on March 1.
"I've already had two fundraisers," she said Friday. "So, we're campaigning and we are go, go, go."
Abraham's announcement positions her as the only 2024 Republican candidate so far in the newly reformed district that, after 2020 redistricting, includes the cities of Costa Mesa, Irvine and Tustin and is currently represented by Assemblywoman Cottie Petrie-Norris (D-Irvine).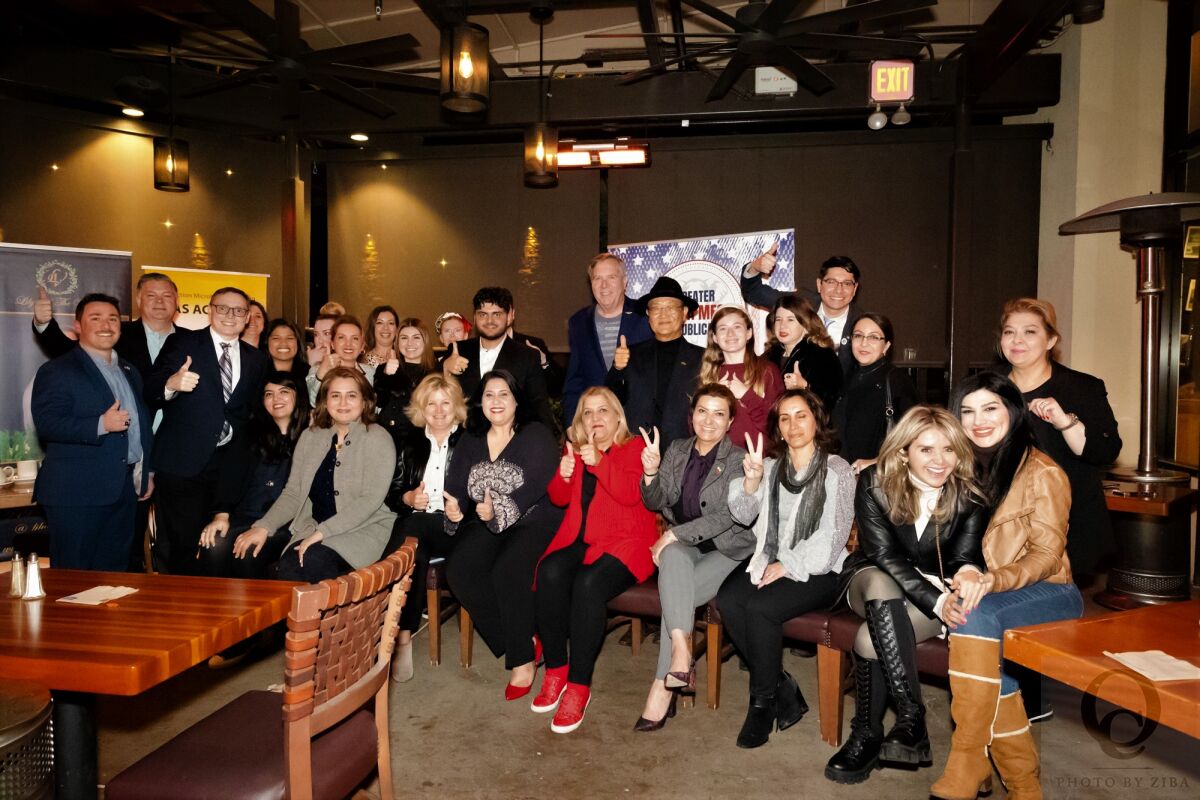 Petrie-Norris was elected in November, beating out GOP challenger Steven "Steve" Choi, who'd represented the former 68th Assembly District since 2016. Should the Democratic incumbent seek reelection, she would face off against Abraham in the June 2024 primary ahead of the November election.
Abraham, who worked as a campaign manager for Choi in his bid against Petrie-Norris, co-founded the Greater Costa Mesa Republicans in 2021 to reach a wider group of millennials, people of color and members of the LGBTQ community with similar political values.
"The notion that a Republican is an old white man sitting in a mansion no longer applies to Republicans in Orange County. We come in all shapes," said the 36-year-old self-described "millennial," who came to the U.S. from Iran in 2000 as a teenager, after her parents won a green card lottery. "There are a lot of Republicans, and we need to be a fair representation of what the party is here."
Last fall, Abraham organized demonstrations where Iranian Americans from both parties called on civic leaders to condemn human rights abuses in Iran. As a result 16 Orange County cities, including Costa Mesa, Irvine and Tustin passed resolutions she helped draft.
Although she ran for a seat in Costa Mesa City Council District 6 in 2020, she earned just 19.2% of the vote. Abraham says she's interested in running for office at the assembly level because she's been paying close attention to bills coming down the pipeline and doesn't like what she sees.
A supporter of parental rights, who pulled her son from Newport-Mesa Unified School District in 2021 in reaction to mask mandates and curriculum choices, she opposes a bill that would mandate HPV vaccines for all incoming high school freshmen and efforts to let young people make decisions about their gender.
She also believes in limiting taxes and assisting small businesses and says she plans to discuss with voters the struggles people are facing in a post-pandemic inflation period.
"I know, if you're a small business, how hard it's been trying to keep your business afloat, or if you're a parent, how you've been struggling, or how difficult it is to go to the grocery store and not be able to afford your same grocery haul," she said. "My opponent cannot say the same thing."
All the latest on Orange County from Orange County.
Get our free TimesOC newsletter.
You may occasionally receive promotional content from the Daily Pilot.