YMCA, Huntington Beach elementary students stuff stockings for the troops
Children love receiving stockings on Christmas.
They can also discover that making a stocking for someone else has worth.
Dozens of Huntington Beach elementary school students gathered at Peterson Elementary on Thursday night as part of YMCA of Orange County's annual "Stockings For Troops" community project.
The children, their families and YMCA volunteers stuffed hundreds of stockings with items like instant noodles, granola bars, cookies and crackers and gum, as well as personal letters, gift cards and other items. YMCA of Orange County had been collecting items for the annual donation drive for more than a month, and the stockings are being sent to U.S. troops early to ensure they get there by Christmas.
Sherry Lee said her 5-year-old daughter, Maren, a TK student at Peterson, had fun collecting items for the stockings.
"We went to Costco together and she picked out a couple of things off the list, got to help participate and understand what we were actually doing," Lee said. "It's supporting the troops and doing something for others, which I'm trying to teach her early on."
The stockings — about 2,000 will be stuffed organization-wide — will be sent to troops around the world through San Clemente-based partner nonprofit Words of Comfort, Hope and Promise, according to Anna Breese, YMCA of Orange County's marketing project manager. Donations too large for stockings will be delivered to Camp Pendleton.
Thursday's event drew children from Peterson, Smith and Moffett elementary schools, all in the Huntington Beach City School District.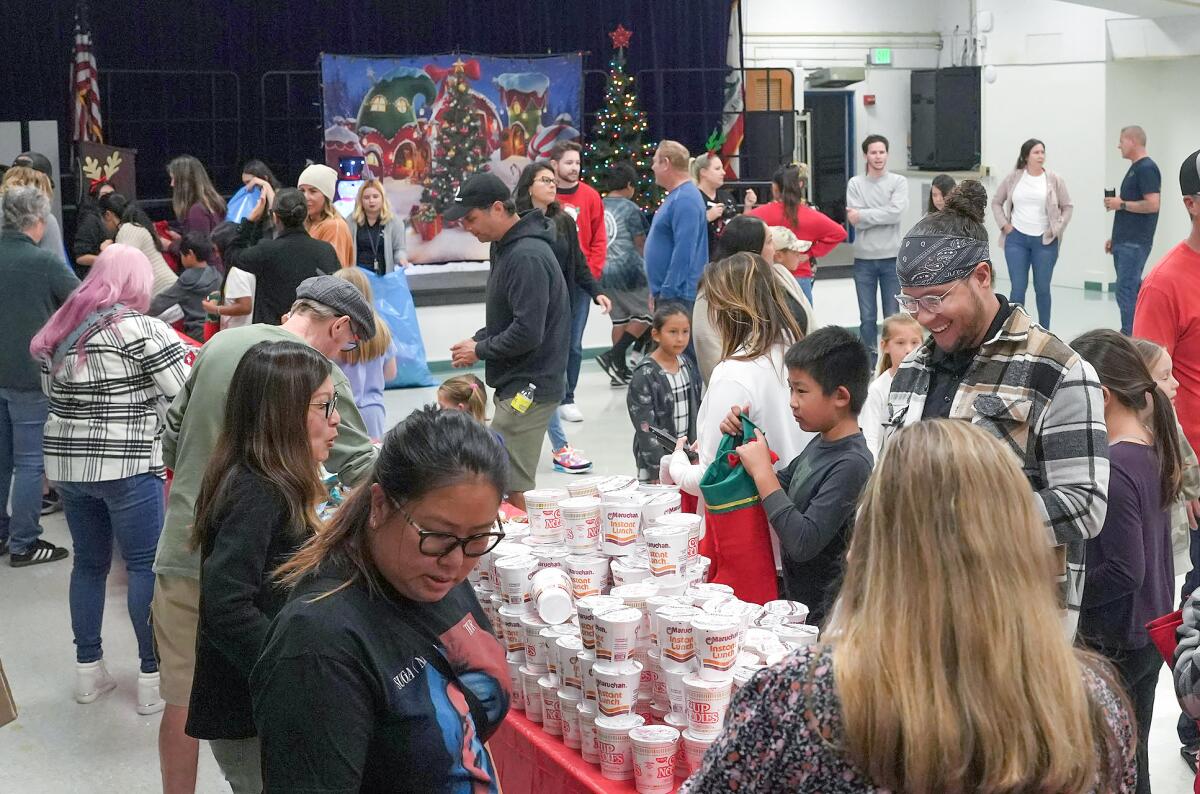 Stacey Noonan watched her two daughters, both of whom attend Peterson, get in on the fun and stuff stockings.
"It's one thing to get the donations, but I think it's great to have the kids be hands-on in putting it together," Noonan said. "The 'Y' is great about doing that. With kids, when they can see what someone's going to get, a tangible thing, I like the hands-on aspect."
Other activities for the kids at Thursday night's event included face painting, cookie decorating and an ornament station to help them get in the holiday spirit.
Krista Poitras, senior program director at YMCA of Orange County, said Peterson has been participating in the "Stockings for Troops" project for at least 15 years. She was director of the Peterson YMCA program for a decade.
"It's fun for [the kids], but they also get to see how lucky they are around the holidays," Poitras said. "They get to be at home, cozy with their families, and they get to see how other people don't necessarily have that luxury. [The military is overseas] fighting for our freedoms."
All the latest on Orange County from Orange County.
Get our free TimesOC newsletter.
You may occasionally receive promotional content from the Daily Pilot.