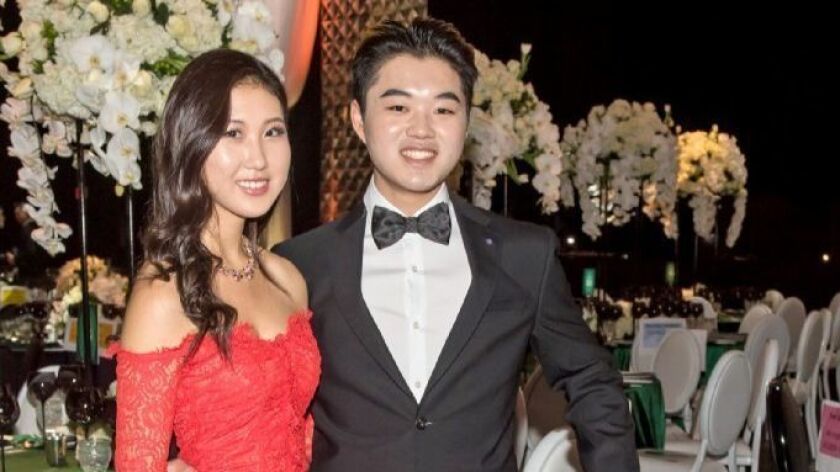 Sandy Segerstrom Daniels and Jane Fujishige Yada, co-chairs of the 45th annual Candlelight Concert at Segerstrom Center for the Arts, were lauded with accolades for producing an exceptional event raising $1.5 million in support of the center's artistic, educational and community engagement outreach programs.
The ultra-glamorous, black-tie gala unfolded Nov. 30, welcoming 450 guests carrying on an Orange County holiday tradition that is arguably the social event of the season on the coast. Each year the chairs, committee and center staff attract world class entertainment to a setting that is often nothing short of breathtaking — particularly when the center doors open, revealing the party to the arriving crush.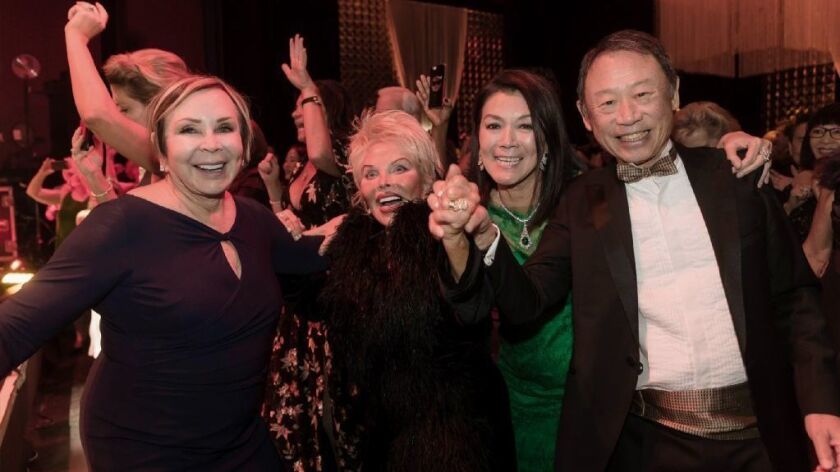 The 2018 holiday celebration, billed as an "Enchanted Evening," was no exception. Arriving patrons Ronnie Allumbaugh, Wylie and Bette Aitken, Lawrence and Dee Highby, S.L. and Betty Huang, Alex and Barbara Bowie and Roger and Tracy Kirwan, all longtime devotees of center need, walked the enchanted emerald green carpet into a cocktail reception held on multiple floors of Segerstrom Hall's tiered lobbies.
With champagne flutes in hand, guests were directed onto the Segerstrom stage for dinner entertained by Broadway talent, including Tony Award-winner Susan Engan, John Lloyd Young, Tony Yazbeck and Michel Bell. Local youth from the Cal State University Singers joined the pros for an amazing romp through classic Broadway and film musical memories as a first cabin dinner was presented by the Patina Group.
From classic Broadway to classic rock, the party shifted gears as "Earth, Wind & Fire" drew the crowd from the dinner stage to a massive dance floor created in the orchestra section of Segerstrom Hall.
In the generous crowd were Tim and Susan Strader, Kent and Carol Wilken, Ralph and Sue Stern, Jerry and Maralou Harrington, Ben and Carmela Du, Raj and Marta Bhathal, Randy and Sally Crockett, and Jack and Shanaz Langson. Also supporting the center were Mark and Carol Perry, Keith and Mara Murray, Peter and Connie Spenuzza, Clifford and Janet Ronnenberg and Moti and Idit Ferder of Lugano Diamonds, presenting sponsors of the annual event for the center.
Joining the list of underwriting support for the evening was Kia Motors America, creating a late-evening lounge on the Julianne and George Argyros Plaza that attracted the after-party crowd for midnight hot chocolate and gourmet treats.
B.W. COOK is editor of the Bay Window, the official publication of the Balboa Bay Club in Newport Beach.
---