O.C. commission again delays vote on JWA general aviation changes in hopes of keeping smallest planes from losing ground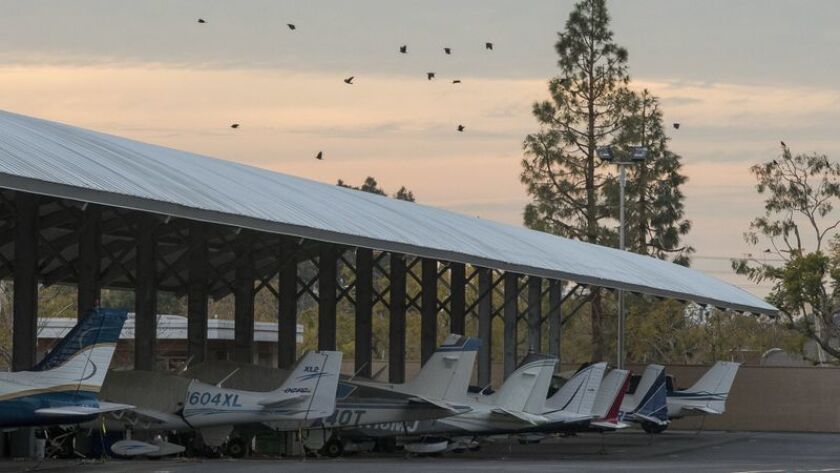 The Orange County Airport Commission for a second time delayed a vote on proposed changes for general aviation services at John Wayne Airport in hopes that it can maintain storage space for smaller private planes that could be squeezed out by corporate jets.
The commission voted 3-1 on Wednesday to put off its recommendation to the county Board of Supervisors for a month to attempt a compromise that would keep "light GA" planes — small aircraft such as propeller- and piston-driven Cessnas and Pipers — from losing too much ground to corporate jets, which are favored under proposed enhancements previously endorsed by airport staff.
Commissioner Lee Lowrey, who represents Newport Beach on the panel and has been sympathetic to Newport residents' concerns about airplane noise, said he has always preferred the most basic plan — the one the Newport City Council backed in March that would allow for adjustments required by the Federal Aviation Administration but keep the frequency of private aircraft departures the same and not add a terminal for general aviation.
Lowrey said that plan would be a win-win for all users and neighbors, including light GA pilots who would lose airplane storage space to a new terminal and would have to leave their planes exposed to the elements in open or partially covered spaces.
"There's just such limited hangar space at the airport now," he said.
Because the commission's votes are advisory, it's unclear whether this week's delay also will cause rescheduling of a planned binding vote by the Board of Supervisors on Tuesday. The item remained on the supervisors' agenda as of Friday afternoon, although the language no longer shows a staff preference.
The Airport Commission and the Board of Supervisors postponed votes on the matter in April after Newport Beach objected to what it considered the last-minute release of a key section of the project's environmental review.
The original version of the staff report recommended changes that would include a new general aviation terminal — the airport currently has terminals only for commercial service — and dedicated, fee-based customs screening for non-commercial international flights. However, the amended staff report only recommends that the supervisors select from one of four potential plans that have been under consideration.
The four options feature a range of amenities, with all options including infrastructure updates such as buildings and airfield roads to comply with current FAA standards. All proposed changes would stay within the airport's existing footprint.
Airport officials anticipate a few more departures per day under the previously preferred option. The county, which owns and operates JWA, says the updates would provide facilities to serve an increase in the number of private jets at the airport. Private jets fall outside the restrictions that JWA has operated under since 1985, when a Newport Beach-initiated settlement agreement set limits on noise levels, commercial departures, number of annual passengers and airport capital improvements.
Newport residents fear that expanded accommodations for private jets would lead to an increase in traffic from the jets, which are nearly as loud as commercial airliners and are not held to the same time restrictions for flights.
Support our coverage by becoming a digital subscriber.
---
UPDATES:
This article was originally published at 12:20 p.m. and was later updated with additional information.
---
All the latest on Orange County from Orange County.
Get our free TimesOC newsletter.
You may occasionally receive promotional content from the Daily Pilot.