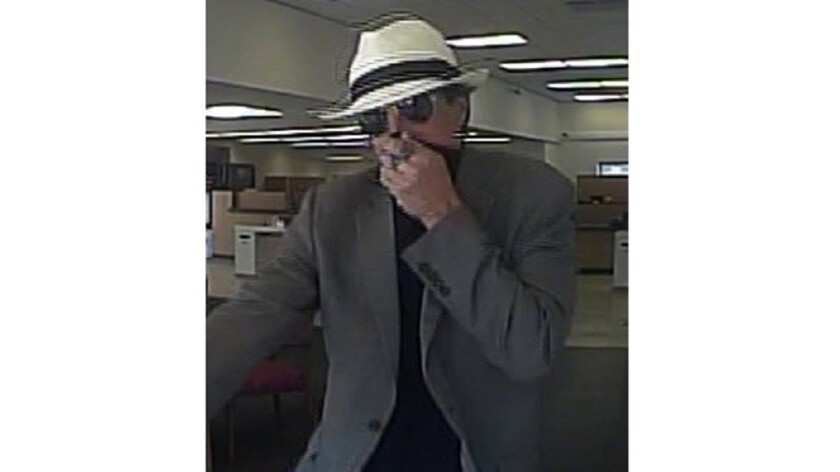 Two men were arrested at Los Angeles International Airport on Wednesday on suspicion of robbing a bank earlier that day in Huntington Beach, police said Friday.
Huntington Beach police responded at 2:10 p.m. Wednesday to a report of a robbery at the Bank of America branch at 18691 Main St.
Witnesses told police that a man with his shirt pulled over his mouth entered the bank, demanded cash and then fled in an SUV, authorities said.
The man had his hand in his jacket pocket, but it wasn't clear whether he had a weapon, police said.
A bank employee got a glimpse of the SUV's license plate and gave the information to police.
"Through a records check on the plate and some investigation, detectives developed information that the suspect and a friend were on their way to the airport to fly out of the country," police said in a news release.
Both men were found at Los Angeles International Airport with assistance from the Los Angeles Police Department, U.S. Customs and Border Protection, U.S. Marshals Service and Federal Bureau of Investigation, police said.
Wesley Lewison, 50, of Huntington Beach and Gregory Roberts, 47, of San Francisco were arrested on suspicion of robbery and conspiracy.
Both were booked into Orange County Jail without bail, according to jail records.
Customs and Border Protection spokesman Jaime Ruiz said the men were trying to board a flight to Germany when federal agents detained them.
"They were quite surprised when they saw officers and FBI agents," Ruiz said. "When they approached them, one of them resisted. They knew they were caught."
Ruiz said one of the men had $22,000 in his possession and the other had $200.
Twitter: @HannahFryTCN
---
UPDATES:
5:20 p.m.: This article was updated with information from Jaime Ruiz.
This article was originally published at 12:20 p.m.
---