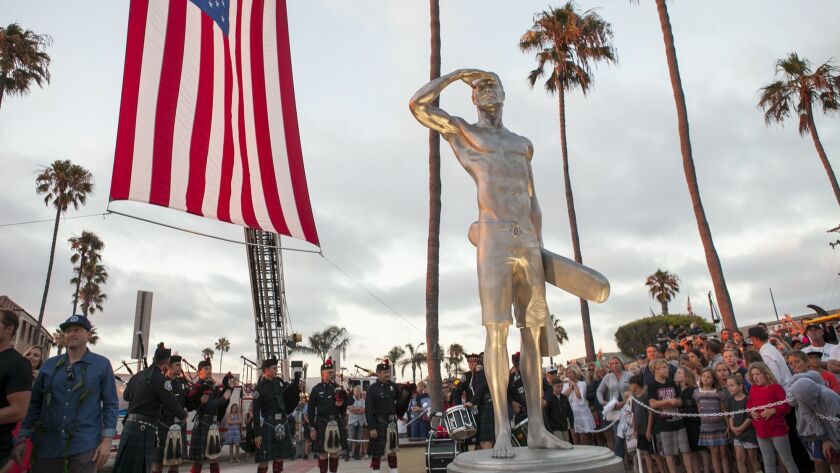 July 6 is officially Benjamin M. Carlson Day in Newport Beach.
The designation, marking the anniversary of the city lifeguard's death in the line of duty in 2014, joins other enduring memorials that Newport has created in the past five years.
A resolution approved unanimously by the City Council on Tuesday recounts Carlson's final rescue and lists the ways the community recognizes him — the Ben Carlson Memorial & Scholarship Foundation, the statue in McFadden Square, the Benjamin M. Carlson Lifeguard Headquarters on the Newport Pier, an annual ceremony in the sand with the Fire Department.
Jake Janz, Carlson's brother-in-law and the artist behind the statue, accepted the city's latest honor with Carlson's sister Stephanie, mother Teri and two young nephews.
"Over the last five years, the Carlson family … and the Ben Carlson foundation have gotten to see the very best that Newport Beach has to offer," Janz said.
Carlson, 32, a seasonal lifeguard with 15 years' experience, was manning a rescue boat the day he dove into heavy surf to assist a struggling swimmer. A crashing wave knocked both men underwater. The swimmer, clutching the buoy Carlson gave him, surfaced unhurt.
Backup quickly arrived and everyone made it back to shore safely, except Carlson. Fellow lifeguards recovered his body three hours later. He had drowned.
He is the city's only lifeguard to die in the line of duty.
---