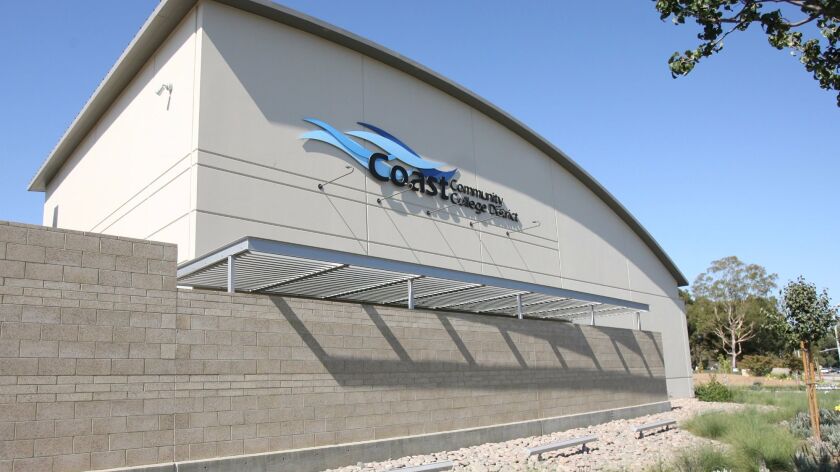 A hearing about changing the electoral system in the Coast Community College District took a contentious turn Wednesday evening after a district trustee accused his colleagues of inappropriately deciding during closed session not to expand the board by two members.
Trustee Jerry Patterson said three of his colleagues voted privately in a session before Wednesday's regular meeting against expanding the five-member board to seven in a maneuver that was not on the agenda.
The declaration came after public comment from district employee union leaders favoring such an expansion and after an assertion from board President David Grant that the panel was still weighing the idea.
Patterson argued that a seven-member board would better represent minorities in the district and help get them elected to the board. He accused fellow trustees of ignoring the public's wishes and not being "prepared to listen to the whole story."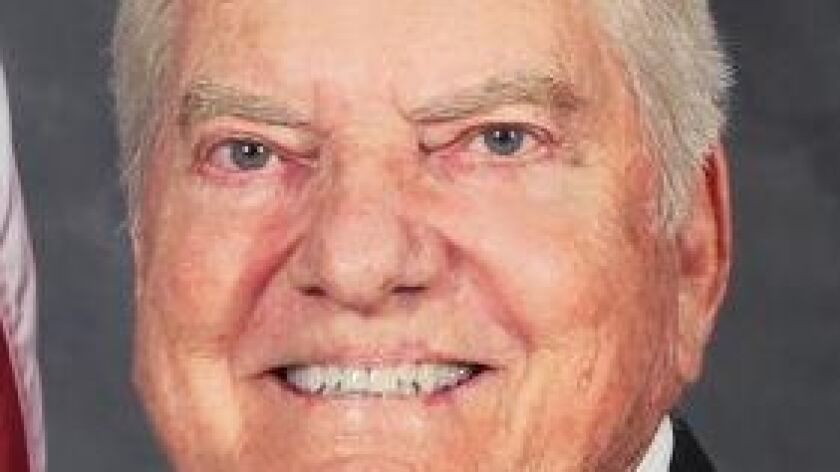 "My colleagues want to go step by step," Patterson said. "They don't want to look at seven until 2020. … I don't really know what's behind all that. It's kind of about delay. … As they say, justice delayed is justice denied."
Grant accused Patterson of grandstanding.
"No member of the board is allowed to grandstand," Grant told him. "That's exactly what this is."
Grant then warned Patterson — who at the outset of the hearing said he felt "gagged" — that if he continued, he would be breaking the law by publicly discussing closed-session items.
Grant said the board wasn't necessarily against adding two more members but wanted to wait until 2020 Census data is released, which would allow Coast "to have a clear picture of how we might divide the board up."
Patterson and others noted that Coast is the only community college district in Orange County, and one of a few in California, with five elected board members instead of seven.
Patterson said he had suggested that all of Coast's trustee districts be redrawn before 2018, a move that could "draw all us incumbents out."
"It was like I dropped a bomb in the room," Patterson said of his colleagues' reaction to the proposal.
Trustees Mary Hornbuckle and Lorraine Prinsky took offense at Patterson's remarks.
"It irritates to no end when you put your thoughts into my mouth," Hornbuckle told Patterson.
She added that she felt her closed-session "feelings about this subject ... are not open to the public."
Prinsky called Patterson's remarks "not accurate."
"For another trustee to say my mind is closed and I'm not listening, I really resent that," she said.
When Patterson argued that a Vietnamese American or a Latino should be on the board, his colleagues noted that trustee Jim Moreno is Hispanic.
"I'm not talking 'token' [Hispanic]," Patterson replied.
Moreno said he feels he is often forgotten as the board's sole Latino but that he nonetheless represents everyone.
He urged the community to weigh in on the issue of whether Coast should switch to a system in which trustees would be elected by area rather than by voters districtwide.
Currently, Coast's five trustees live in and represent specific areas, or districts, but they are elected at-large.
Critics contend that system violates state voting law by enabling white voters districtwide to overwhelm the preferences of minorities, who might otherwise be able to elect candidates of their choice from their areas.
Coast, which governs Orange Coast, Golden West and Coastline Community colleges, has been threatened with lawsuits this year warning the district to change its electoral system.
William Hoang, a Newport Beach lawyer, sent a letter to Coast on May 19 calling for the change. He alleged the district's at-large system dilutes the ability of Vietnamese people to influence elections.
Hoang pointed to the 2016 election, when Patterson faced off against Vong Nguyen, a Vietnamese American candidate, for the Area 2 seat. Hoang contended Nguyen had strong support from the Vietnamese community but lost because of bloc voting by the college district's majority non-Vietnamese electorate.
Coast trustees last month approved a resolution to move the district toward establishing district-based elections. Officials hope to complete the transition by Oct. 18. The move would require approval from the California Community Colleges Board of Governors.
Moreno said he felt Wednesday's hearing would set the tone for discussions going forward. He contested Prinsky's statement that there is "no need to politicize" the topic.
"This has been politicized," Moreno said. "No question about it. And not by us."
Coast has scheduled a second public hearing about the proposal for 5 p.m. Aug. 16 at its offices at 1370 Adams Ave. in Costa Mesa.
For more information, visit cccd.edu.
Twitter: @BradleyZint
---