What's a South African safari guide doing on a bike ride with a rhinoceros replica? Raising awareness
For the past few months, Matt Meyer has been bicycling down the West Coast tugging Luna, a fiberglass replica of a rhinoceros, with him.
The South African safari guide's unusual cargo is part of his larger "rhino ride" campaign to raise money and awareness of the plight of African rhinos, whose populations are declining.
On Tuesday, Meyer took Luna and his campaign, dubbed "The Long Ride to Free Them," to Circle View Elementary School in Huntington Beach.
He gave a presentation about his mission — which is being aided by Piper & Heath Travel, Wilderness Safaris and Empowers Africa — and answered questions from students.
"We're not just protecting rhinos; we're protecting everything else they need that is in the environment," Meyer said. "So the dung beetles all the way to the elephants, giraffes — all the animals you see in picture books — they live with rhinos and they rely on each other to survive."
The students watched as Meyer rode his bike around the blacktop while towing a wagon Luna stood on.
"I'm actually cycling like this for about 2,000 miles," Meyer explained. "We're not just driving from place to place. She also doesn't weigh what a normal rhino would weigh, thank God. My legs thank me for it every day."
A real rhino weighs 3,000 pounds, Meyer said; Luna only weighs 350.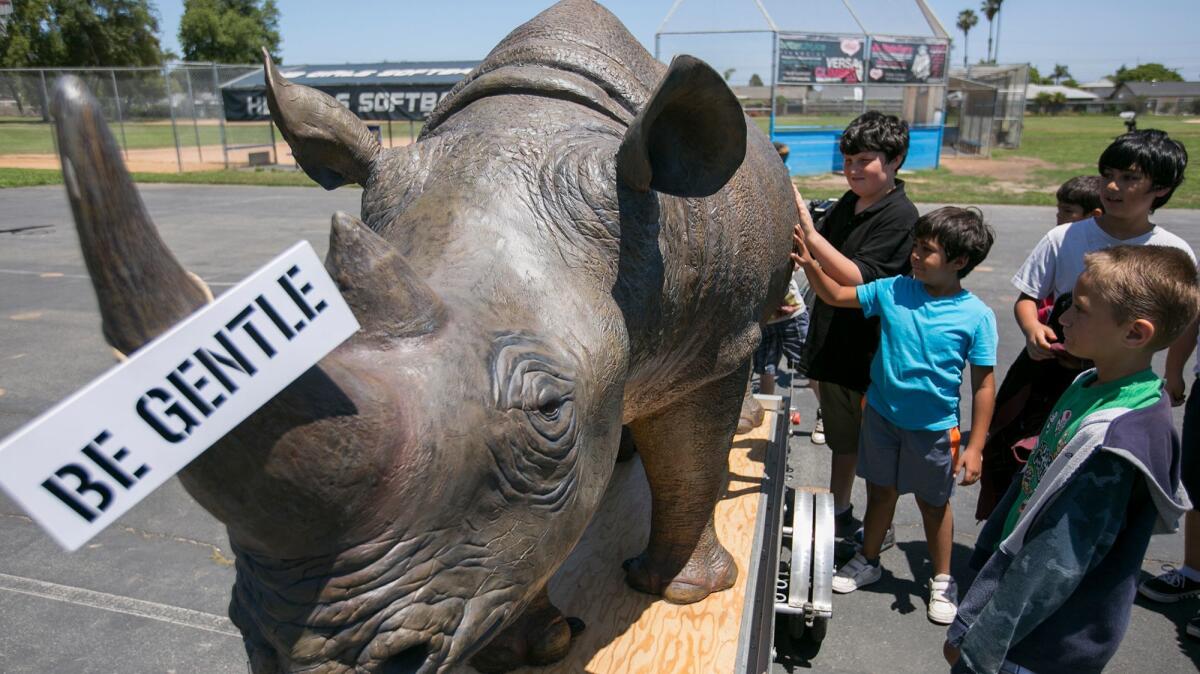 Meyer started his journey in April in Blaine, Wash., just south of the U.S.-Canadian border. He ends the campaign in San Diego this weekend.
Poachers are often uneducated and live in the wilderness, Meyer said. They use handmade firearms and "primitive ways" to remove a horn from a rhinoceros, which, while large, can't protect itself well against men, he added.
Meyer explained how a rhino's horn — made up of keratin — serves as a status symbol that's placed on a mantle and displayed during social gatherings.
And even though rhinos are large beasts, Meyer said they can't protect themselves from humans.
Funds raised throughout the journey will go toward black rhinos to help expand their population and keep them safe, Meyer said.
Fourth-graders Elizabeth Myers and Mikayla Coble said they were interested to learn about the rhino horn.
"It was so surprising to learn their horns are made out of what our hair and nails have," Elizabeth said.
Mikayla said she's now encouraged to help rhinos. She hopes to visit South Africa someday.
"I want to help them but we don't have rhinos here," Mikayla said. "So for now we're going to try and spread the word because if someone just gives up, they'll be gone."
For more information about Matt Meyer's "rhino ride," visit rhinoride.org.
Twitter: @vegapriscella
All the latest on Orange County from Orange County.
Get our free TimesOC newsletter.
You may occasionally receive promotional content from the Daily Pilot.