Costa Mesa council to address parking requirements for projects like the Plant, which is again awaiting approval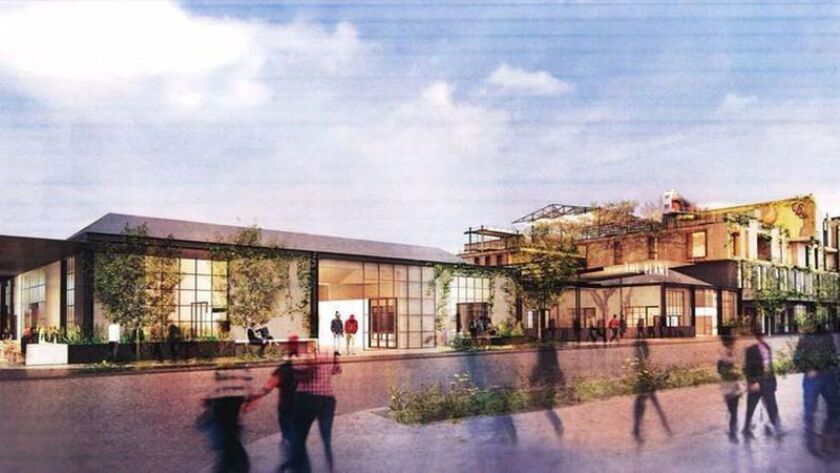 Costa Mesa council members plan to discuss Tuesday whether to set new parking requirements for common areas included in some developments.
Such direction would give city staff more certainty when it comes to calculating the number of parking spaces needed for certain projects including, notably, the Plant — a proposed residential-commercial development that hit a wall last year when some council members questioned whether the city's analysis accurately reflected its parking demands.
As it stands now, Costa Mesa's zoning code sets non-residential parking ratios based on gross floor area — defined as the space "within the walls of a structure," minus features like stairwells and elevator shafts.
In the past, staff also has interpreted this exception to apply to areas within a building that do not inherently generate a parking demand, such as mechanical and electrical rooms.
Other circumstances have popped up on a case-by-case basis. Emergency exit corridors weren't included in the parking calculation at the Triangle, for instance, and common areas, hallways, storage spaces and some restrooms were similarly excluded from the tabulations for the OC Mix at South Coast Collection, according to a city staff report.
This inconsistency reared its head in July 2018 when the council reviewed plans for the Plant — which called for redeveloping about 2.2 acres at the corner of Baker Street and Century Place to create retail and dining space, as well as a four-story building with a mix of 48 residential units, 14 live/work units and office space above a two-level parking garage.
At that time, Councilwoman Sandy Genis and then-Councilman Jim Righeimer questioned the parking analysis since several portions of the project, including certain common areas and some restrooms, weren't included in that calculation.
Such exclusions, critics contended, could leave the project well short of meeting its actual parking needs. Ultimately, Genis and Righeimer — along with Councilman Allan Mansoor, who expressed concerns with the proposed residential density — voted to deny the project.
The question of what kind of parking requirements to apply to common-use areas is not unique to the Plant, as "the city is experiencing an increase in applications involving amenitized outdoor-use areas for creative office spaces," according to a staff report. Communal food halls also are becoming more common.
Time is somewhat of the essence, however, as Lab Holding LLC — the Costa Mesa-based firm behind other notable local projects including the Camp and the Lab commercial centers on Bristol Street — resubmitted the Plant proposal on March 20 with "the same design as was previously presented to council," according to the staff report.
Tuesday's council meeting starts at 6 p.m. in the Costa Mesa Senior Center, 695 W. 19th St.
---
All the latest on Orange County from Orange County.
Get our free TimesOC newsletter.
You may occasionally receive promotional content from the Daily Pilot.