Cost of doing medical marijuana business in Costa Mesa: $49,000 in permit fees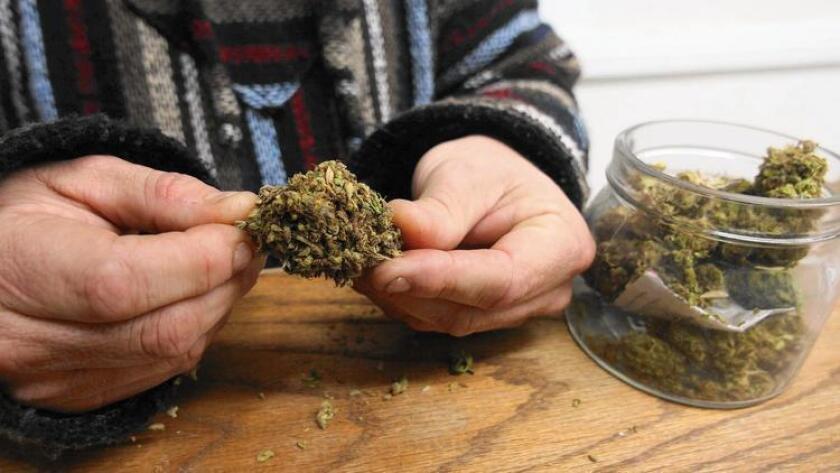 It'll take about $49,000 in permit fees to open a medical marijuana business in Costa Mesa, City Council members decided Tuesday.
The council voted unanimously to establish the fees under Measure X, an initiative local voters approved in November.
The measure allows businesses that research, test, process and manufacture some medical marijuana products to open in the area north of South Coast Drive, west of Harbor Boulevard, south of MacArthur Boulevard and east of the Santa Ana River, though not in South Coast Collection.
Cultivation and retail sales of marijuana and marijuana products are still prohibited.
Those hoping to open businesses allowed under Measure X will have to obtain both a medical marijuana business permit and a conditional use permit. The latter requires approval from the city Planning Commission.
The fee for the business permit will be $21,525, while the conditional use permit will cost $27,508.
Annual business license fees and the cost of background checks required for owners and employees would be on top of that.
According to Assistant City Manager Rick Francis, the fees are based on estimates of how much city staff time and resources will be necessary to process applications for medical marijuana businesses.
As this is new territory for Costa Mesa, staff will keep records of how much time actually goes into the process, Francis said.
"We may come back to the council at a later time to further refine the fees we're assessing here," he said.
Along with the fees, medical marijuana businesses will have to pay a 6% annual tax on gross receipts.
Robert Taft, who owns a medical marijuana business in Santa Ana, said Tuesday that his primary concern isn't with the fees but when he can start applying for permits.
Francis previously estimated it would take at least five months for medical marijuana businesses to go through the city's permitting and approval processes.
"We want to apply and we want to get building," said Taft, who supported the city-sponsored Measure X over his own ballot initiative, Measure V, which would have allowed up to eight dispensaries in Costa Mesa. "We've been sitting on buildings for a few months now."
Mayor Katrina Foley said it's important for the city to be thoughtful about applications for medical marijuana businesses.
"We don't need to be rushing into anything, because we want to make sure that we've crossed all our T's and dotted all our I's," she said.
Twitter @LukeMMoney
---
All the latest on Orange County from Orange County.
Get our free TimesOC newsletter.
You may occasionally receive promotional content from the Daily Pilot.