Costa Mesa considering legal action over mobile needle-exchange program
Costa Mesa City Council members will put their heads together in a special meeting Friday to discuss whether to pursue legal action in response to a state decision to allow a mobile needle-exchange program to operate in the city's Westside.
Though the deliberation will take place in closed session, residents can address the council when the meeting officially starts at noon at City Hall, 77 Fair Drive.
The meeting comes amid a wave of outrage among residents online and among roughly 30 people who attended a rally Thursday afternoon to protest the needle exchange.
On Monday, the California Department of Public Health approved a proposal from the Orange County Needle Exchange Program to distribute needles and other supplies in Costa Mesa, Anaheim, Orange and Santa Ana for two years starting next week. Supporters say the effort will provide clean needles and help prevent the spread of diseases among intravenous drug users.
In Costa Mesa, the nonprofit received state approval to operate on West 17th Street between Whittier Avenue and the city boundary from 10 a.m. to 2 p.m. Wednesdays and Sundays.
Since the proposal came to light earlier this year, Costa Mesa city staff, police officials and council members have presented a united front of opposition, contending the program could attract drug users to the community, undermine the recovery of residents in local sober-living homes and pose safety threats to the public or law enforcement.
"At this point, I think our only recourse is through the courts, because the state is just ignoring us," Councilwoman Katrina Foley said this week.
Mayor Pro Tem Allan Mansoor organized Thursday's rally at the corner of 17th and Whittier. He said it's important for the community to have "a strong, united voice to stop this."
The needle-exchange program used to operate out of the Santa Ana Civic Center and was the only one of its kind in Orange County. However, Santa Ana scrapped the program in January, citing an increase in the number of discarded syringes in the area.
"They were kicked out of Santa Ana because of their failed procedures," Mansoor said. "They failed to collect the needles and many officers and people in the community were stuck by these needles."
Though Mansoor said he's sympathetic to the exchange clients' need for help, he doesn't "think it's right to enable them and put our own children and ourselves at risk."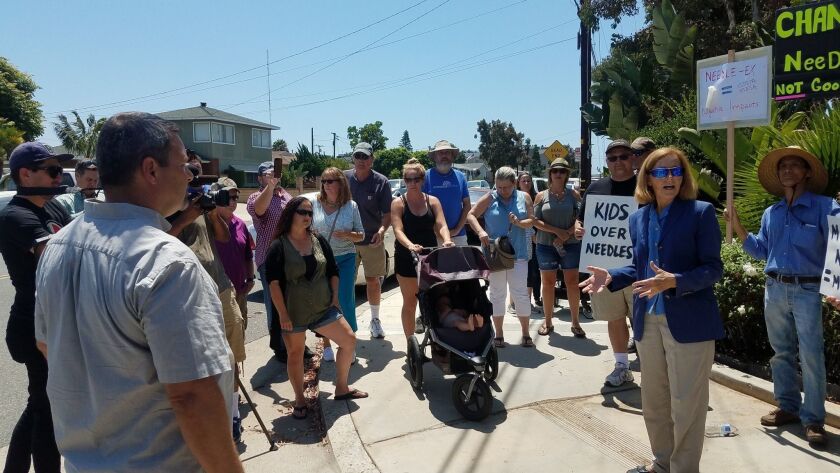 People at the rally carried signs reading "More needles = more crime," "Kids over needles" and "Is free crack next?"
Politicians who attended, including Mayor Sandy Genis and Orange County Supervisor Todd Spitzer, said the needle exchange is a bad fit for Costa Mesa, especially since the proposed operating area is close to homes, businesses and Whittier Elementary School.
David Salcido, who has lived on West 17th Street for more than 40 years, said his reaction when he heard about the program was that it would be "bad, bad, bad." He's concerned it will lead to "needles on the sidewalk and on the street and the lawns and in the shrubbery and the bushes and the driveways."
"It's not going to make people feel any more secure to know there's people walking up and down the street to get their needles," he said.
Salcido collected names and contact information from people at the rally and said he's considering starting a coalition to oppose the program. The working name of the group is Citizens Against Needle Exchange.
The county Board of Supervisors also will hold a special meeting Friday — at 8:30 a.m. in Santa Ana — to discuss possible litigation aimed at halting the program.
"I am absolutely confident we will … take action to sue this group that wants to come into our communities and exchange needles," Spitzer said.
However, Dallas Augustine — a member of the program's board of directors — said in a statement Wednesday that the group's "harm-reduction approach is a key, research-driven way to save lives and quell the spread of infectious disease."
"We stand ready to not only continue serving our clients with the dignity and respect that they deserve, but respond to our neighbors' concerns about needle litter by providing more consistent sharps disposal, community needle sweeps and a hotline to report improperly discharged syringes," Augustine added.
Twitter @LukeMMoney
---
All the latest on Orange County from Orange County.
Get our free TimesOC newsletter.
You may occasionally receive promotional content from the Daily Pilot.