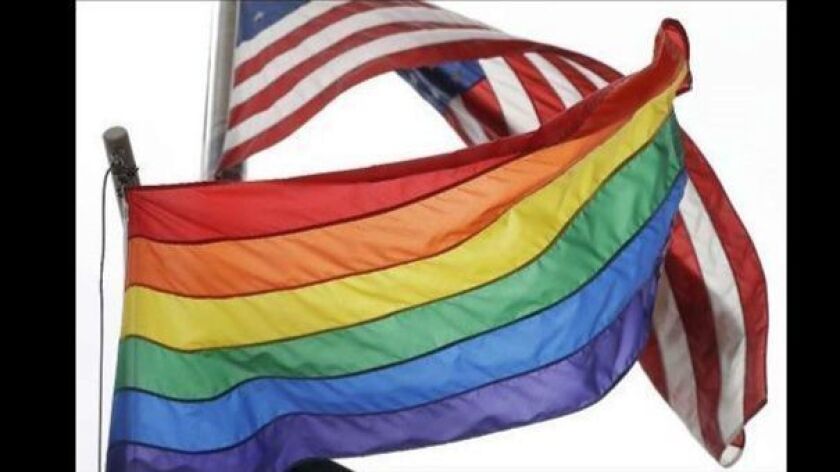 The sky above Costa Mesa City Hall will soon be more colorful — and, for some in the community, significantly more meaningful — after the City Council voted Tuesday to authorize displaying the pride flag, a rainbow symbol for the LGBTQ community.
The 6-1 vote, with Councilman Allan Mansoor opposed, means the banner will fly at City Hall annually from May 22 — Harvey Milk Day, which honors the first openly gay elected official in state history — through LGBT Pride Month in June, which commemorates the history, contributions and sacrifices of the lesbian, gay, bisexual and transgender communities.
Traditionally, Costa Mesa has flown the city, California and American flags, as well as the POW-MIA flag, at its municipal facilities.
The council's decision followed at-times emotional pleas from speakers who said the pride flag would be a beacon for members of the local LGBTQ community to let them know Costa Mesa recognizes and values them and is committed to protecting their rights and safety.
Several speakers recounted their own experiences with hostility and inequality and shared the fear they felt that their families, friends or classmates would not accept them for who they are. Displaying the pride flag, supporters said, could make a world of difference for those going through similar struggles by helping them feel welcome.
"This is an opportunity for the city to speak, and I think by flying this flag, the things that we're saying — we're talking peace, tolerance, inclusion, equal rights and one of the phrases I love so much: Love is love," said Councilwoman Arlis Reynolds, who had requested that the proposal move forward. "I'm proud to be in support of a symbol that says Costa Mesa is proud and Costa Mesa loves."
Councilwoman Sandy Genis said that when she first heard the idea, she thought it was "politically correct, goofball stuff," but "we heard tonight from people who didn't feel safe and who felt threatened because of who they are. And if our government truly exists for the purposes of government … then we really should be making our residents feel safe."
In the Bible, the rainbow is described as a promise from God following the flood that wiped out almost all life on Earth. Genis said flying the pride flag "can be a promise that, in Costa Mesa, you will be protected, your rights will be secure and you will be safe."
Three other Orange County cities — Anaheim, Fullerton and Santa Ana — have authorized displays of the pride flag at their city halls, according to Costa Mesa city staff.
Though most council members and speakers Tuesday supported flying the flag, some questioned whether authorizing it could set a precedent that would compel the city to raise different, more objectionable, banners in the future.
Others characterized the pride flag as a more divisive display that shows intolerance to those who might not embrace the LGBTQ community because of their personal, religious or moral beliefs.
Mansoor said he doesn't "think any of us should be required to affirm what someone else should or should not believe. … We all have individual choices, we all have individual freedoms."
He reiterated some of the points he made in a public Facebook post last week, including that the pride flag "may mean different things to different people."
"To some, it may mean that we should treat everyone with respect — which, if that were the sole symbolism of the flag, I would support it," he said. "To some, however, it may mean intolerance or hostility to anyone who morally or due to religious conviction does not support some of the things in the LGBTQ agenda, even though they do not support harassment or violence."
Councilman Manuel Chavez, however, said "acceptance seems like division when you fail to acknowledge people's struggles."
Councilwoman Andrea Marr added that "in terms of explicitly endorsing the 'gay agenda,' I endorse love and I endorse inclusion and I endorse every single thing that makes people in Costa Mesa feel welcome and as part of this community."
Before agreeing to fly the pride flag, the council adopted a policy that "outlines the procedures and standards for the display of flags at city facilities" and allows commemorative flags if the council authorizes them "as an expression of the city's official sentiments," according to a staff report.
However, Costa Mesa "will not display a commemorative flag based on a request from a third party, nor will the city use its flagpoles to sponsor the expression of a third party," the report added.
The vote to approve the policy was 5-2, with Mansoor and Genis opposed. Genis said she voted no because she has a general concern with the doctrine of government speech.
---