Costa Mesa becomes O.C.'s latest city to oppose California's 'sanctuary state' law
In a contentious vote early Wednesday, the Costa Mesa City Council became Orange County's latest governing body to declare official opposition to Senate Bill 54, a California "sanctuary state" law that provides expanded protection for undocumented immigrants.
The 3-2 decision to adopt a resolution against SB 54 prompted cheers and chants of "USA! USA!" from opponents of the law who waited in City Hall until roughly 1 a.m. for the council's vote.
Council members Katrina Foley and John Stephens cast the dissenting votes.
Those who joined them in urging the council not to take the action responded to it with cries of outrage.
Council members who supported the resolution said they felt it was important to go on the record with their concerns about SB 54, which in many cases prohibits local and state police agencies from notifying federal officials when they're about to release immigrants in their custody who may be subject to deportation.
"If you are putting people back on the street and then trying to re-apprehend them … that puts people at risk," Mayor Sandy Genis said.
Stephens questioned the practical purpose of the resolution and said he's concerned that it could diminish the city's influence with state and federal legislators when it comes to other local issues, such as sober-living homes.
According to the resolution, "The adoption of SB 54 has created a conflict between state and federal law and has restricted local law enforcement's ability to cooperate with federal authorities to protect California residents. This conflict leaves the City Council no choice but to publicly state its opposition to SB 54."
Foley characterized the action as a divisive political stunt.
"I am never going to stand on the side of hate and bigotry and divisive politics," she said. "I am always going to stand on the side of justice and care and community."
But Mayor Pro Tem Allan Mansoor said: "This is not about bashing immigrants. If this was about bashing immigrants, I'd be bashing my parents. My parents both immigrated here legally … and they have always taught me to respect legal immigration and upholding our laws."
The debate played out in front of a large and sometimes rowdy crowd. People in the audience expressed both sides of the issue, waving American flags and holding signs with messages such as "Immigrants in, racists out," "You must uphold the Constitution," "Respect our country" and "I support safe communities, I support SB 54."
'Sanctuary state' fight at local level may be more orchestrated than organic »
Genis repeatedly admonished the audience for interrupting speakers with applause or boos. Several times she threatened to clear the chamber if the crowd didn't pipe down, and she asked police officers to temporarily remove people who were being disruptive.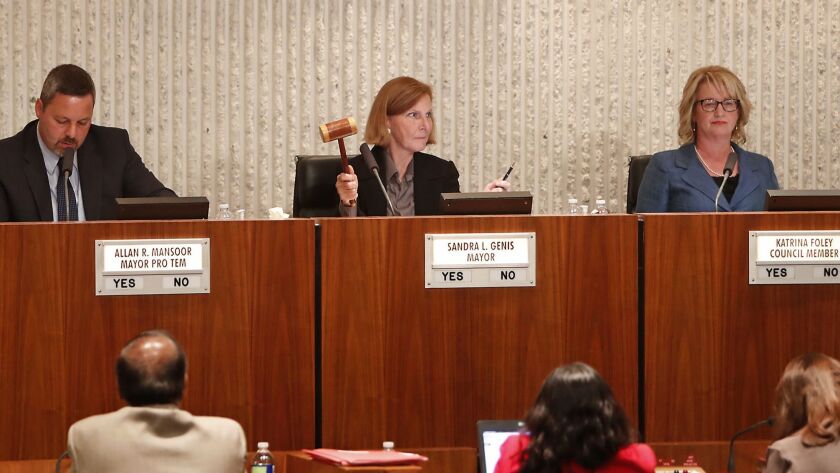 Almost 100 people spoke on the issue over more than four hours.
Those who urged the council to stand against SB 54 — many of whom were from outside the city — said the law creates a major public safety issue by allowing criminals who are in the country illegally to be released back onto the streets.
They also said California's sanctuary policies obstruct federal immigration law and therefore violate the Constitution.
"The sanctuary law is illegal, unconstitutional and detrimental to the citizens of the United States," said Costa Mesa resident Larry Bales.
Those on the other side said they felt opposing SB 54 and other sanctuary measures sends a message of divisiveness and hate. From their perspective, any action Costa Mesa takes is pointless in a wider legal battle over the sanctuary issue and an unnecessary distraction from more-pressing local matters.
"There is more than enough rancor in the political environment today without dragging Costa Mesa into this power struggle for no useful purpose," said Costa Mesa resident Eleanor Egan.
Others pointed to a memo that Police Chief Rob Sharpnack and Capt. Bryan Glass wrote about SB 54 that states in part that "besides the guidelines outlining local law enforcement's collaboration levels with federal agents on immigration enforcement-related activities, these new parameters have not substantially affected the Costa Mesa Police Department's normal operational practices, nor have they impeded our ability to provide quality services to the community."
Genis said she thinks it's unfortunate that opposing sides in the debate frame each other as being bigoted or in favor of criminals.
"I believe there's a rational way to look at it, rational people can disagree, but we don't need to call each other hateful," she said.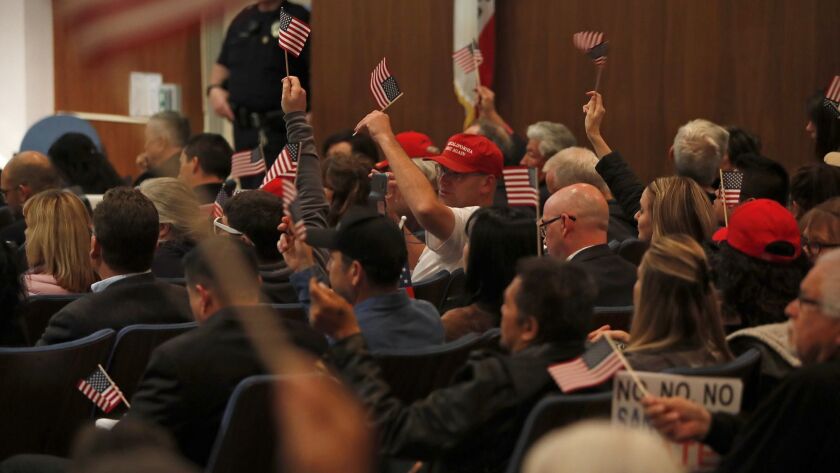 In approving the resolution, council members added Costa Mesa to the register of Orange County municipalities that have taken official action opposing California's sanctuary laws, including Huntington Beach, Newport Beach, Fountain Valley, Aliso Viejo, Los Alamitos, Orange, San Juan Capistrano, Yorba Linda and the county itself.
However, Costa Mesa officials opted against the more hands-on legal approach employed by some other cities. Huntington Beach, for instance, filed a lawsuit last month against California and the state attorney general challenging the legality of the state's sanctuary mandates.
Council members in Fountain Valley chose to join a court brief supporting an ongoing federal lawsuit against the laws, and the Newport Beach City Council said it might follow up with a court brief to accompany its own resolution opposing SB 54.
Mansoor said he would have liked the council to support the federal lawsuit. He also asked his colleagues to reaffirm an action he spearheaded as mayor in 2010, when the council declared Costa Mesa a "rule-of-law city when it comes to support for upholding immigration laws."
Ultimately, the council opted to stick with just the resolution.
Twitter @LukeMMoney
---
All the latest on Orange County from Orange County.
Get our free TimesOC newsletter, coming in August.
You may occasionally receive promotional content from the Daily Pilot.