Laguna Beach council creates new subcommittee to address Coast Inn plans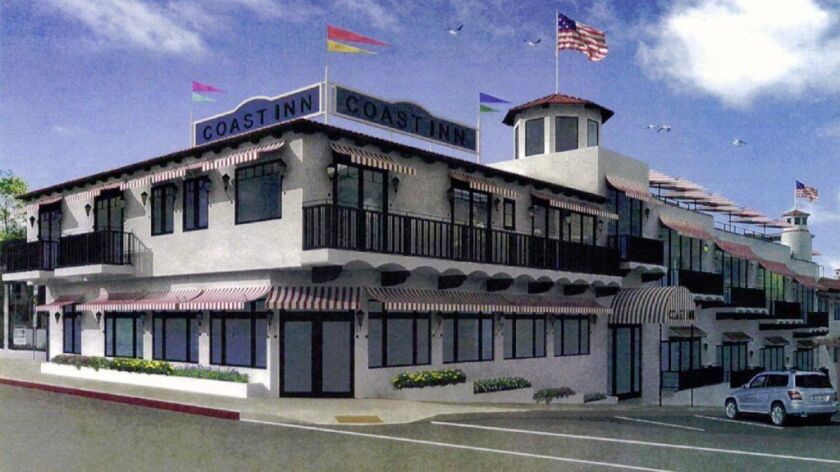 Plans to redevelop Laguna Beach's Coast Inn are going back to the drawing board.
Following a marathon City Council meeting lasting more than seven hours, the council unanimously agreed not to jettison plans for reviving the historic Coast Highway property altogether, but to keep hashing them out in a smaller setting.
And by smaller setting, they meant Councilmen Bob Whalen and Rob Zur Schmiede, who will man a two-person subcommittee that tackles the Coast Inn project specifically in a to-be-decided public setting.
The vote to create the working group came after the council received a pile of letters and more than 60 people, mostly Laguna Beach residents and business owners, spoke about Coast Inn owners Marcella and Chris Dornin's plan to add a rooftop deck and bar, new restaurants and retail spaces for the hotel and adjacent liquor store at 1401-1391 S. Coast Hwy. The couple also plans to restore a nearby cottage along Mountain Drive that's currently being used as a retail space.
The project, which has been in the works for more than two years, failed to win the support of the Planning Commission, which in October unanimously voted not to recommend it to the council.
While many praised the Dornins' $25-million vision for their property — which dates to 1927 and once housed the Boom Boom Room nightclub — others were critical that it didn't adequately address its parking needs and potential noise impacts.
Both sides were largely in agreement, however, that the property was far beyond its prime and was in a neglected section of town that, as one man put it, "has been in a coma for so long."
Attorney Larry Nokes, representing the Dornins, said the inn "became borderline blighted. The dream was to revitalize the property and make it vibrant again."
Chris Tebbutt of the Laguna Beach LGBT Heritage & Culture Committee said local business are "scared" about the state of things.
"I invite you to interrupt that and approve this project as designed," he said.
Tim Carlyle, an attorney representing neighbors along nearby Gaviota Drive, noted how the Dornins' vision was inconsistent with the city's zoning and general plan and required variances, including for parking.
He called the proposal for a roughly 6,500-square-foot rooftop bar — one of the main sources of contention on the project — a "profoundly non-historic" addition.
Other critics called the plans out-of-scale overdevelopment more about generating money from new bars and restaurants than reviving the historic hotel.
Councilwoman Toni Iseman echoed those concerns.
"We are really placing the burden on the residents of Laguna Beach," she said, calling the project, as proposed, a "vacuum cleaner that's gonna suck up every parking place on the block."
Councilman Steve Dicterow advised that both sides aren't that far apart on the project because everyone wants to see new life there.
"We need give and take," he added, noting how a two-person council subcommittee can achieve that with the public's help.
Zur Schmiede said there is a future project for the Coast Inn, just not the one the Dornins have presented.
"The details haven't been sweated through," he said.
Twitter: @BradleyZint
---
All the latest on Orange County from Orange County.
Get our free TimesOC newsletter.
You may occasionally receive promotional content from the Daily Pilot.