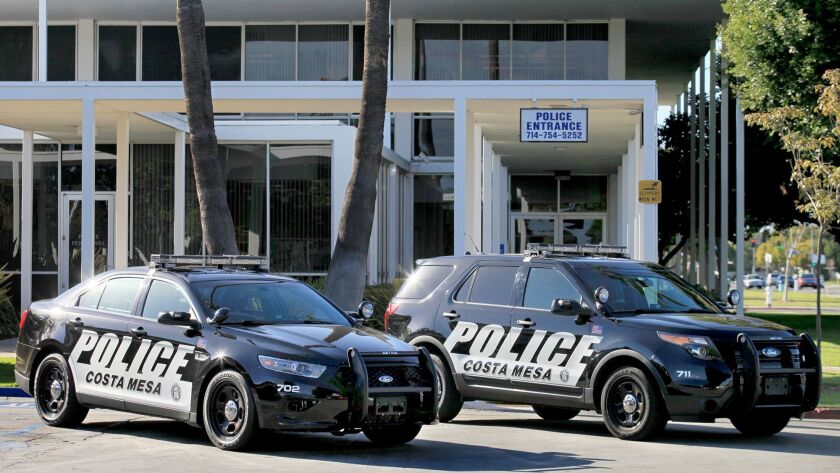 Reports of violent and property crimes in Costa Mesa dropped in 2017 compared with the year before, according to data released by the Police Department.
The city, which has a population of 112,822, saw a roughly 5% decline in those cases, which the FBI calls "Part 1" crimes.
Violent crimes — homicide, rape, robbery and assault likely to cause serious injury — fell about 10% last year, driven by declines in robberies and assaults.
There were 171 reported aggravated assaults (a reduction of 26) and 128 robberies (down 16). The 59 reports of rape were the same as in 2016.
Costa Mesa had two homicides in 2017 and one in 2016.
The majority of Costa Mesa's Part 1 incidents last year were, as is typical, property crimes, which include burglary, theft, auto theft and arson. Reports of those crimes dropped about 5%.
There were 618 burglaries (115 fewer than in 2016), 3,151 thefts (a decline of 71), 521 auto thefts (a drop of 24) and 12 reports of arson (down 15), according to the data.
Costa Mesa Police Chief Rob Sharpnack said Wednesday that the reduction in crime is the result of "good instincts combined with a proactive mind-set" on the part of the department's officers, as well as collaboration with the community.
The department's staffing also has increased in recent years, which has enabled it to refill specialty assignments such as the community policing and gang investigations units.
After years of lingering vacancies, Sharpnack has said he expects the department to be at full strength by summer. Its target is 136 sworn officers.
The department also recently ramped up its neighborhood watch program, which educates residents about security and safety and encourages them to watch for and report crimes and suspicious activity.
"We're going to continue to enhance the exemplary service we provide to make Costa Mesa a safe place," Sharpnack said.
Twitter: @HannahFryTCN
---