The Plant commercial-residential project wins Costa Mesa Planning Commission approval — again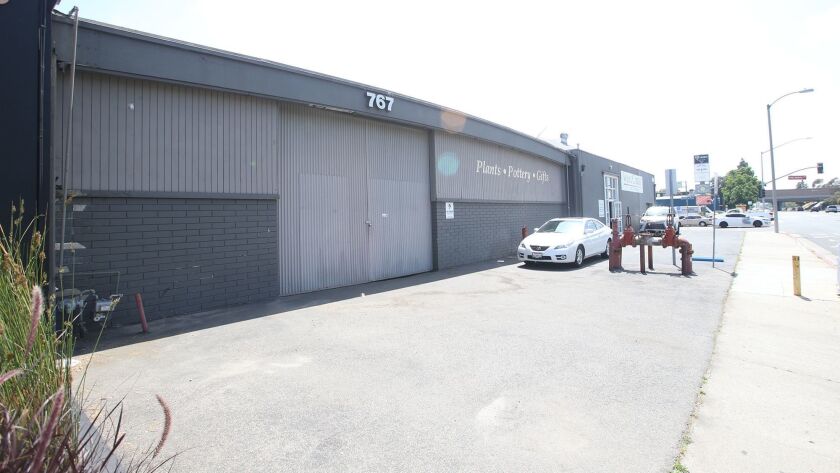 The Plant has another chance to put down roots in Costa Mesa following approval Monday by the city Planning Commission, which gave the project its blessing for the second time since March 2018.
The commercial-residential proposal, which would redevelop about 2.2 acres at Baker Street and Century Place in the city's Sobeca district, is unchanged from what the City Council denied last year.
But it's back in the pipeline under relaxed parking requirements that the council approved last month with the Plant in mind. The new requirements, when calculating how many spaces a development needs to provide, do not include auxiliary features such as elevator shafts, stairwells and some indoor corridors, certain common areas, restrooms, mechanical rooms and storage.
The issue passed the commission's review on a 6-1 vote Monday, with member Jon Zich dissenting over the lingering issue of parking, though he spoke favorably of the project overall.
"All the analysis and all the discussion centers around this issue," he said. "Once it's built, if it's underparked, we've got a problem."
A divided, differently constituted council nixed the development in July 2018 — reversing a decision by the Planning Commission four months earlier — amid concerns about whether a staff analysis accurately reflected the project's parking demands.
On Monday, Plant developer Shaheen Sadeghi called that a politically motivated decision that counted the walkways in the development in calculating the parking need.
"Now a year and a half later we've come back," said Sadeghi, whose Costa Mesa-based Lab Holding LLC is behind other Sobeca-area projects including the Camp and the Lab shopping centers on Bristol Street. "This council agreed that it makes no sense because no other project would be able to go forward if you were to park the walkways."
Using the now-established methodology, the Plant needs 241 parking spaces, according to a city staff report. It plans to provide 243, including 170 in a two-level parking structure.
Above the garage would be a four-story building with a mix of 48 residential units, 14 live/work units and office space, according to planning documents. The development also would include new retail and dining space.
Chris Bennett, Lab Holding's director of development, said the firm's parking engineers say that even at its busiest, the Plant will have at least 55 to 57 available spaces.
"That is a very expensive surplus that we're funding," Bennett said. "The parking codes in Costa Mesa are conservative. … We're meeting those with a surplus."
Commission Chairman Byron de Arakal said the council's 2018 parking standard was a "shame."
"I've always thought that if you have onerous parking standards, what you're really doing is encouraging people to drive," he said. "That's the antithesis of everything that's happening in a regulatory environment in the state going forward."
Discussion of cellphone facilities delayed
The Planning Commission postponed a set of scheduled votes on the installation of several small-cell facilities around town.
The delay is in line with a City Council decision this month to hold off on final approvals for a different set of towers to address residents' concerns about health and property values potentially being affected by wireless infrastructure close to homes.
A council study session will be scheduled on the matter.
---
All the latest on Orange County from Orange County.
Get our free TimesOC newsletter.
You may occasionally receive promotional content from the Daily Pilot.