Newport Beach to offer fun opportunities for people with special needs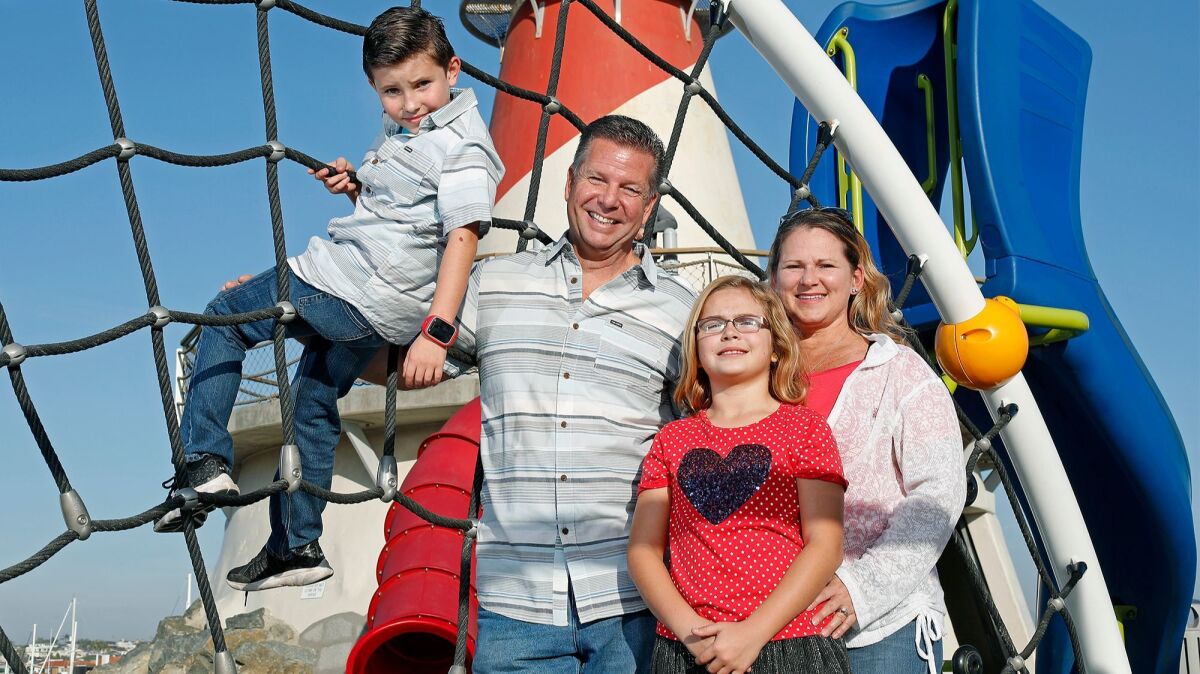 Newport Beach is starting a series of social programs for people with special needs, and Gerry and Michelle Tieri think it would be ideal for their son, Makana.
Makana, 9, has autism. When he was diagnosed with the developmental disability as a toddler, the Tieri family lived in Hawaii. Gerry and Michelle were concerned with their son's lack of verbal skills; they wondered if his aloofness meant he was deaf.
Now, he's chatty, sociable, affectionate and always on the go — his love of movement would make him a natural for the kinds of classes, like dance, Newport is rolling out through its recreation department.
Social opportunities can be crucial for people with disabilities.
"In life, you come across different people," Michelle said. "It's not always gonna be your little safe space in school."
Newport Beach Recreation and Senior Services Director Laura Detweiler said the department has offered some adaptive programs, but needs for people with intellectual and developmental disabilities weren't really being met. She said people like to "play close to home."
"Our department is always evolving in terms of the programs that we offer our community and we like to say we offer a little bit of something for everyone," she said.
Two classes are currently available and are only for adults. Eager to expand its offerings the city created an online survey to gather ideas for classes for all ages and is looking for qualified instructors.
There is still space in a ballroom dancing class, which meets Saturdays from Feb. 17 to March 17 at the Grant Howald Park youth center in Corona del Mar, and a one-day art workshop for young adults on Feb. 14 at a studio in Costa Mesa. Call (949) 644-3151 to learn how to sign up.
The department is also planning summer art and fitness classes in partnership with Coastline Community College and an April basketball tournament in partnership with Special Olympics.
City staff worked with residents, Coastline and the Newport-Mesa Unified School District to identify gaps in existing services, Detweiler said.
"It's just another way for us to reach out to our community as a whole and make sure that we're proving leisure and educational opportunities for everyone," she said.
Gerry, who is a partner in the tech company AIS and on the board of directors for the Newport Beach Chamber of Commerce, advocates for his son to help him be part of the "everyone."
Gerry is also on the board of directors for UCP of Orange County, an organization that provides services for children with a range of developmental disabilities. He takes Makana to programming offered through UC Irvine. He always wears a ribbon-shaped lapel pin with a multi-colored puzzle piece design, the symbol for autism awareness. His cuff links proclaim him the "world's best dad."
Gerry said their earliest doctors told him and Michelle that their son could hear, but he would never speak, and he would have to be in a special classroom when he was old enough for school. Dissatisfied, Gerry — a Whittier native — and Michelle moved Makana and his twin sister, Kiana, to Southern California, where Makana could receive more services. The family settled in Laguna Niguel, where Makana is in a mainstream fourth-grade classroom.
Makana has taught him that people can't tell you what you can't do, Gerry said.
Twitter: @Daily_PilotHD
---
All the latest on Orange County from Orange County.
Get our free TimesOC newsletter.
You may occasionally receive promotional content from the Daily Pilot.