JWA food pantry started during government shutdown is staying open for federal workers 'until we are told we aren't needed anymore'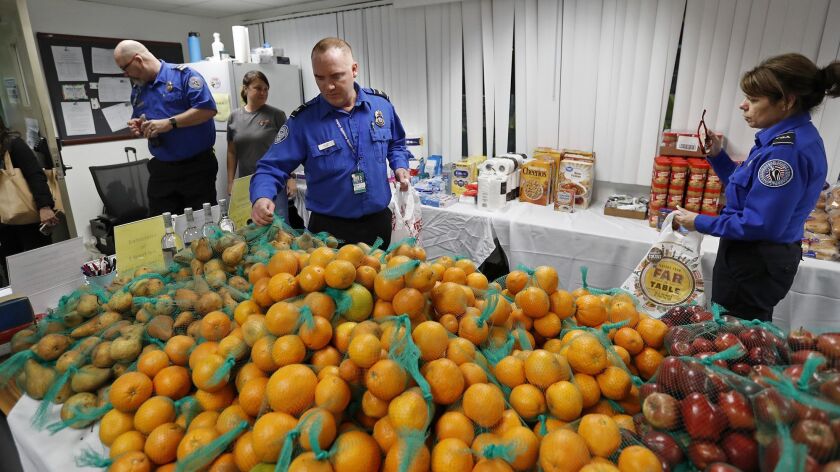 Though the record-setting partial government shutdown ended Friday — at least temporarily — some federal employees have found it hard to solve immediate needs, like putting food on the table.
Second Harvest Food Bank of Orange County is helping Transportation Security Administration agents and other federal workers by stocking a temporary food pantry at John Wayne Airport.
It will be there "until we are told we aren't needed anymore," Second Harvest spokeswoman Barbara Wartman said.
The pantry opened Jan. 22 after Second Harvest contacted federal agencies in the area to determine who might need help. A poll by John Wayne Airport's TSA office showed that 90% of its workers said they could use some help while working without pay, Wartman said.
The pantry opened freshly stocked with 5,000 pounds of food. Since then, it has distributed 20,681 pounds of goods — including canned foods, vegetables, milk, eggs, cereal, hygiene products and diapers — equivalent to more than 17,000 meals, Second Harvest said Tuesday. It is open from 7:30 a.m. to 9 p.m. daily.
The pop-up pantry — complete with refrigerators borrowed from elsewhere onsite — serves not just TSA workers but any federal employee in Orange County who can identify as such at a TSA checkpoint, Second Harvest said.
Since the opening, the pantry has received more than 650 visits by employees who collected goods for an average of three to four people each, the organization said. The food has provided meals for more than 1,500 adults and more than 500 children, Second Harvest said.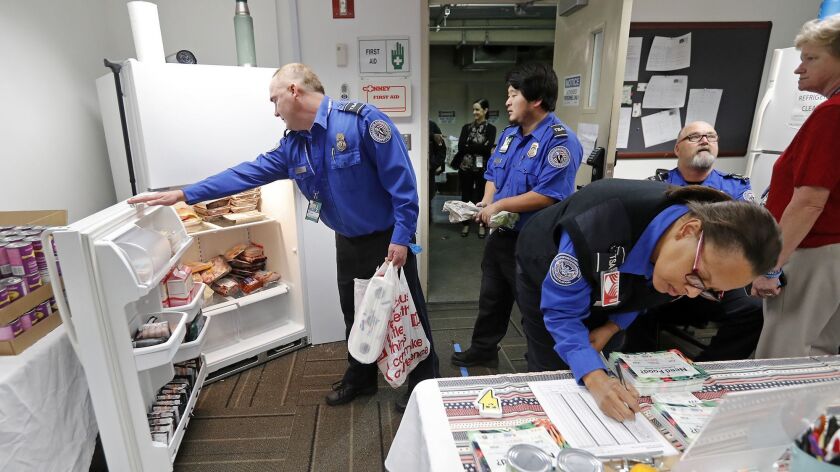 Three hundred TSA agents work at John Wayne Airport, and an additional 50 work elsewhere in Orange County, the agency said.
Chang Dae Yoon of Garden Grove has worked for TSA at John Wayne for 10 months. He said the shutdown was the first such experience he's had working with a federal agency.
"I'm the type of person who is always saving," Yoon said as he packed a box of cereal into a grocery bag at the pantry. Despite that, "I wasn't mentally prepared," he said.
Yoon, who was picking up food for himself and a roommate, fell back on his savings but said he has still felt a strain.
Popular items at the food pantry include bread, peanut butter, jelly, meat and fresh produce, as well as household items such as toilet paper, diapers, soap and shampoo.
Second Harvest said it has received requests for more peanut butter, meat and other protein items, while dog food and infant supplies also have been in demand.
Dieu Huynh of Midway City packed groceries for himself and his significant other into a backpack before beginning his shift. The 12-year TSA veteran has weathered other government shutdowns, but not as long as the 35-day closure that ended last week.
Camaraderie among TSA workers has helped them through it, with colleagues offering support and sharing meals at lunch, Yoon and Huynh said.
Second Harvest, which expects to supply more than 26 million meals to Orange County residents this year, stocked the airport pantry with existing resources, which might make meeting future needs difficult, Wartman said.
Government officials are trying to reach a resolution on funding — particularly for U.S.-Mexico border security — that would prevent another possible shutdown in mid-February.
To donate food or cash or to volunteer for Second Harvest, visit FeedOC.org or call (949) 653-2900.
---
All the latest on Orange County from Orange County.
Get our free TimesOC newsletter.
You may occasionally receive promotional content from the Daily Pilot.