Huntington Beach council will take on pensions again at meeting Monday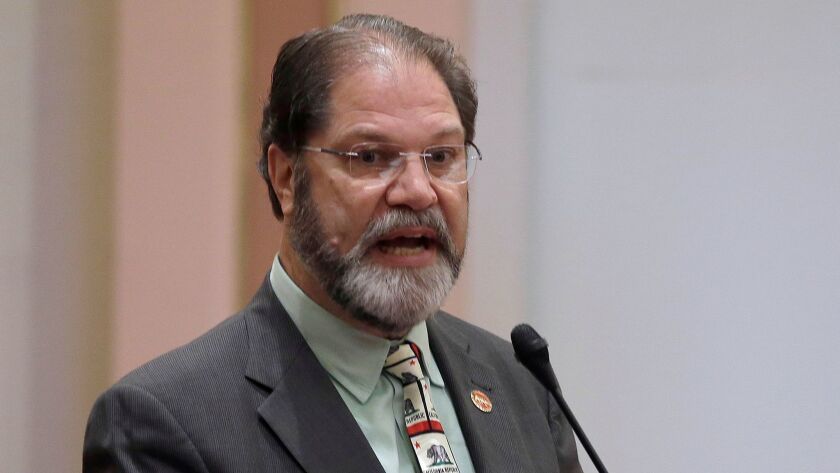 The Huntington Beach City Council will decide Monday whether to take a public position on the statewide pension crisis.
The council will vote on whether to support pension-related legislation put forward by state Sen. John Moorlach (R-Costa Mesa).
Moorlach has proposed three bills and three amendments to the state Constitution. One amendment would "prohibit public employers from increasing retirement benefits for their employees without two-thirds voter approval."
Originally, the council considered the item April 17 but voted to have the Intergovernmental Relations Committee review the legislation before the council takes another vote to conform to established protocol.
The IRC, which voted to support the legislation, is a council subcommittee formed by Mayor Barbara Delgleize, Mayor Pro Tempore Mike Posey and Councilwoman Jill Hardy. The group reviews pending legislation and its potential effects on the city.
The initial item was proposed by council members Lyn Semeta and Erik Peterson. They have stressed the need for pension reform, citing Huntington Beach's tens of millions of dollars in unfunded pension liabilities.
Representatives from the California Public Employees' Retirement System, or CalPERS, will be present at the study session to give a presentation addressing pension concerns.
The representatives' appearance was approved by the council at the last meeting after being proposed by Councilman Billy O'Connell.
Proposal to test organic pesticides
In other business, the council will discuss O'Connell's request to use organic pesticides as part of a year-long "pilot program" to control weeds in the western section of Central Park.
O'Connell said in statement that the city should investigate the use of organic pesticides with the possibility of replacing synthetic chemicals in the future.
The pilot program would allow the city to adequately gauge the consequences if the change was made.
Citizen groups Huntington Beach Tomorrow and Non-Toxic HB are supporting the plan.
Request to form community foundation
The council will also discuss forming a Huntington Beach Community Foundation to promote philanthropy and support nonprofit and public entities.
In a statement, Delgleize and Hardy, who are proposing the item, said the city needs a centralized source of funding for the many organizations that serve the community.
The proposed nonprofit foundation would help coordinate with these organizations, the statement says.
Fountain Valley and Tustin are among the nearby cities with similar foundations.
Twitter:@benbrazilpilot
---
All the latest on Orange County from Orange County.
Get our free TimesOC newsletter.
You may occasionally receive promotional content from the Daily Pilot.