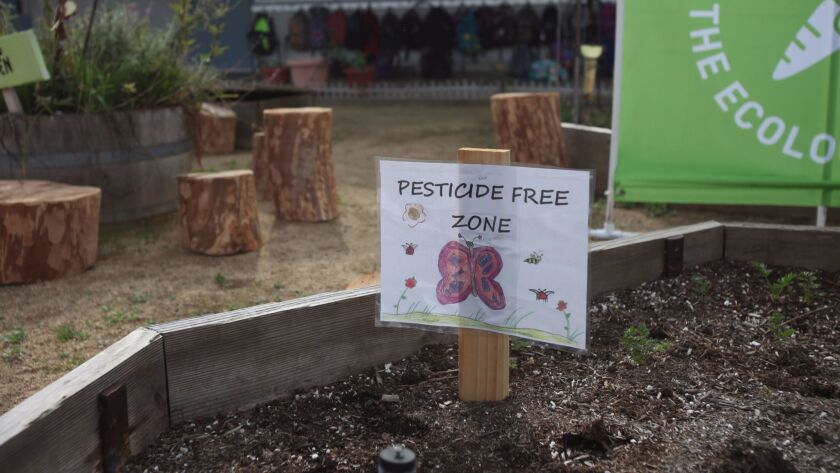 More than 100 people have signed an online petition calling for Huntington Beach to end the use of synthetic pesticides at parks, schools and other public spaces, saying the chemicals are potentially harmful.
The petition was posted on Change.org about three weeks ago by Tim Kowal, a board member for community group HB Tomorrow.
"Toxic pesticides threaten all of us, and there are alternatives," one petition signer commented.
"It is not necessary to use toxic pesticides and herbicides in our city parks," another wrote. "We do not need to expose our citizens and our wildlife to added toxins."
Kowal launched the petition following the City Council's unanimous approval in May of an experiment to use organic pesticides in a portion of Central Park. Pesticides are substances intended to control pests or weeds.
The year-long pilot program is underway, and city staff is expected in August to present the council with findings on the possibility of expanding it. Kowal said in an interview that he plans to present each council member with a copy of the petition for that meeting.
Kowal said he hopes to collect at least 200 signatures by then. The count was 132 late Thursday morning.
Kowal said the movement is motivated primarily by the potential health consequences posed by the use of synthetic chemicals.
During the May 1 council meeting where the pilot program was approved, many parents voiced their concerns about the effects of the chemicals on their children, saying they may affect asthma or allergies. Kowal's petition notes that synthetic pesticides are sprayed in areas that children frequent, such as parks and sports fields.
The petition argues that "toxic pesticides and herbicides have been shown to lower IQ, cause cancer, damage developing reproductive organs and cause other significant harm."
Organizations including the U.S. Environmental Protection Agency and the American Academy of Pediatrics have warned of the potential health hazards of pesticide exposure.
Kowal's wife, Andi Kowal, head of Non-Toxic Huntington Beach, said in May that she didn't have local data on the health effects of synthetic pesticides.
The movement against synthetic pesticides is spreading around Orange County.
Irvine and San Juan Capistrano have adopted organic-first pesticide policies, and local school districts also have made moves to eliminate chemicals considered potentially dangerous. In one of the more recent actions, the Ocean View School District, based in Huntington Beach, stopped using the herbicide Roundup in 2016. The Irvine and Newport-Mesa unified school districts stopped using it in 2015.
A judge ruled this year that California can require Roundup's manufacturer, Monsanto, to label the product a possible cancer threat, though the company maintains that it poses no risk to people.
California regulators have said they relied on a finding by the France-based International Agency for Research on Cancer, which raised issues with Roundup's main ingredient, glyphosate, which has no color or smell.
The chemical is not restricted by the U.S. Environmental Protection Agency, which says it has "low toxicity."
Twitter:@benbrazilpilot
---