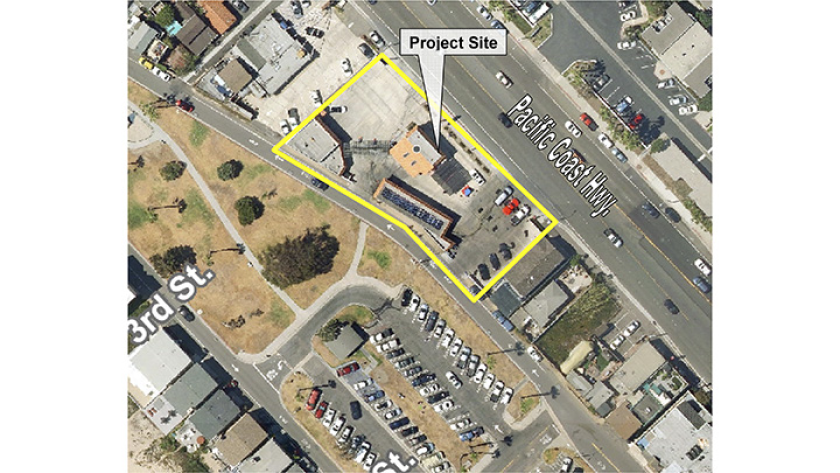 A proposal for a conditional use permit to develop a three-story, 12-suite hotel along Pacific Coast Highway will go before the Huntington Beach Planning Commission during a study session Tuesday on appeal from a commissioner who was concerned about its parking.
The project, planned for 17145 Pacific Coast Hwy., would require demolition of an onsite car wash that stopped operating in 2015.
The proposal includes 1,800 square feet of commercial space on the ground floor, with the hotel units on the second and third floors. The luxury units would have three or four bedrooms and private kitchens and balconies.
The second floor also would contain guest amenities such as a pool and fitness center.
The units would be available for rent on a weekly basis, though daily rentals could be accommodated.
The project also proposes 12 compact parking spaces on the ground level, accessible from Pacific Coast Highway and Pacific Avenue.
The plan, which was approved by the city zoning administrator March 7, was appealed a week later by the Planning Commission's vice chairman, Pat Garcia, who cited concerns related to its retail parking and setback requirements.
The Los Angeles-based applicant, Cliff Neiman, submitted a parking study by KOA Corp. indicating the project could accommodate the proposed retail and hotel uses with fewer than the 32 spaces city code would require.
The study session will be an opportunity for commissioners to review the proposal and request more information in time for a public hearing slated for May 8.
The California Coastal Commission ultimately must review and approve the conditional use permit.
Tuesday's session begins at 5:30 p.m. at City Hall, 2000 Main St.
Twitter: @vegapriscella
---