H.B. school district committee recommends keeping Perry Elementary and Sowers Middle schools open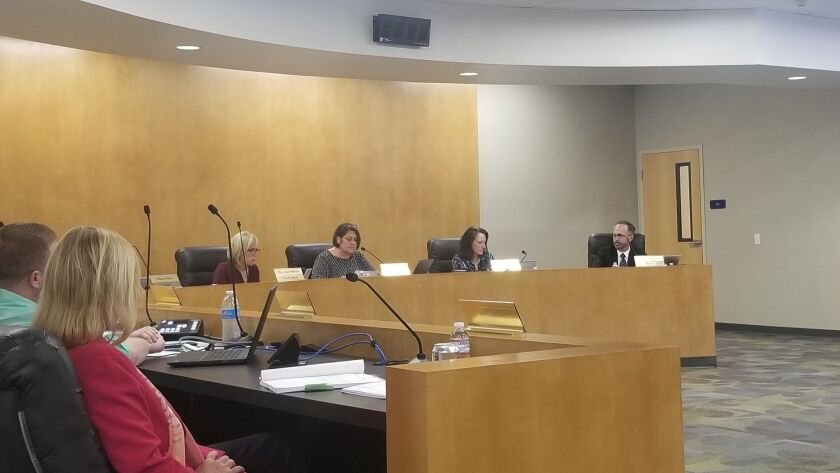 Neither Joseph R. Perry Elementary School nor Isaac L. Sowers Middle School should be closed or sold, a Huntington Beach City School District committee recommended to the board of trustees Tuesday night after months of study.
The 7-11 Committee unanimously determined at its meeting last week that Perry Elementary, at 19231 Harding Lane, should remain in operation, while Sowers Middle, at 9300 Indianapolis Ave., should be modernized rather than rebuilt elsewhere. Both sites are in Huntington Beach.
District spokeswoman Cynthia Guerrero said the board of trustees will not act on the recommendations until after the district's budget is approved but will discuss them during a study session Thursday.
"To close and bus the students elsewhere would not be right for those students," Huntington Beach City Councilwoman Jill Hardy, who chairs the 7-11 Committee, said during Monday's council meeting.
On Tuesday, Hardy described Perry as a beloved neighborhood school.
"Whether the neighbors have students there or not, it is treasured as a neighborhood asset," she said.
Committee Vice Chairman Thorsten Hegberg said the panel's considerations included the additional cost of providing buses to new schools, the effects of busing on local neighborhoods, potential loss of incoming transfer students and the possibility that schools near the former Ascon landfill may need an alternative campus if conditions there decline.
Cleanup of the Ascon site at Hamilton Avenue and Magnolia Street was temporarily halted earlier this month until nearby Edison High School let out for the summer June 13. The Huntington Beach Union High School District has since said that independent air-quality testing shows the air on the campus is safe and that it plans to continue with summer school there.
Talk of potentially selling the Sowers and Perry properties goes back to October and originally included the old Ernest H. Gisler Middle School campus, which closed in 1985 and had been leased to Brethren Christian School.
Trustees voted in November to authorize a feasibility study, despite parents' protests.
District officials have said selling Perry was on the table due to declining enrollment, while discussions of replacing Sowers focused on its location in a liquefaction zone where saturated soil could lose its strength during an earthquake.
Fixing the soil, district Supt. Gregg Haulk said in October, would cost an estimated $20 million in drilling.
Hegberg said the 7-11 Committee examined only Perry and Sowers and was not presented with a districtwide feasibility study proposed by trustee Paul Morrow at a previous meeting.
Public comments Tuesday focused largely on the Perry site, with some speakers dressed in purple Perry Panthers paraphernalia.
"I think the [7-11 Committee] reached a good decision on maintaining those properties, but what we'd like to see is long-term solutions of equity in Huntington Beach," parent Kurt Chrestensen said in an interview.
"We've had some big problems from the beginning, and now it's just trying to convince the board that this is the right thing to do for our kids, for our future," said Chrestensen, a leader of the group Save H.B. Schools. "We can't keep selling off our land. We're a growing city."
---
All the latest on Orange County from Orange County.
Get our free TimesOC newsletter.
You may occasionally receive promotional content from the Daily Pilot.