Speakers at Newport meeting are split on plan for condo towers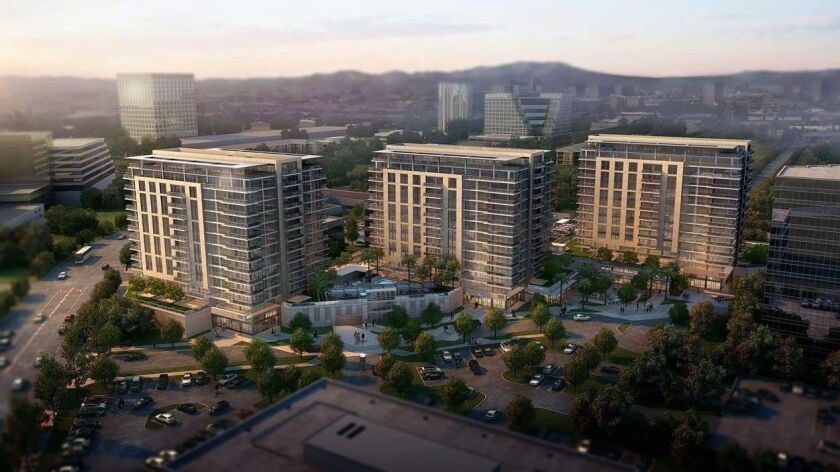 The Newport Beach Planning Commission didn't solve the riddle of adding housing stock that many neighbors feel wouldn't be too massive, financially out of reach or a potential traffic nightmare, according to arguments presented Thursday night about a major condominium project proposed near John Wayne Airport.
But as residents had their say after a year of delays, almost as many speakers backed the project as opposed it.
Shopoff Realty Investments, developer of the proposed Koll Center Residences, hopes to build an "urban village" blending 260 luxury condos in three 13-story buildings with 3,000 square feet of ground-floor retail space in the Koll Center office park at Von Karman Avenue and Birch Street. The condos would range from one to three bedrooms, with selling prices starting at about $2 million.
On Thursday, in the first of several expected meetings before the Planning Commission, about 20 people spoke against the project, which also would include a parking garage and a 1.17-acre public park.
Haley Detwiler-McDonald, director of public relations for COMAC America Corp., a commercial aerospace research and development firm in the office park, said the condo project wouldn't cohesively integrate with its neighbors and would affect their convenient parking, views and feeling of open space, plus worsen traffic. She said that could drive COMAC America to consider relocation.
"When COMAC America Corp. was scouting locations to establish our business, one of our major priorities was quality of life. For that reason we declined opportunities in Long Beach, Los Angeles and Seattle," said Detwiler-McDonald, who said her firm is among more than 20 in the office park that are against the condos. "COMAC America chose a building in Newport Beach's Koll Center because it offered space, open-sky views and most importantly … a quality of life we wanted to offer to our … employees."
Terry Watt, an advisor for local development watchdog group Still Protecting Our Newport, said the airport area can be redeveloped as a "village" but that this isn't how to do it. She said the proposal needs smaller scale, better affordability and more retail and "vibrancy."
"The challenges to revitalizing the airport [area] are many, but the Koll towers, if approved as proposed, will take us in the wrong direction and, frankly, foreclose a key site opportunity to do something magnificent and something that is tailored to Newport, to its residents, its families, its workforce, its seniors," Watt said. "This is the wrong project. It's wrong for the site, it's wrong for the neighborhood, it's wrong for the community."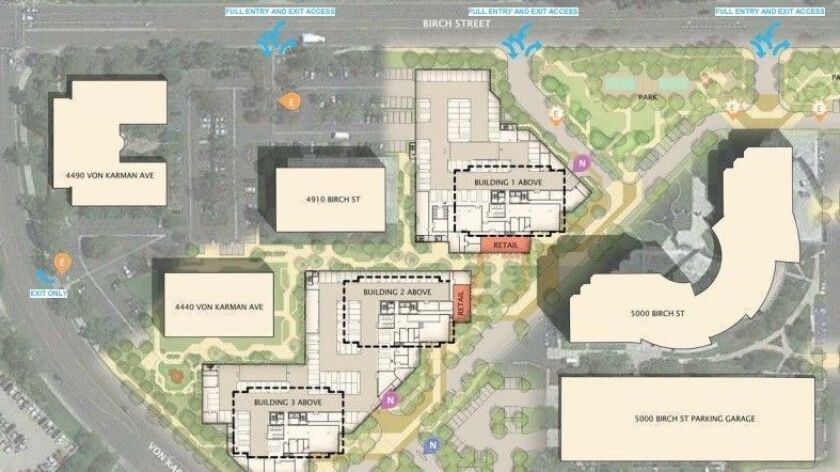 Other speakers emphasized the units' cost, calling them unaffordable, and several pilots said residents of the complex would be unhappy living across from the airport.
But Connor Medina, a government affairs specialist for the Orange County Business Council, said the "260 units provided by this development constitute a crucial step toward sustaining the city and county economies."
He said the area's housing shortage will drive out the professionals necessary for local prosperity.
"The Koll Center Residences are part of a solution to one of the county's most impactful problems, if not the most impactful problem," Medina said.
Elizabeth Hansburg, co-founder and director of People for Housing — Orange County, acknowledged that condominiums starting at $2 million are not affordable as most people know it, but she said "housing exists on a continuum."
"Housing filtration is real. You build for the top of the market, and then as time goes on, those units filter down," Hansburg said. "So no, they're not going to be affordable to the secretary now, but over time. It sounds expensive — it is Newport Beach — but increasing the supply will allow the filtration to happen, and that is what I like to call naturally occurring affordable housing."
Ginger Alker, a Newport Beach native who has lived in the city for 50 years and teaches third grade in Cypress, said she once took her students on a beach cleanup and two of her pupils told her they'd understand if she ever wanted to call in a substitute so she could hang out at home.
"That made me realize that it wouldn't be fair to crank up the drawbridge and not let any new amazing people in," she said. "I've lived here long enough to know that most people oppose the new housing, but my students' comments confirmed my feelings that others should have the chance to be as lucky as me and my family were when we became new residents of Newport Beach."
Commissioners pressed Shopoff Realty Investments and its president, Bill Shopoff, on some of the matters broached by the more critical speakers.
Commission Vice Chairman Erik Weigand said he was particularly struck by the unified opposition of the office park's existing occupants and said their property rights also are important.
He said he wants to see more community consensus and suggested there could be compromise.
"I don't think any of us here want to see a 'no' plan," Weigand said. "I don't think most of the residents and speakers in opposition said no, nothing. They said no towers."
Shopoff said he wants to listen to community feedback and was bullish on the proposal's chances.
"There's a project here that I will bring before this group that you guys will feel comfortable to propose to the [City Council]," he said. "And the people who are on the no side, hopefully a majority of them will not be on the no side.
"I've done this for a long time. I've gotten kicked before, but I don't lose. I just make adjustments."
---
All the latest on Orange County from Orange County.
Get our free TimesOC newsletter.
You may occasionally receive promotional content from the Daily Pilot.