Laguna Beach crowd protests America First! rally planned for Sunday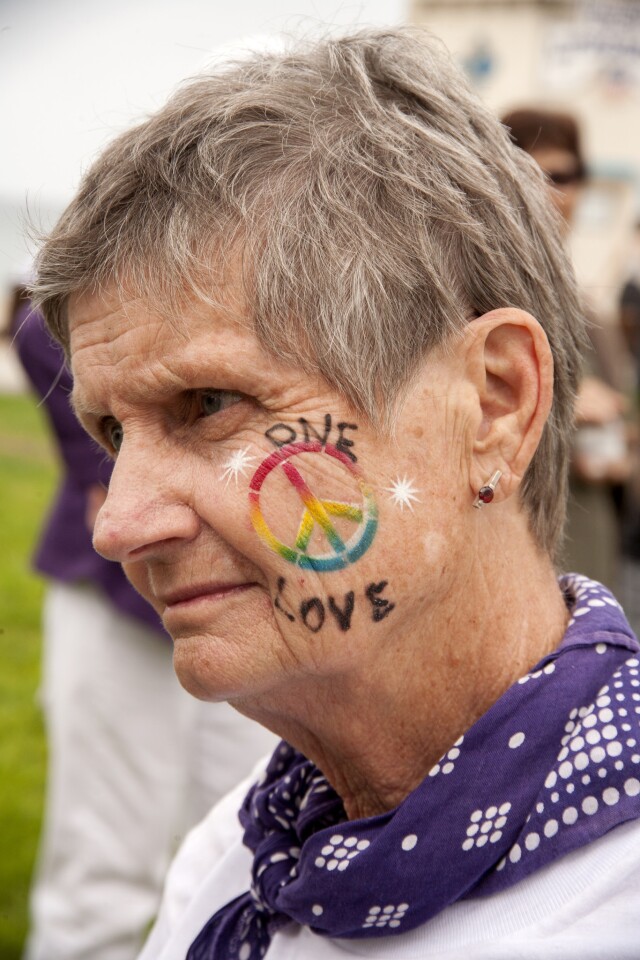 Attendee Mary Carter makes her views known.
(Photo by Spencer Grant / Times Community News)
A group of about 300 people from around Orange County gathered in Laguna Beach on Saturday as a preemptive response to a right-wing rally planned in the city Sunday.
The counter-protesters called their demonstration at Main Beach a show of solidarity and strength before the America First! rally, whose participants plan to call attention to victims of crimes committed by immigrants living illegally in the United States.
Saturday's event, officially dubbed "From Charlottesville to Laguna Beach: We Stand Together," began at 10 a.m. with about 150 people listening to speakers and standing along Coast Highway. The crowd grew to an estimated 300 people at its peak before it dispersed around 12:15 p.m.
According to a Facebook post announcing the rally, it was organized by Indivisible OC 48, Indivisible OC 46 — two groups that have protested President Donald Trump and conservative Orange County politicians — and Laguna Beach Mayor Toni Iseman.
"Tell your friends that being here today means you won't be dancing with the bad guys tomorrow," Iseman told the crowd. "They want a fight; we're not going to engage."
The demonstrators were met primarily by drivers honking in support as they stood along Coast Highway with an array of signs.
Brittany DeArmond stood silently on the grass holding a sign that read "Can't We All Just Get Along?" in a variety of bright colors and a scattering of pink hearts and American flags.
She said she had traveled from Irvine for the rally because she felt powerless last week when a woman was killed while protesting a white supremacist rally in Charlottesville, Va.
"We should all be treated fairly," DeArmond said, "not based on what we look like. All people have hurt and all people have happiness."
Another sign said, "Make America Human Again." Some focused on the country's history of fighting Nazis and fascism during World War II.
At various times the crowd shouted, "Show me what democracy looks like; this is what democracy looks like." Other chants denounced racism.
Passersby along Coast Highway near Ocean Avenue mainly showed support. Some stood across the street at a Starbucks, watching or taking pictures of the scene with cellphones.
Laguna police Capt. Jason Kravetz and Lt. Tim Kleiser were among the officers watching over the crowd. They said Saturday's demonstration hadn't caused any problems and said there would be significantly more officers present during Sunday's event.
The last rally by America First! in Laguna Beach was on July 30, when the group was calling for erecting a wall on the U.S.-Mexico border. There were no arrests associated with that or the previous two rallies held in the city by the group, according to Laguna Beach police Sgt. Jim Cota.
Kravetz said it is unclear how many will actually show up for Sunday's rally.
Mary Spadoni, a Costa Mesa activist, said she would return to Laguna on Sunday. She sat with a sign that read "Remember Her Name: Heather Heyer," a reference to the 32-year-old woman killed while counter-protesting the Charlottesville rally.
"People are afraid to come tomorrow, but they shouldn't be," Spadoni said. "What they're saying will be as true tomorrow as it is today."
She added that she hoped Antifa, a militant leftist group, wouldn't show up, as she didn't want violence erupting from either side.
"I marched in the '60s," she said. "I didn't think I'd need to do it again."
The America First! event is set to begin at 6:30 p.m. Sunday at Main Beach.
ALICIA LOPEZ is a contributor to Times Community News.
ALSO
America First! group plans to rally Sunday in Laguna
Corona del Mar man's new documentary examines the Great American Eclipse
Ban on recreational marijuana businesses heads to Huntington Beach council
---
All the latest on Orange County from Orange County.
Get our free TimesOC newsletter.
You may occasionally receive promotional content from the Daily Pilot.