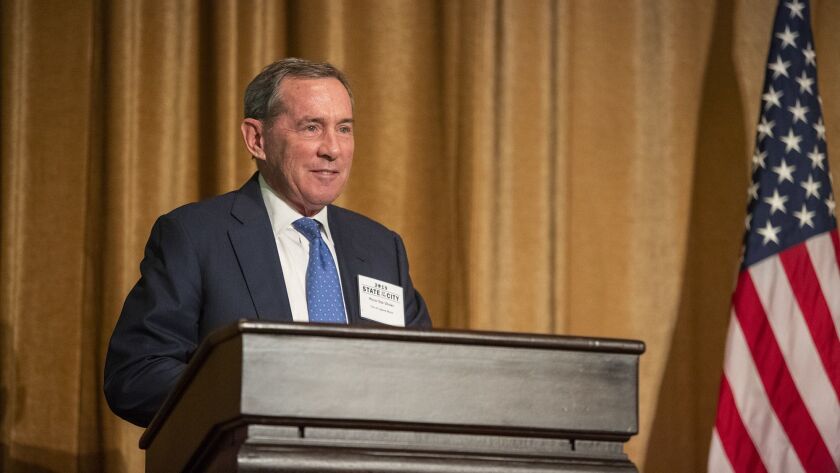 Laguna Beach needs to do better regarding respect and civility, Mayor Bob Whalen said during his State of the City address Thursday at the Montage Laguna Beach resort.
After 20 years of public service in the city, he is "quite concerned about the quality of our public discourse right now," he said during the address, presented by the Chamber of Commerce.
"We spend far too much time attacking one another and not enough time attacking our issues and problems and challenges," he said to a round of applause from the roughly 220 people in the audience.
"I believe we can do better, and the City Council needs to do its part to elevate the quality of the debate by creating an environment in our meetings that allows everyone to speak freely ... without being demeaned or intimidated because of your opinion being different or unpopular," he added.
During recent council meetings, there has been an "unprecedented" display of personal attacks "to embarrass and intimidate either an elected official or other members of the public who don't share their point of view," Whalen said.
A meeting last month about a new police car design grew raucous at times as audience members broke into singing the national anthem and yelling at the council or others. The mayor repeatedly asked the crowd to respect council etiquette by not clapping or cheering, but to no avail.
Some community members who have spoken at council meetings said the debate often continues outside the council chamber, moving online on platforms such as Nextdoor and Facebook.
Some have attributed a change in public discourse to Councilman Peter Blake, who was elected for the first time in November and has specifically pointed out residents and local groups, such as Village Laguna, during his council comments.
"I happen to think Bob Whalen is an incredible mayor, and I would hate to think for one second that I might in some way be causing the decorum in the council chambers to not be as great as they could be," Blake said after Thursday's event.
Whalen said there is "much anxiety in the community" in light of several large-scale development projects on the horizon.
"I say, hold on, let's have both sides work together and get the facts out on the table and have a quality debate about what is appropriate and smart for our community," he said.
Whalen added that the city has given $1 million each to the Laguna Playhouse and Laguna Art Museum for improvements and continues to invest in the city's reputation as an artists' colony.
During the address, Laguna Beach Police Chief Laura Farinella praised the local department for achieving a record low crime rate last year, attributing the success to the department's "highest staffing levels" and enhanced public safety services.
The department has ramped up its community-engagement efforts by adding ride service pickup locations and engaging with more businesses through the business liaison unit, she said.
Many of the department's efforts — which also include extending beach patrol hours, keeping the lifeguard tower open every day and adding foot patrols to Main Beach and Heisler Park — were in response to an increase in residents' complaints last year about nuisances, crime "and just a basic feeling of being unsafe," the chief said.
Greg Pfost, the city's community development director, said Laguna Beach is experiencing the highest level of development activity ever, with both commercial and residential projects.
Many of the large-scale projects are from real estate investor Mo Honarkar and his firm, the Laguna Beach Co. — the new proprietors of the Hotel Laguna as well as several other hotel and large-scale development projects.
Pfost said the department is intent to keep small projects, such as home improvements and small-business developments, moving along while processing Honarkar's larger ones.
To that end, the department is hiring several new employees, including a senior planner to process large projects and a permits supervisor to keep the front counter running smoothly.
---