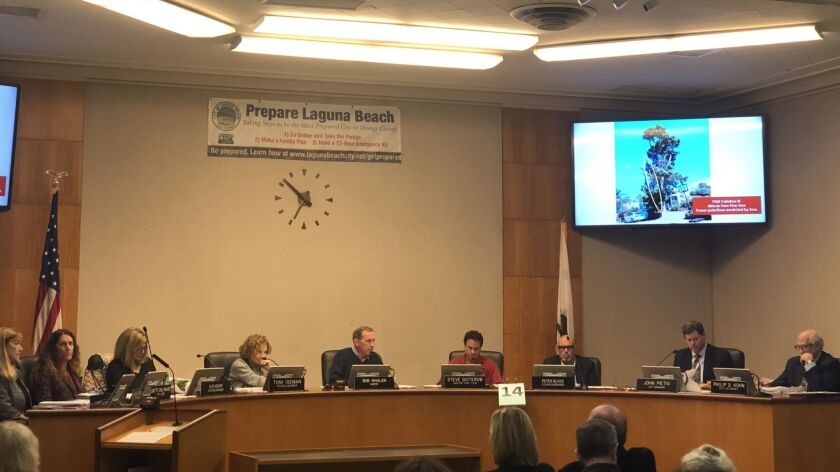 Beach patrols will increase following a late-night discussion about public safety at the Laguna Beach City Council meeting Tuesday.
The council voted unanimously to fund a stronger police presence at Main Beach and Heisler Park. There also will be a new lifeguard tower at the south end of Main Beach, and beach patrol and community outreach officers will be on duty longer hours.

"Any time you see a uniform, you're going to feel safer," said Cpl. Jason Farris, a community outreach officer for about 10 years.
Statistics released last month show violent crimes in Laguna Beach are down 17% since 2016 and property crimes are down 38%, according to the city website. But Councilman Steve Dicterow was unconvinced.
"What's an acceptable level of crime? I can tell you that whatever our numbers are today, that number is not acceptable to me," Dicterow said. "We have ways of measuring it, but it's not merely ways of measuring — subjective perception matters."
The council approved allocating $155,000 to pay for the additional security for the remaining six months of the fiscal year. Dicterow and Councilman Peter Blake, who proposed the measures, said they are likely to make even stronger security proposals in the new year.
"We're going to do whatever it takes to always feel comfortable," said Blake, who was elected in November. "I refuse to feel unsafe in Laguna Beach. I don't care what it costs to make sure I never feel unsafe."
Beach patrol officers enforce rules about smoking, alcohol and littering. The increased hours will have the officers arriving at the beach early in the morning to clean up any "abandoned property" left overnight.
Two residents questioned the necessity of the security measures, citing the burden on taxpayers if they continue or increase in the next fiscal year.
"I really don't feel that unsafe, so I'm just wondering what does enhanced safety feel like?" Michael Morris said.
The main issue discussed Tuesday was homeless people in the area making people feel unsafe.
During the summer, residents complained of "nuisance and unsafe conditions," according to Police Chief Laura Farinella.
In July, the council authorized Laguna police to staff an information booth at Main Beach Park on weekends to handle public safety issues. Farinella said she received positive reports about "the feeling of safety" the booth provided.
But she said the Police Department has received an uptick in complaints since summer ended. She said homeless people had returned to the area and were staying beneath trees on the edge of Main Beach.
"There were shopping carts and about seven people sleeping in there and you did not know they were in there," she said.
Public works employees cut back the foliage in the area Farinella described.
"It's amazing what a little bit of change to the environment can do to make it safer and [beautified]," Farinella said.
Homelessness resolution
The council also gave unanimous approval to a resolution affirming Laguna Beach's commitment to end homelessness — a requirement of a legal settlement between the city and the American Civil Liberties Union, which filed suit in 2015 on behalf of a group of disabled homeless people. The organization accused Laguna of trying to push homeless people — especially those with disabilities — out of the city by not providing adequate accommodations for them.
Dicterow said that while he endorses the resolution, addressing homelessness should be a collaborative effort with other cities and Orange County.
"For 30-something cities in the county to each try to be solving a problem, that doesn't make sense," he said. "It makes much more sense … to have it as a regional issue and for everybody to work together."
The resolution cited the various ways the city is working to address homelessness, including a pilot daytime drop-in program at the Alternative Sleeping Location, a night shelter in Laguna Canyon. The pilot program will operate between 10 a.m. and 1 p.m. weekdays to allow homeless people to take showers, do laundry, go online and access other health and housing services. The program is expected to start early next year.
The council voted separately to support a new countywide registry of addiction rehabilitation facilities. The registry, according to the resolution, is intended to increase accountability for treatment and recovery centers, including sober-living homes.
Twitter: @faithepinho
---