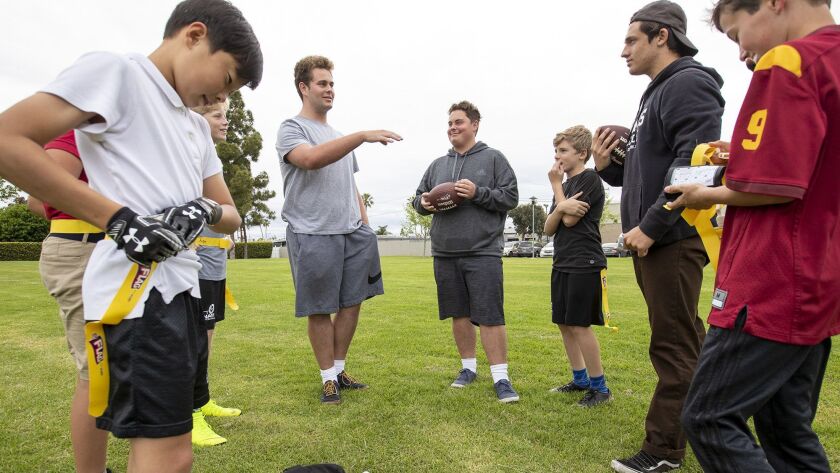 "One more time, one more time."
They repeat it like a mantra at Costa Mesa's Pinkley Park, a little green island amid the surrounding suburbia between 17th and Ogle streets.
It's late on a Friday afternoon when Newport Beach resident Nick Marheine, a junior at Mater Dei High School in Santa Ana, calls out to six 11- to 12-year-old flag football players to practice a set of plays again.
"Hey, c'mon. One more time," Nick says. The team follows the lead of their three teenage coaches as they call out numbers and plays, reminding them to communicate and be aware of where they're positioned.
But, of course, with 11- to 12-year-olds being 11- to 12-year-olds, they're only so amenable to listening sometimes.
When Aiden Pearson, the team's running back, narrowly misses catching a football, he says it was thrown at a hard angle. And when the pre-teens fail to yank the bright yellow flags attached to the waists of their teammates or fail to evade the other players during practice reps, push-ups soon follow for both the players and coaches.
"This isn't fair," Kevin Marheine, Nick's twin brother and fellow coach, jokingly complains.
This is a normal practice for the Bengals of the Matt Leinart Flag Football league, though the drills are usually held on Thursdays. Same park, same time every week.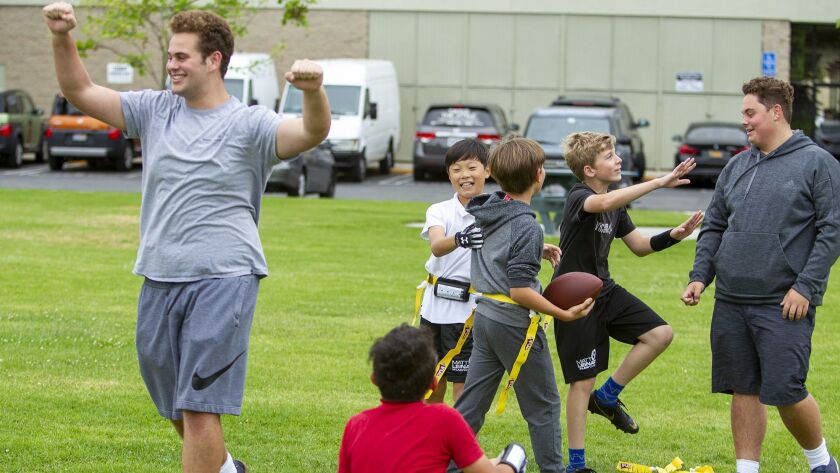 The team, led by Nick, Kevin and Luca de Lancellotti, a junior at Servite High School in Anaheim, is made up of students from Carden Hall, a private school in Newport Beach. It has nine players, six of whom are on the field at a given time.
The coaches get a new team of players every year, usually from all over Newport Beach and Costa Mesa.
Nick, Kevin and Luca play football at their respective private Catholic high schools — Nick as a center, Kevin as a left tackle and Luca as a linebacker.
Nick and Kevin have been coaching in the flag football league for three years and invited their friend Luca to join them last year.
Nick said he and Kevin started coaching as a way to get community service hours required to graduate from Mater Dei.
"One of our previous coaches ... was a really fun guy and we really liked how he was coaching us. So we kinda wanted to do what he was doing to kind of follow in his footsteps, I guess you could say," Nick said. "But then we kind of found it was a lot more than just getting service hours."
"We love having a connection with the kids and building a friendship with them," Kevin said. "Every year that we've coached, we've had a really good group of kids."
"No matter if we're like a good team or not, it's always just been kind of a fun experience," Nick said.
Luca, a Santa Ana resident, said he's been playing football as long as he can remember. He started in flag football at age 6 before moving onto tackle football at 7.
Nick said he "wasn't a huge sports kid" and didn't start playing until fifth grade with Kevin. They didn't start playing tackle football until their freshman year in high school.
The three coaches agree that it's important for kids to start playing team sports when they're young. "It builds their character," Kevin said.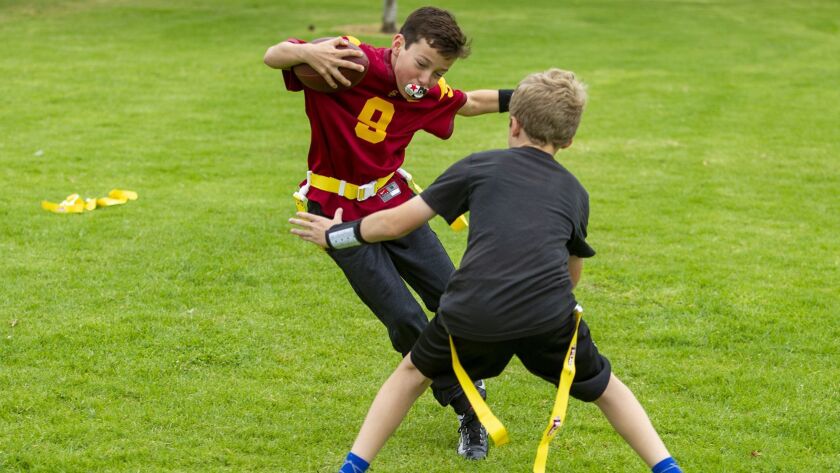 "If they do take the next step and play high school sports, this is a really good foundation to where they can see competition and how to build good teamwork and a work ethic with the other kids," he added.
It's also important to learn how to lose so they can improve for the next game, the coaches said.
"You build a bond playing football or any sport, really, even if you're not the best athlete on the field," Luca said. "I have friendships from football from when I was like 8 years old to this day, and my best friends at Mater Dei and Servite are my football buddies."
Jack Melenick, 11, who plays quarterback for the Bengals, said all the players know one another from school and he has a positive view of his coaches.
"If someone makes a mistake, they're not hard on them and they're not yelling," Jack said. "They still tell you what you did wrong, but they're not mean."
Aiden, 12, said Kevin, Nick and Luca are just "really fun to play with, especially since they're like high schoolers, so I get them a bit more."
Nick said the coaches "definitely" plan to return next season, if possible with the same group of kids.
"For sure, [we're] looking forward to next year," he said. "Already starting to draw up plays."
---