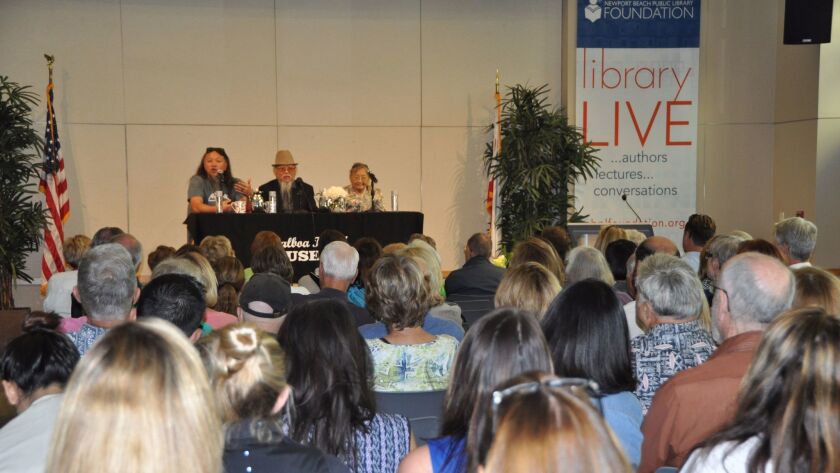 Newport Beach has outgrown the multipurpose Friends Room at the Central Library and would like to upgrade to a true lecture hall, library supporters say.
The City Council, which would have to approve such a building project, might not be ready for the undertaking. But Toby Larson, a board member of the nonprofit Newport Beach Public Library Foundation, said the project is "vital."
"We're sold out all the time and there's no way to expand the initial (room)," he said.
The Friends Room, which hosts city staff training, intimate musical and dance performances, author talks, children's programming and the Friends of the Library's fundraising book sales, is well-used but small and has limited amenities. It has a lectern and basic lighting and audiovisual systems, but flat floors and no permanent stage.
"While it serves its intended purpose, it lacks the infrastructure to support many of the library's programs," Library Services Director Tim Hetherton told the board of library trustees in a report this month examining all of Newport Beach's library facilities.
Trustees have been studying an improved gathering and performance space for more than two years. The ideal facility would be more of a lecture hall than a theater-like auditorium, as a venue for more of what the library already offers, Hetherton said.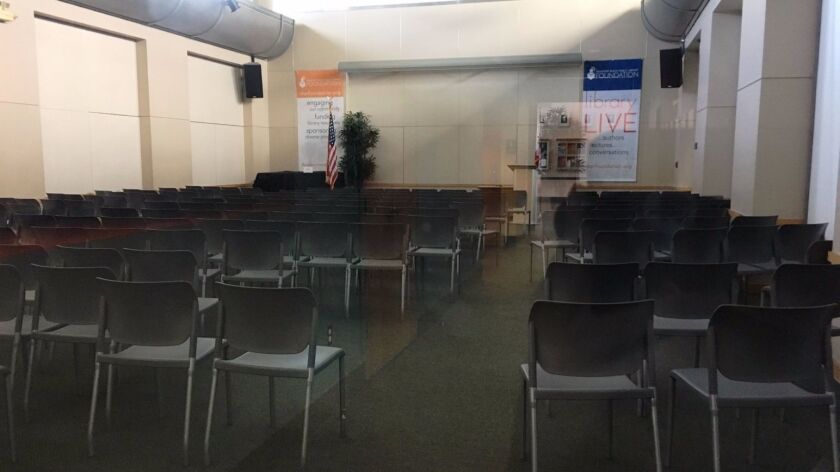 The Friends Room opened with the Central Library at 1000 Avocado Ave. in 1994. It was reserved for more than 1,500 hours of various uses in 2016, and is on track to exceed that this year, according to library records.
The room is 2,646 square feet and can hold up to 187 people. The stackable chairs in the room are a plus for some groups, but the lack of a sloped floor, the hard plastic chairs and limited technological infrastructure can make the space less than ideal for audiences, and the small capacity can turn people away, Hetherton wrote in his facility review.
Fixed seats with upholstered padding, leaning backs and armrests would make a better experience, and a sloped floor allows better sightlines, he added.
In a companion report, Hetherton researched auditorium-type spaces associated with municipal libraries in California cities comparable to Newport Beach.
The Huntington Beach Central Library has a 319-seat theater with a 24-foot stage, projection booth and screen, green room and dressing rooms. Libraries in Carlsbad and Santa Monica also have attached auditorium spaces.
Hetherton told the trustees this week that Mountain View, in the Bay Area, has an excellent city-run performing arts complex adjacent to its library, although it is a separate facility under the umbrella of a different city department.
"I think that it's far better to have a facility that's contiguous because you can put the brand of the library on it and parking exists already, and there's already a marketing kind of machine that's going," he said.
Larson said the project is in the pre-planning stages, and doesn't yet have a capital campaign or estimated budget.
Library trustee chair Jill Johnson-Tucker said that although the library foundation is interested in the project, she was unsure if the City Council is as keen.
Fellow trustee Paul Watkins said the research has built up momentum, and suggested that supporters keep it up.
"I think we're aware that the appetite at the council level is not particularly favorable for major special projects," he said. "But it seems to me that we need to continually ask and take the temperature."
Twitter: @Daily_PilotHD
---