Holocaust survivor celebrates the beginning of Hanukkah with lighting of the menorah in Newport Beach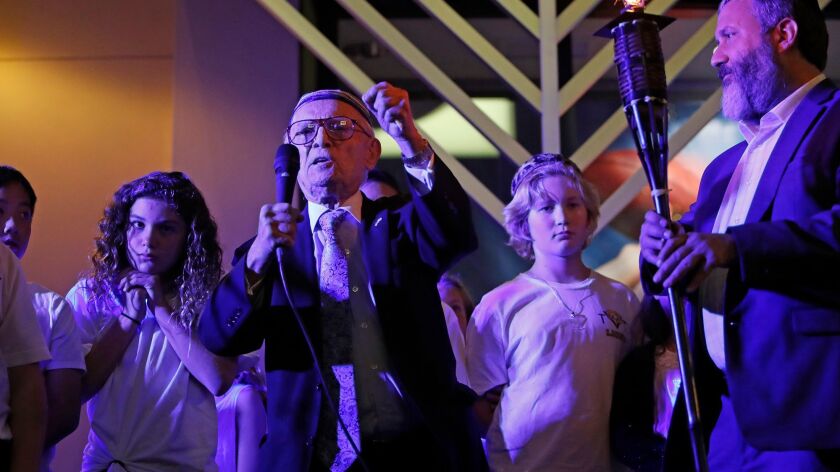 Though more than 70 years has passed, Dr. Jacob Eisenbach can vividly remember watching as barbed wire fences and watchtowers were constructed in his hometown of Lodz, Poland.
Eisenbach was 16 years old at the onset of World War II when the Nazis occupied Lodz with its thriving Jewish population.
The Nazis quickly cut off the population's communication with the rest of the world, depriving them of mail, newspapers and other sources of information. Then, they began starving the 300,000 people who were trapped in the prison-like ghetto they had built.
Eisenbach's youngest brother was put to death at the Auschwitz concentration camp after he contracted typhoid. His sister escaped the ghetto and fled to a Soviet-occupied village, but was killed during a Nazi invasion.
His father was forced to carry massive boulders with little to no food at a labor camp until he died.
"All of the sudden my life transformed into an unimaginable nightmare," Eisenbach said.
Eisenbach, 93, of Villa Park shared his story of survival through the Holocaust and his continuous hope for a better future Tuesday as 750 people gathered at Fashion Island's Atrium Garden Court to celebrate the beginning of Hanukkah.
People in the crowd held small candles and cheered as Eisenbach lifted a torch to light a giant menorah. Hugs and wishes of a happy Hanukkah were shared. Music echoed through the atrium.
This year's celebration of Hanukkah began Tuesday and continues through Dec. 20.
The holiday commemorates the victory in the second century B.C. by a small group of Jews, led by Judah the Maccabee, that drove the Seleucid army from the Holy Land and reclaimed and rededicated the temple in Jerusalem.
When the Jews went to light the temple's menorah they found only a one-day supply of oil. However, it lasted for eight days.
"We come out to celebrate the festival of light to celebrate good and kindness," said Rabbi Reuven Mintz, of the Chabad Center for Jewish Life in Newport Beach. "The light is a reminder to make the world a better, brighter place."
Eisenbach said his own experience with darkness has made him determined to root it out as best he can by sharing his story with younger generations.
When Eisenbach received a deportation letter in the ghetto from the Nazis — basically a death sentence — he and his brother went into hiding. They managed to stay out of sight for about a month before they were discovered and loaded onto a cattle car to a munition factory.
The pair survived and were liberated on Jan. 15, 1945.
In 1950, Eisenbach and his wife, Irene, moved to the United States where he practiced dentistry.
As Eisenbach spoke to the crowd Tuesday, he noted American writer Mark Twain's own awe expressed in his writing at the Jews' ability to endure despite their many perpetrators throughout history.
"He asked 'what is the secret of Jewish immortality?'," Eisenbach said. "The answer is there is no secret. The reason Jews are still here is because of our indestructible faith in God. We strongly believe that God has protected us."
Twitter: @HannahFryTCN
---
All the latest on Orange County from Orange County.
Get our free TimesOC newsletter.
You may occasionally receive promotional content from the Daily Pilot.