Oak View Elementary students travel through space in mobile planetarium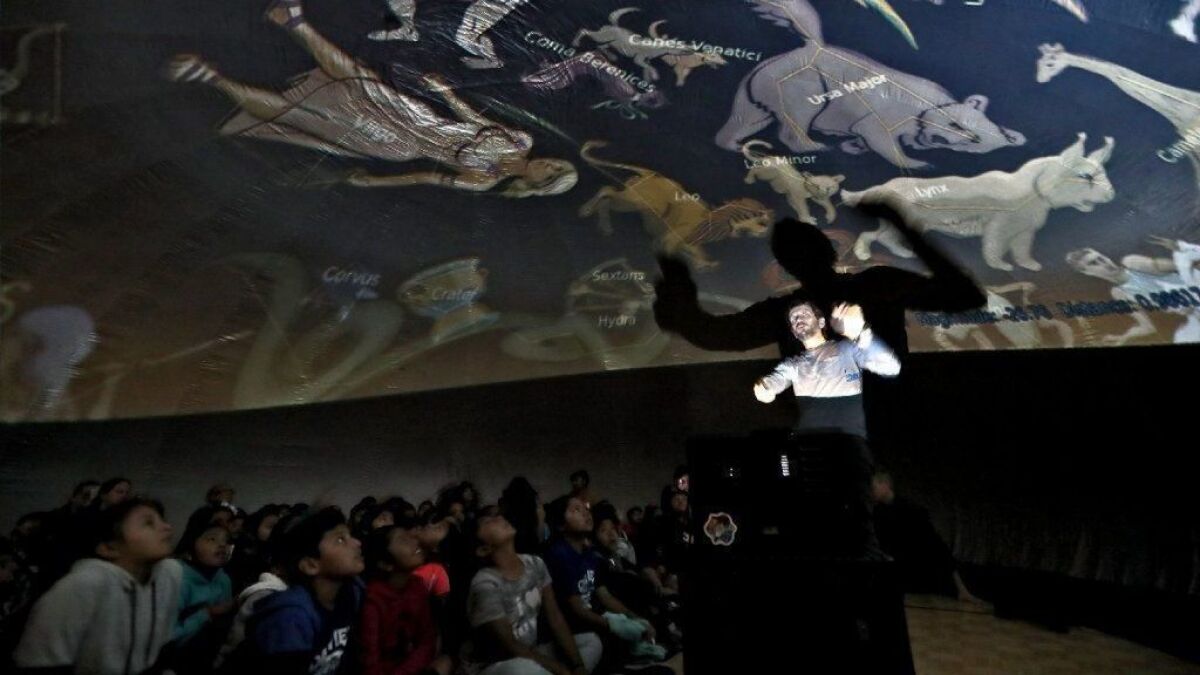 Oak View Elementary School students squealed with excitement Friday when they walked into their morning assembly to find a giant inflated igloo-like structure.
The silvery tarp dome was a portable planetarium provided by Mobile Ed Productions to take students at the Huntington Beach school on a 45-minute journey through the solar system.
Principal Jenna Landero described it as an immersive experience that allowed the children to have an onsite field trip.
"We told them there would be an event, but it was a surprise," Landero said. "When they have events to look forward to … it gets them excited and makes them want to come to school."
At 15 feet tall and 36 feet in diameter, the SkyDome planetarium took up a large portion of the gym inside the Oak View Family Resource Center next to the campus. First- through fourth-grade classes rotated through the gym to participate.
Mario Tomic, an educational performer with Mobile Ed Productions, lifted the bottom of the tarp for students to fill the planetarium, where they sat cross-legged and began "oohing" and "ahhing" at the starry sky projected onto the ceiling.
Tomic taught the students how to find stars using constellations and took them on "astronomical adventures" through time.
They went to the past — May 9, 2016 — when telescopes revealed Mercury passing in front of the sun. Then it was on to the future, with the moon shifting from crescent to full until they got to Jan. 20, 2019, when there will be a total lunar eclipse.
They saw the rings and moons of Saturn, what Earth looks like from space and even an overview of the Sombrero Galaxy, roughly 30 million light years from Earth.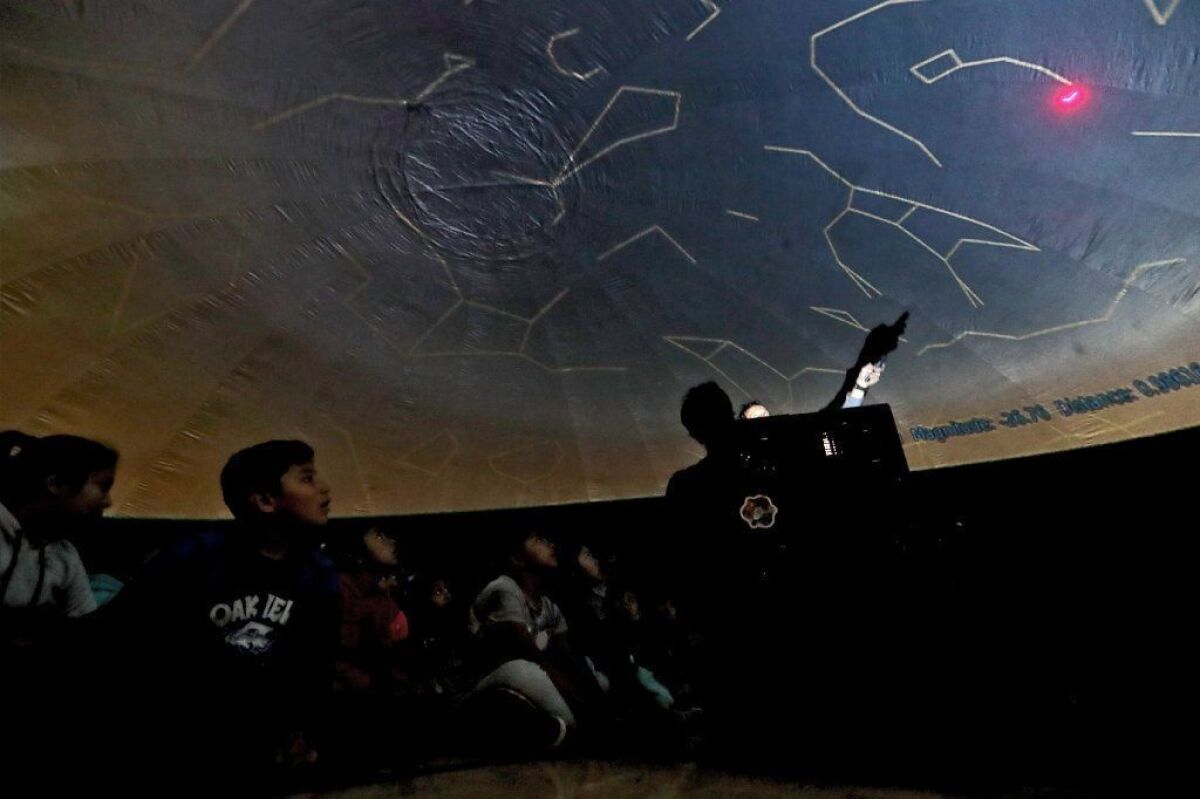 "It was so cool!" said Anthony, 8. "I loved when we got to see all the moon."
Danna, 9, said her favorite part was the Sombrero Galaxy, "because it has a funny name."
"Education through entertainment" has been Mobile Ed's guiding principle since 1979, according to its website, and Tomic said the SkyDome encourages students to pursue careers in science.
"Especially for urban kids, who don't really have the experience of seeing the stars because of light pollution, this is a very important educational opportunity," Tomic said.
Oak View Elementary, in the Ocean View School District, enrolls about 660 students in kindergarten through fifth grade, nearly all of whom come from socioeconomically disadvantaged families, according to its state-required 2016-17 School Accountability Report Card.
Landero took the helm in August and has launched a series of immersive activities for students to provide "opportunities that our children may not have otherwise," including recent trips to Clippers basketball and UCLA football games.
"When we took them to L.A., they were like, 'Why are the buildings so big?' They had never seen skyscrapers. That was very eye-opening for me," Landero said. "These are really simple things we can do that make a big difference for the kids and really enrich their world."
More experiences are planned in the next few months, including a fifth-grade trip to the Griffith Observatory in Los Angeles and school assemblies including a women's history presentation and a STEAM museum emphasizing science, technology, engineering, arts and math.
Twitter @CharityNLindsey
---
All the latest on Orange County from Orange County.
Get our free TimesOC newsletter.
You may occasionally receive promotional content from the Daily Pilot.