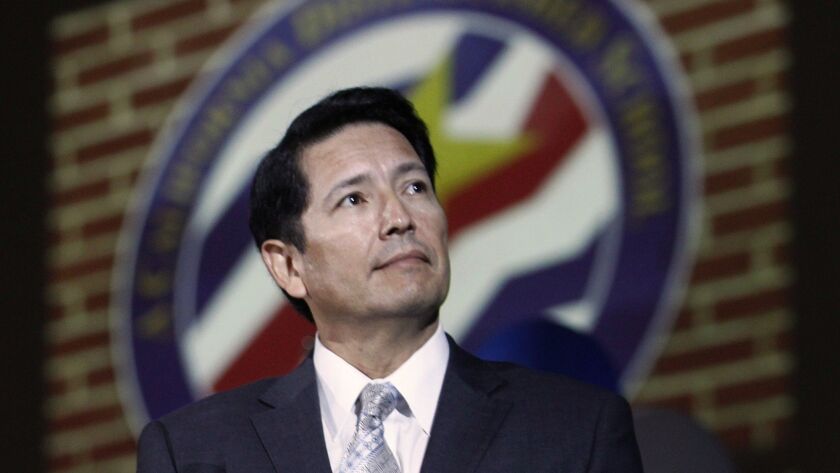 For seven years, Fred Navarro has served as superintendent of the Newport-Mesa Unified School District.
But with his contract term ending June 30, some community members are seeking his removal.
Public comments during the district board of trustees meeting Tuesday night were overwhelmingly in favor of replacing Navarro, with speakers citing legal costs, declining enrollment and the controversial Swun Math program, which the district replaced in stages in 2017 and '18.
But Navarro's current contract stipulates that if the board decides to not renew it, he must be given at least 60 days' notice before the end of the term and any extensions. If the notice is not given, the contract states, the agreement will be extended for a year with the same provisions.
Therefore, the contract has already been extended through 2020.
Navarro is undergoing yearly evaluations by the school board. He was unavailable for comment Wednesday.
Trustee Martha Fluor said Tuesday that the superintendent has completed his self-evaluation and that individual trustee and full board evaluations would follow. The evaluations are based on performance in the current school year.
"For the past six out of seven years, Dr. Navarro has earned an 'exceptional' rating on his performance review," board President Charlene Metoyer said. "We have full faith in the evaluation tool that we use, which was developed using evidence-based research and best practices in the area of professional organizational leadership."
The evaluations will help decide Navarro's merit award, a yearly performance-based pay supplement that his contract allows in the form of a tax-sheltered annuity. He received $29,812 after receiving a "proficient" rating in late 2018.
"Supervisors, superintendents make mistakes, but real, true leaders own them and try to improve them and … I just don't see that here," said Anne Parzick, a parent of two children in the district.
She said she felt administrators had taken no responsibility despite "debacle after debacle after debacle." She referred specifically to the district's consideration last year of whether to eliminate accelerated math courses in middle schools. The issue was later tabled.
She added that members of her inner circle have pulled their children out of Newport-Mesa, contributing to a decline in enrollment, which the district expects to drop to 20,431, a 1.07% decrease, in the next school year.
"I felt like I was the one public school proponent going, 'No, come back, come back.' But what can I do? I can't defend it anymore, to the point where we're considering it ourselves, and I really don't want to," Parzick said. "I went to public school. My husband went to public school. I love public schools, but I feel like I'm being forced out and so are my neighbors and friends."
Erica and Jeff Roberts, the latter a Corona del Mar High School alumnus, said they would be pulling their children out of the district.
However, Ruth Sanchez-Kobayashi, a mother of two recent Newport-Mesa graduates, defended the district, saying she is "grateful for the commitment of this board and the superintendent, who I appreciate being treated with respect for his position, to provide an environment where all students can reach their full potential."
"While I have heard things tonight that are upsetting and disappointing, I urge you ... wherever there might be areas to improve, to do it," she said. "No organization, no school … is perfect. There are thousands of parents in this district who are not here tonight. They're really happy with their schools."
Thomas Courtney, a Corona del Mar resident, called attention to Navarro's behavior during the meeting, claiming he did not look at anybody.
"The problem is that he's not performing his job, befitting of his station," Courtney said. "He makes over $400,000 a year, basically what the president of the United States makes. If you're going to take a salary like that, it's not enough to push papers for your term and maintain the status quo. … You must be a compassionate and effective leader and act as a liaison with the community."
Navarro's base salary for the 2018-19 school year is $289,915, up from the $230,000 approved when he began in Newport-Mesa in July 2012.
Support our coverage by becoming a digital subscriber.
---
UPDATES:
This article was originally published at 5 p.m. June 12 and was later updated with additional comments.
---