Newport considers firms to help search for new city manager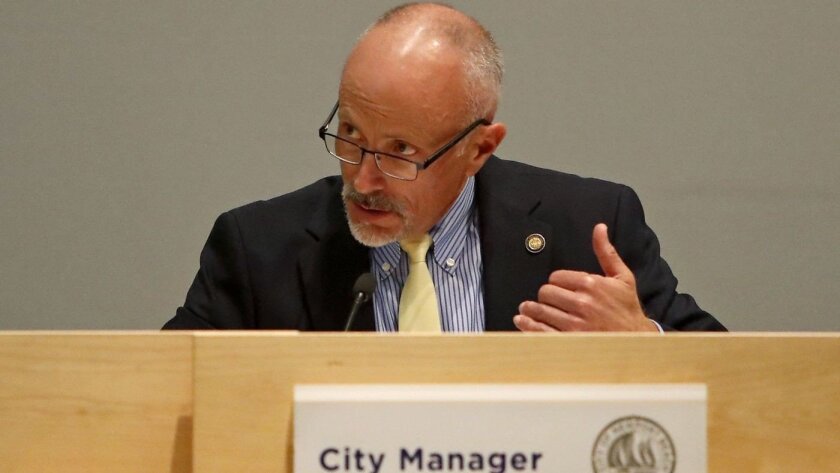 The Newport Beach City Council on Tuesday will consider executive search firms to recruit a new city manager.
Three companies have submitted proposals to help Newport find its next top administrative official after Dave Kiff departs Aug. 31.
The firms are CPS HR Consulting of Sacramento, Roberts Consulting Group of Rancho Mirage and Avery Associates of Los Gatos. Their price tags range from about $23,000 to $28,000.
Kiff announced in March that he would be leaving. He has worked for the city since 1998 and as city manager since 2009.
The council agreed April 10 to amend his contract with an exit plan allowing an earlier departure than the previous version of his contract, which would expire in April 2019.
The past two council meetings have been thick with outrage and allegations from some residents and council members who believe that some council members — namely Scott Peotter, Kevin Muldoon, Mayor Pro Tem Will O'Neill and Mayor Marshall Duffield — colluded to force Kiff out. The accused council members have repeatedly denied that.
Port master plan
Also Tuesday, the council will consider possible next steps after the California Coastal Commission took a dim view of the city's pitch for a port master plan for Newport Harbor.
The commission voted 9-3 on April 12 to oppose a state bill that would amend the California Coastal Act to designate the largely recreational harbor as a port, putting it among the likes of the deepwater industrial ports of Los Angeles, Long Beach, Hueneme and San Diego. The designation is necessary before the commission would consider a port master plan like the existing ports have.
The plan would allow Newport to issue state-sanctioned permits for in-water harbor projects such as small dredging work and private pier repair — much like it handles development on land close to shore through its Coastal Commission-granted local coastal program.
Commission members and staff were wary of ceding state authority over local waters and setting a precedent by relabeling a municipal harbor as a port, which they said is inappropriate for the Newport Harbor's recreational nature. Local officials have said the change would be only in the designation and that Newport Harbor would not become home to cargo and cruise ships.
In light of the commission's vote, the City Council may decide to seek an amendment to the port designation bill, push for it as is, consider alternative Coastal Commission-sanctioned management plans or drop the idea altogether.
Tuesday's council meeting starts at 3:30 p.m. with a study session, followed by the regular session at 7 p.m. at City Hall, 100 Civic Center Drive.
Twitter: @Daily_PilotHD
---
All the latest on Orange County from Orange County.
Get our free TimesOC newsletter.
You may occasionally receive promotional content from the Daily Pilot.