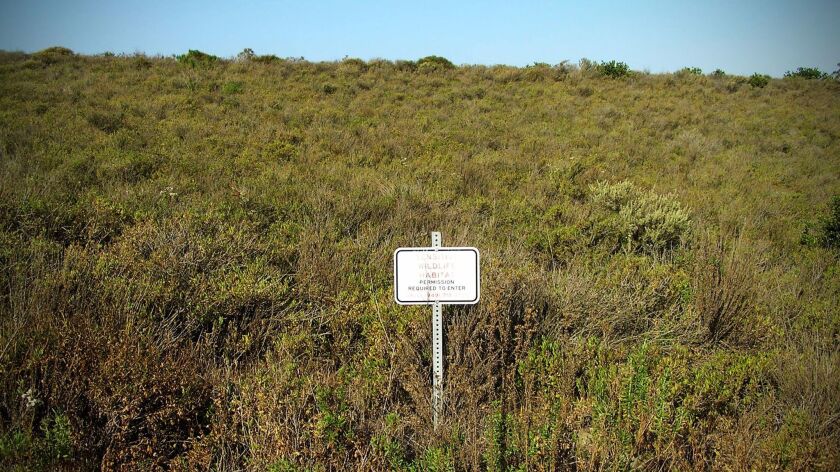 A long-closed landfill could be transformed into a public golf course in Newport Coast.
Whether that's wise depends on whom you ask.
The Orange County Board of Supervisors voted late last month for county staff to begin negotiating a lease agreement with Chapman Investment Co. and Guardian Investment Capital to develop the course on about 200 acres of the former Coyote Canyon landfill at 20661 Newport Coast Drive.
If staff and Chapman can't reach an agreement, the county will turn to alternate TAIT & Associates of Santa Ana.
The county declined to make Chapman's and TAIT's proposals available to the Daily Pilot but did include some details from a staff report for the supervisors' Sept. 26 meeting.
Chapman proposes an 18-hole short course with a double-ended, double-decker driving range, instruction via the PGA Tour Golf Academy, a 12,000-square-foot clubhouse and 16,000 square feet of ballrooms and wedding gardens, and a food court with a patio.
TAIT's vision includes an 18-hole links course with a driving range, public space with walking trails, an outdoor beer garden and recreation area, a banquet facility and a boutique hotel, spa and four-star restaurant.
The county started evaluating the two proposals in December.
Craig Kessler, director of governmental affairs for the Southern California Golf Assn., said Orange County has a relative shortage of the kind of fast-play course proposed by Chapman. As a "starter" course for novice golfers, it could complement other courses in the area.
"There's always room for one more, if you do it right," he said.
Stuart Lindsay brings a national industry perspective as principal of Edgehill Golf Advisors outside Milwaukee. He didn't agree that there's room for another round.
"I don't think anybody that operates golf courses in Orange County would think they need another golf course," Lindsay said. "All it's going to do is cannibalize demand in other golf courses in Orange County."
He said executive courses are less economically viable than full-length courses and that within a few years, the county will be saying to itself, "We've got to figure out what to do with this elephant."
For golf uses, a Topgolf facility would be the most effective, he said. Topgolf, a sports entertainment complex where players whack microchipped balls at targets on a state-of-the-art driving range, has locations across the country, but only one in California.
Aside from that, Lindsay said, a bird sanctuary would be good. A separate 123 acres of the Coyote Canyon landfill site are already set aside for California gnatcatcher habitat.
"I would suggest that it's better off as parkland," he said.
The landfill, on county-owned land in the city of Newport Beach, operated between 1963 and 1990. The county is opening about 205 of the landfill's 395 acres for leasing and development.
The Board of Supervisors unanimously approved the lease negotiations Sept. 26, though Supervisor Todd Spitzer said the area is saturated with golf as demand for the game diminishes.
But the Chapman facility would take that into account, with fast play and an emphasis on corporate and private events, Scott Mayer, the county's chief real estate officer, told the supervisors.
"I think if one looks at the business terms that were agreed upon many, many years ago when golf was much more popular … those terms wouldn't necessarily be appropriate and wouldn't be the terms that we would negotiate today," Mayer said.
Supervisor Shawn Nelson showed trust in the proposed developers.
"These are people that have been in the golf business a long time, but also in financing golf courses, and they're well-aware that golf is changing and this model, at least in their view, is sort of how to embrace the change," Nelson said.
Twitter: @Daily_PilotHD
---