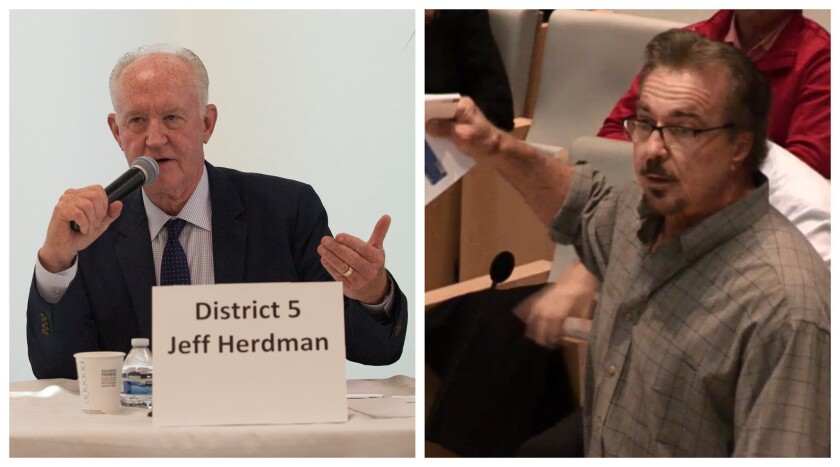 The California Fair Political Practices Commission issued a warning to Newport Beach City Councilman Jeff Herdman this week for omitting required identifying language in his email newsletters.
A complaint filed in March by local activist Bob Rush alleged 32 instances in which Herdman failed to include "Paid for by" disclosures and an individual mailing address on mass emails from 2018 and early 2019.
In a letter to Herdman dated Tuesday, FPPC enforcement chief Galena West confirmed that Herdman had sent email blasts lacking the "Paid for by" language.
"However, the number of emails sent was small, it was clear that [Herdman's campaign] committee sent the subject mass emails, and the emails sent did not pertain to an election in which you were a candidate, so the violation resulted in minimal public harm," West wrote. "Additionally, the committee raised and spent a low amount of money and does not have a prior history of violating this section of the [Political Reform] Act, so the enforcement division is closing this matter with a warning letter instead of a fine."
Herdman said Wednesday that he was "pleased that the matter is resolved and that I don't have this complaint hanging over my head."
Rush revealed his complaint to Herdman at a City Council meeting, calling it "down payment on payback" for Herdman's involvement in a lawsuit that residents supported by Herdman filed against Rush in 2018.
On Wednesday, Rush said he still plans to target Herdman with allegations of ethical violations, which he did not detail.
"I wasn't sure what the FPPC reaction would be, but I wanted to get a base point from which to begin filing my series of ethical complaints," Rush said.
The lawsuit against Rush was an unsuccessful attempt by a group of former Newport Beach council members to get their argument opposing a local ballot proposition into informational pamphlets for November's election in place of an argument written by Rush. Herdman submitted a declaration supporting the plaintiffs — former mayors Keith Curry, Rush Hill and Mike Henn and former mayor pro tem Jean Watt.
Among the arguments in the lawsuit and Herdman's declaration was that Rush didn't actually oppose Measure T, which asked voters to approve an amendment to Newport's city charter to require 55% voter approval whenever the council wants to spend at least $50 million on capital projects using a financing method known as certificates of participation.
Rush prevailed in the lawsuit. The proposition cruised to victory in the election with about 80% of the vote.
---