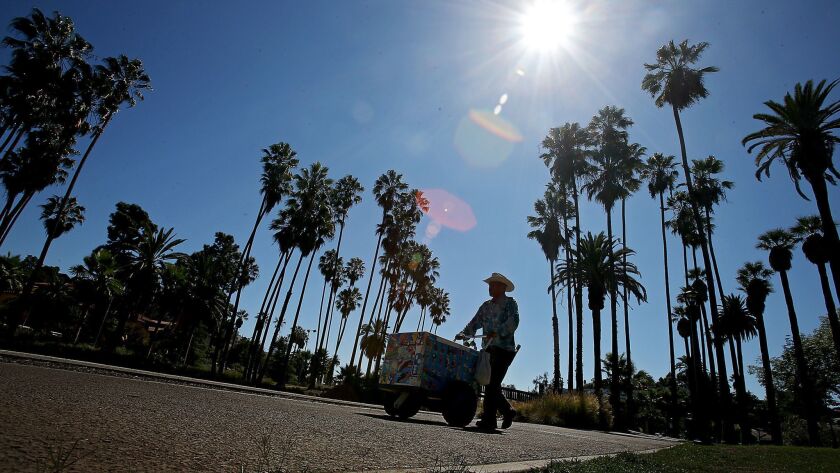 The Newport Beach City Council tentatively agreed Tuesday to allow roaming and stationary vendors to peddle food and other goods, subject to licensing and permitting requirements and a litany of restrictions keeping the sellers off beaches, boardwalks and piers and prescribed distances from schools, driveways and park equipment.
Newport currently bans sidewalk vendors, but a change in state law means the city must allow them. Senate Bill 946, signed by Gov. Jerry Brown in September, legalizes street vending, strips any criminal penalties and essentially gives the state overriding control over such enterprises, requiring local governments to adopt regulations that conform to the state framework.
In Newport, that means establishing a permit system and drafting rules that govern the time, place and manner of vending.
The state law, which goes into effect in January, allows cities to restrict vending based on "objective health, safety or welfare concerns."
City staff kept the prohibition on the beaches, boardwalks, both piers, the pedestrian-heavy Marine Avenue on Balboa Island and the four-block stretch of Balboa Boulevard between Adams and A streets. Those are busy areas where vendor carts could interfere with the flow of foot and vehicle traffic, the city says.
In all, Newport detailed more than 30 places where vendors potentially cannot sell their wares. Some of the prohibitions are explicitly allowed in the state law, such as in the immediate vicinity of permitted farmers markets, swap meets or temporary special events. Others are at the city's discretion. Many focus on preserving normal and emergency access.
The narrow Balboa Peninsula boardwalk, which draws people on foot, bicycles and skates on its two-way, 3-mile stretch, is congested during peak season, and "we see putting a sidewalk vendor there [as] very dangerous," said city planner Benjamin Zdeba.
Newport also proposes prohibiting vendors on any sidewalk narrower than eight feet, on the 1.5-mile Coast Highway frontage in Corona del Mar, at the Civic Center and within 100 feet of an intersection, a school or another vendor. Sellers would not be allowed within 25 feet of any driveway or building entrance.
They could operate in parks but generally would not be allowed to approach people.
A staff report said vendors on narrow sidewalks could clog the flow of pedestrians and disrupt access for people with disabilities. CdM's Coast Highway is a popular visitor destination and vendors could interfere with foot and vehicle traffic.
Being too close to a driveway could block drivers' line of sight, the report said, and being too close to doors could be risky in case of an emergency.
The 100-foot distance from intersections also is intended to keep sight lines clear, and the buffer around schools would prevent disruptive noise along with safety issues caused by lines, the report said. The space between vendors is designed to keep queues from getting too close to one another, impeding public access.
The vendor-free zone around the Civic Center is needed for public safety reasons, said City Attorney Aaron Harp. The center houses the city's emergency operations center and is the Fire Department's administrative headquarters; emergency vehicles often stage along the main drive off Avocado Avenue.
The city also enumerated "public use items" such as bus stops, benches, bike racks and trash bins that would require a 25-foot buffer because "having a sidewalk vendor within 25 feet could hinder the use of that item, which is a welfare issue," Zdeba said.
As for parks, vendors could not come within 100 feet of playground equipment and sports courts and fields and could not approach people.
"This commercial activity would detract from enjoyment of the natural resources, including scenic views, and passive recreational opportunities while interfering with the park's intended use," according to the staff report.
The city's rules also would bar vendors within 100 feet of public community centers and marinas and any first responder "actively performing their duties or providing services to the public."
The council's vote Tuesday was unanimous. It will take a second vote later this month.
Twitter: @Daily_PilotHD
---