Newport-Mesa considers new rules for student board members to make their roles 'more meaningful'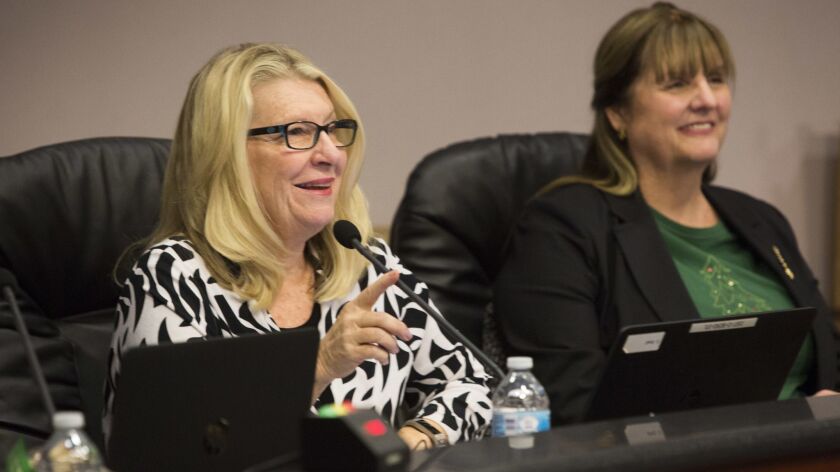 Students interested in serving as their high school representative during Newport-Mesa Unified School District board meetings may face new rules and requirements when applying for the post.
During a study session Tuesday afternoon, the board discussed ways to make student board members' roles more worthwhile.
Currently, one student representative of each of the district's six high schools attends board meetings to give an oral report on campus news and upcoming events. The representatives take turns sitting on the dais and typically leave after all have given their reports.
The student board members, plus an alternate, are chosen by the schools' activities directors and serve one year. The students do not vote on agenda items, but board members can call on them to offer input during discussions.
District officials said they communicate with school principals to confirm that student board members will attend the meetings. It's unclear whether the students are graded for their work.
School board President Vicki Snell said she'd like the positions to be "more meaningful" by having students learn more about governance rather than the experience be just another extracurricular activity on a resumé or college application.
"It's not deep enough," Snell said. "It's really about stepping up and getting involved."
Trustee Judy Franco suggested resetting how students get the role, and suggested requiring them to stay until 9 p.m.
Board members briefly considered dwindling the student presence to a single representative for all the high schools, but Franco said campus culture and issues vary from site to site.
Back Bay/Monte Vista High School's Van Fine, 16, was the only student representative at Tuesday's study session. The others attended the board's regular meeting that evening.
Van suggested the district establish rules and expectations in an application process.
"If you get the right people involved, you won't have to rehash it so many times," Van said. "They'll do it naturally."
Van added that the role is a good way to earn community service hours.
Near the end of the hour-long discussion, Supt. Fred Navarro recommended that trustees "think outside the box" and possibly offer a notation and seal on a student's transcript showing his or her work as a student board member.
Navarro said district staff can begin crafting a job description for the role once trustees determine the responsibilities they'd like to include.
District officials said they will hold another study session in coming weeks in hopes of releasing an application by the end of May. Schools will be notified of the changes.
Air conditioning plan for 6 schools moves forward
In other business Tuesday, the school board unanimously approved an agreement with Cumming, an Aliso Viejo-based firm, to oversee cost management services for air conditioning projects at six Newport-Mesa schools.
The project is budgeted at a maximum of $36,750 for Davis Magnet School and College Park, Kaiser, Pomona, Wilson and Woodland elementary schools.
Trustees decided this month to solicit construction bids for installing air conditioning at the schools this summer.
Twitter: @vegapriscella
---
All the latest on Orange County from Orange County.
Get our free TimesOC newsletter.
You may occasionally receive promotional content from the Daily Pilot.